2HTJ9
CIQ-100
UNSPSC # 41113637
Cable Tester: CableIQ (TM) Qualification Tester
Country of Origin
Malaysia.
Country of Origin is subject to change.
Fluke Networks® CableIQ™ network cable qualification test tool is designed for network technicians who need to troubleshoot connectivity problems and qualify cabling bandwidth. It detects speed and duplex settings of attached switches and PCs. Intelligent wiremap graphically shows distance to faults (e.g.: pin 1 break at 37 ft). Lightweight, rugged, reliable unit tests all copper cabling. Its ease and power helps you close trouble tickets faster and ensure smooth upgrades to higher network speeds.Discovers what's at the end of any cable and displays device configuration (speed/duplex/pairing). Frees up switch ports and identifies unused links. Graphically maps wiring configuration and shows distance to faults, graphical wire mapping, opens, and shorts.• Sees if your existing cabling can support voice, VoIP, 10/100/Gigabit Ethernet• Troubleshoots why existing cabling plant can't support the desired network bandwidth• Locates and traces cable with IntelliTone™ digital signaling technology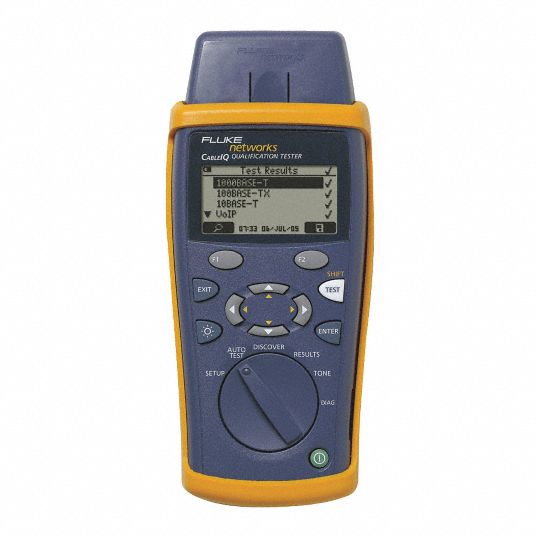 Tap image to zoom.
Roll over image to zoom.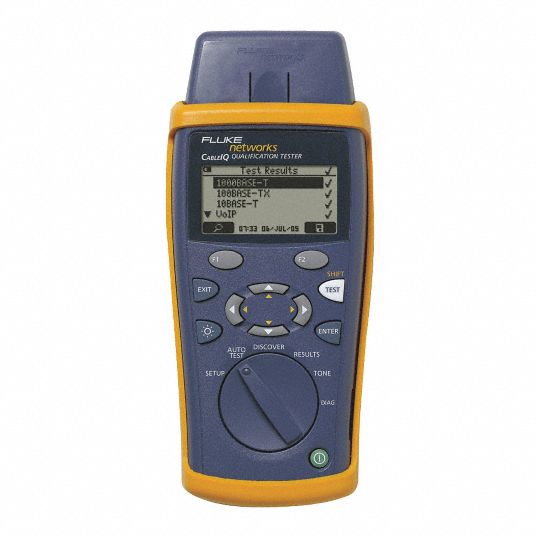 Cable Tester: CableIQ (TM) Qualification Tester
Country of Origin
Malaysia.
Country of Origin is subject to change.
Fluke Networks® CableIQ™ network cable qualification test tool is designed for network technicians who need to troubleshoot connectivity problems and qualify cabling bandwidth. It detects speed and duplex settings of attached switches and PCs. Intelligent wiremap graphically shows distance to faults (e.g.: pin 1 break at 37 ft). Lightweight, rugged, reliable unit tests all copper cabling. Its ease and power helps you close trouble tickets faster and ensure smooth upgrades to higher network speeds.Discovers what's at the end of any cable and displays device configuration (speed/duplex/pairing). Frees up switch ports and identifies unused links. Graphically maps wiring configuration and shows distance to faults, graphical wire mapping, opens, and shorts.• Sees if your existing cabling can support voice, VoIP, 10/100/Gigabit Ethernet• Troubleshoots why existing cabling plant can't support the desired network bandwidth• Locates and traces cable with IntelliTone™ digital signaling technology
Technical Specs
Item

Cable Tester

For Use With

CableIQ (TM) Qualification Tester

Includes

CableIQ With Remote Adapter, Coax F Push-On Adapter, Four AA Batteries, Owners CD and Quick Start Guide, Reporter Software CD, Soft Carry Case, Two RJ45-RJ45 Patch Cords, USB Cable

Primary Function

Copper Cable Qualification

Instrument Display

LCD

Data Line Polarity Indicator

No

WiFi Capability

No

PoE/PoE+ Detection

Yes

Tone Generator

No

Tone Detection

No

Wiremapping

Yes

Cable Length Display

Yes

Distance to Fault

Yes

Pair Tracing

Yes

Endpoint Testing

No

Service Detection

No

Continuity Testing

No

Opens/Shorts Detection

Yes

Telephone Service Detection

No

Ethernet Service Detection

Yes

Cable Speed Qualification

No

Crosstalk Detection

Yes

Impedance Detection

No

Cable Certification

No
Fluke Networks® CableIQ™ network cable qualification test tool is designed for network technicians who need to troubleshoot connectivity problems and qualify cabling bandwidth. It detects speed and duplex settings of attached switches and PCs. Intelligent wiremap graphically shows distance to faults (e.g.: pin 1 break at 37 ft). Lightweight, rugged, reliable unit tests all copper cabling. Its ease and power helps you close trouble tickets faster and ensure smooth upgrades to higher network speeds.Discovers what's at the end of any cable and displays device configuration (speed/duplex/pairing). Frees up switch ports and identifies unused links. Graphically maps wiring configuration and shows distance to faults, graphical wire mapping, opens, and shorts.• Sees if your existing cabling can support voice, VoIP, 10/100/Gigabit Ethernet• Troubleshoots why existing cabling plant can't support the desired network bandwidth• Locates and traces cable with IntelliTone™ digital signaling technology
Compliance and Restrictions