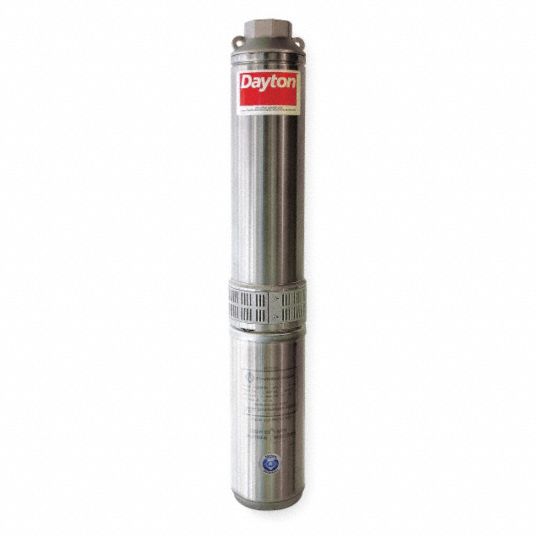 Roll over image to zoom.
Submersible Deep Well Pump: 20 gpm Nominal Flow Rate, 1 hp HP, 220V AC, 9.8 A Amps, 221 ft Max. Head
Item 

1LZT3

Mfr. Model 

558641
Product Details
Catalog Page
HP

1 hp

Rated Voltage

230V AC

Amps

9.8 A

Phase - Pumps

1

Number of Stages

10

Number of Wires

3

Discharge Head Material

Stainless Steel

Impeller Material

Celcon

Shaft Material

303 Stainless Steel

Nominal Flow Rate

20 gpm

Flow Rate @ 100 Ft. @ 40 PSI

18 gpm

Flow Rate @ 100 Ft. @ 50 PSI

17 gpm

Flow Rate @ 150 Ft. @ 40 PSI

15 gpm

Max. Head

221 ft

Discharge Dia.

1-1/4 in

Recommended Tank

3YA59; 4MY63

Max. Operating Temp.

86 °F

UNSPSC

40151511

Country of Origin

Mexico (subject to change)
Product Description

These submersible deep-well pumps are buried within a well deep in the ground and push water up through a pipe that is connected to one end of the pump. They are long, cylinder-shaped devices that are submerged in water with the water pressure easing the movement of water through the pipe system. Pumps provide a constant supply of water even during dry seasons and they don't require priming since they are submerged in water. They are connected to a tank to keep water pressure more consistent. Pumps are more effective for deep wells and go down several hundred feet compared to jet pumps that have a depth of up to 120 ft Two-wire pumps have "in-the-motor" controls and wire directly to the water system pressure switch or power supply with no need for a control box. Pumps are not for use where abrasives or heavy-water scale are present. Three-wire pumps require an above-ground control box (not included) between the pressure switch and the pump motor. They have high starting torque motors that can help loosen mineral deposits which may adhere to the pump's moving parts.