6YLZ5
44H015BK-R
UNSPSC # 46101504
Serpa Duty Holster: Right, Taser X-26, 2 Level
Item #

6YLZ5

Mfr. Model #

44H015BK-R

UNSPSC #

46101504

Catalog Group #

G1855

Catalog Page #

N/A
Country of Origin
USA.
Country of Origin is subject to change.
Redesigned holster specifically holds Taser® X26 cartridge holder. Detachable belt loop allows users to exchange the Taser without having to remove other items from duty belt. Design fits all SERPA® platforms including duty belt loops, S.T.R.I.K.E.® equipment, and both shoulder and tactical thigh platforms. Automatically engages safety upon reholstering. Bottom is configured to block the probes in case of accidental activation. Trigger and trigger guard are completely enclosed inside holster.•  Rigid holster body for improved retention•  Multidraw design with rock forward draw helps prevent confusing the weapons under stress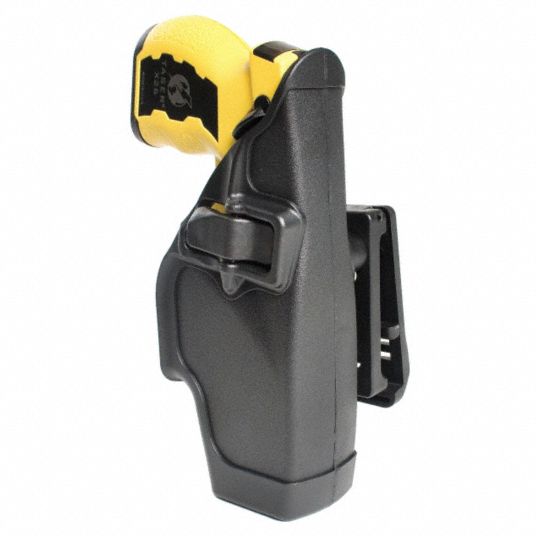 Tap image to zoom.
Roll over image to zoom.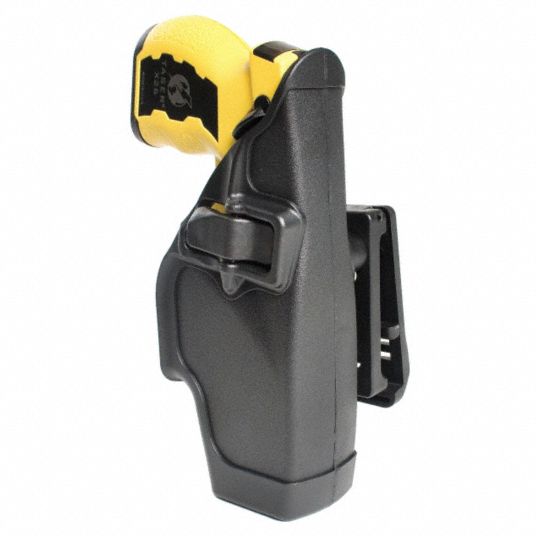 Serpa Duty Holster: Right, Taser X-26, 2 Level
Item #

6YLZ5

Mfr. Model #

44H015BK-R

UNSPSC #

46101504

Catalog Group #

G1855

Catalog Page #

N/A
Country of Origin
USA.
Country of Origin is subject to change.
Redesigned holster specifically holds Taser® X26 cartridge holder. Detachable belt loop allows users to exchange the Taser without having to remove other items from duty belt. Design fits all SERPA® platforms including duty belt loops, S.T.R.I.K.E.® equipment, and both shoulder and tactical thigh platforms. Automatically engages safety upon reholstering. Bottom is configured to block the probes in case of accidental activation. Trigger and trigger guard are completely enclosed inside holster.•  Rigid holster body for improved retention•  Multidraw design with rock forward draw helps prevent confusing the weapons under stress
Technical Specs
Item

Serpa Duty Holster

Hand

Right

Weapon Model

Taser X-26

Level

2

Material

Cordura

Color

Black
Redesigned holster specifically holds Taser® X26 cartridge holder. Detachable belt loop allows users to exchange the Taser without having to remove other items from duty belt. Design fits all SERPA® platforms including duty belt loops, S.T.R.I.K.E.® equipment, and both shoulder and tactical thigh platforms. Automatically engages safety upon reholstering. Bottom is configured to block the probes in case of accidental activation. Trigger and trigger guard are completely enclosed inside holster.•  Rigid holster body for improved retention•  Multidraw design with rock forward draw helps prevent confusing the weapons under stress
Compliance and Restrictions