Studies have shown that investments in safety don't just reduce injuries and fatalities, lower workers' compensation costs, and reduce the cost and likelihood of OSHA penalties. Investments in safety can also have significant impacts on productivity and financial performance, increased employee job satisfaction, and more. Any way you view it, an investment in safety makes fiscal sense.

How Do You Talk About Safety Culture?
Grainger is rewriting the conversation in our new white paper, "How We Should Talk About Safety Culture." This white paper gives safety leaders strategies to make real change.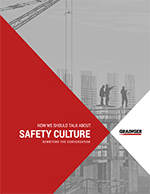 GET WHITE PAPER