Every facility has a safety story. And every story is different. Safety Stories, a new series from Grainger, takes a look at the history, insights and people that move safety culture.
In this Safety Story, Dr. Treasa Turnbeaugh discusses past industrial accidents - from the Triangle Shirtwaist Fire of 1911 to the Chernobyl Disaster in 1986 - and breaks down what led to them. She also places the events in their historical context and talks about what we can learn from them, and how we can take steps to improving safety culture in the American workplace.

---
How Do You Talk About Safety Culture?

Grainger is rewriting the conversation in our new white paper, "How We Should Talk About Safety Culture." This white paper gives safety leaders strategies to make real change.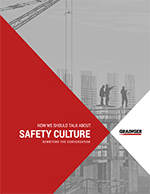 GET WHITE PAPER