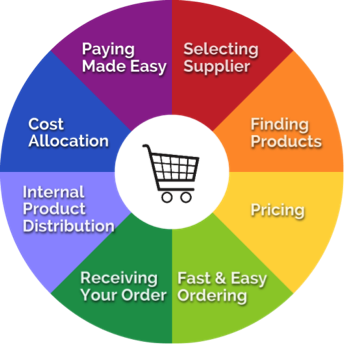 Some companies like to start with a smaller eProcurement integration, while other company's jump in with both feet and integrate eProcurement into every aspect of the business. It's good to note that the more steps that can be automated, the more savings you will realize from the solution. By asking a few simple questions, the wheel can provide a good picture of your current process and determine which level of integration is most beneficial for your business
Grainger Consulting Services has conducted over 500 studies
with clients and has documented some interesting facts:

On average there are traditionally 5 people involved in the purchasing process
Each purchase consists of 42 steps to complete with 6 handoffs and 3 approvals!
The average time to work through the cycle for a single PO is about 90 minutes
How Does the Procurement Cycle Work?
Simplifying the Shopping Process
The first three steps in the process are Shopping which includes: Selecting a supplier, finding the right product and determining the price. These tasks can be both manual and time consuming. Clients may have a bookshelf full of supplier catalogs that they use for product search or have a list of suppliers they commonly call to obtain the required information to make an informed decision. Many buyers receive numerous requests every day and spend hours searching for products and price points. The real goal of the shopping phase is to have a complete requisition. You want to make sure you have complete and accurate information needed to create a purchase order including item number, unit of measure and price.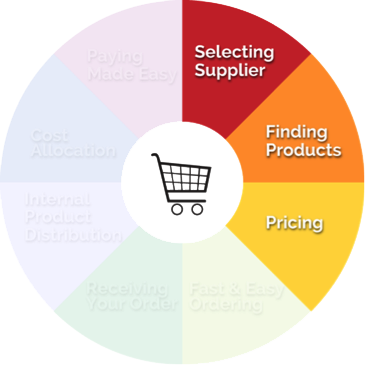 In our findings, the most efficient way to shop and build a requisition is through a punchout catalog. Punchout, also known as tap-out or round-trip, is the process of accessing a supplier's website directly from your company's purchasing system to build a requisition/shopping cart that is then returned into the procurement system for approval. This solution eliminates the need to spend valuable time searching for a supplier, locating the right item and determining your company's price.
Maintenance personnel will have access to this real time information which saves time, eliminates errors, and ensures up-to-date information at all times. No more calls to Customer Service or Salespeople to validate transaction information. You also have access to real-time availability on all products to eliminate the guesswork and eliminate the need to spend time calling service agents to ask if a product is available and overstocking of infrequently purchased items.
Another way to further streamline the shopping portion of the cycle is to use optimized mobile websites and apps. According to Internet Retailer, the rate of eCommerce sales originated from mobile devices is approaching 30%. For example, a maintenance technician with the ability to search, select, and create a requisition on a mobile device, can spend more time on work orders—creating value for the organization. The integration of Shopping is the starting point of saving time and money at scale. The key benefits include:
Time efficient
Order accuracy
Reduced maverick spend
Reduce overstocking
Real-time information
Reducing Order Time
The next step in the procurement cycle, Order, involves processing, receiving and distributing the product.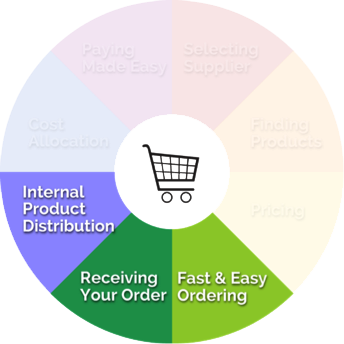 While leveraging a supplier punchout catalog creates efficiencies, these productivity gains can increase exponentially with the integration of purchase orders. With integrated purchase orders, clients can eliminate time spent on the phone placing an order or sending a fax. You also eliminate the possibility of data entry errors by the supplier by ensuring the required fields such as cost center or work order number are entered.
One of the biggest benefits of integrated POs is the reduction in order processing time. The POs are submitted directly to the suppliers fulfillment system via XML (Extensible Markup Language) or EDI (Electronic Data Interchange) with the orders being picked, packed and shipped.
Integrated requisitions and automated orders that flow through a company's approval process, eliminate the need to validate information, giving you complete control to drive compliance and manage spend more closely.
The value of integrated purchasing requisitions goes beyond the purchasing function, with the ability to integrate to other business solutions, such as an inventory management platform. Seamless processing of inventory transactions extends the value of the procurement platform into the warehouse, and enables visibility and control for purchasing.
Integrating eProcurement helps in the Order phase of the purchasing process by:
Leveraging approvals and workflow
Controlling spend
Streamlining distribution
Eliminating the Paper Chase
This last phase of the procurement process, Pay, lets organizations maximize the benefits of eProcurement by allowing suppliers to submit invoices electronically, which greatly increases financial accuracy and processing efficiencies.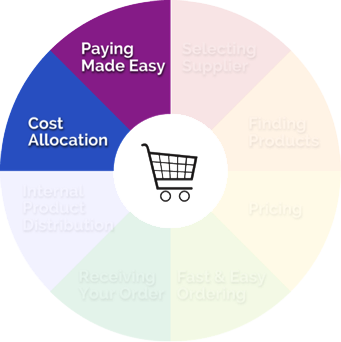 Finance and Account Payable Departments want to ensure vendors are billing properly and every order contains the necessary data to reconcile. A common frustration for companies processing invoices is missing information that often requires time spent hunting down the correct data or delayed payments. Three-way match requirements (order, packing slip, invoices) often consume countless hours dealing with multiple vendors and paperwork. The MRO industry's $250 average order size can create thousands of purchase orders often frustrating Accounts Payables Departments and adding countless hours of non-productive time reconciling invoices.
Integrated invoicing via XML or EDI facilitates information accuracy, consistency and completion. Workflow ensures that this information is accessible to the right people for the necessary actions in a timely fashion. Invoices are sent from suppliers electronically and payment can be made through electronic funds transfer (EFT). Less time is spent on the grand paper chase and as a result, payments go out the door more quickly. Detailed reports and analyses contribute to continually improved processes, leaving more time for other more meaningful pursuits.
Utilizing electronic invoicing and payment in the Pay process will help:
Eliminate paper-based processes
Reduce resources
Increase accuracy of the reconciliation process
Organizations can also realize the benefits of automated shop-to-pay processes by using robust supplier websites to complement their EDI systems. Supplier partners have advanced their websites to allow many of the same benefits found in your eProcurement platform while allowing your end-user to shop for products and get your specific pricing and order from the same site as they are currently doing with other indirect materials like office supplies. Integrated invoicing and payment options can complete the process improvements.
By analyzing the Procurement Cycle, your organization can start small and grow over time realizing greater levels of return as the connections grow. Organizations utilizing eProcurement:
Have more visibility and control across the entire procure-to-pay process
Replace manual tasks for automated processes
Reduce or eliminate paper-based payments
Increase transaction speed
Standardize processes
Achieving Procurement Cycle Success
Organizations making investments in eProcurement solutions and fully integrating the shop-to-pay functionality can reap significant cost reductions, increase cash flow and improve productivity. The keys to success are:
Strong senior leadership sponsorship
Robust communication plan
Ensuring ease of ordering and 24/7 access
Clear metrics for measuring transaction cost savings including documenting preand post-implementation processes.
Next up: Part 3: Making the Move to ePro? Ask These 5 Questions First covers the 5 questions to ask yourself when you're ready to start looking at eProcurement vendors.
Source
Grainger Consulting Services and Aberdeen Group "Best Practices in EProcurement: Reducing Costs in Increasing Value through Online Value", December 2005.
Eric Miltz is a Consulting Manager with Grainger Consulting Services. Grainger Consulting Services was established in 2003 to perform indirect materials management consulting for Grainger customers who are interested in strategic solutions specifically related to driving down the total cost of maintaining their facility. Eric is trained in fundamentals of Lean/Six Sigma, Inventory Management, Change Management and Sustainability, and is a subject matter expert in Storeroom Layout and Technology. Prior to joining Consulting Services in 2009, Eric worked in solution development for Grainger's multi-billion dollar eCommerce platform, along with 5 years in the IT/Consulting space before Grainger. Eric holds a bachelor's degree from Washburn University, along with a Lean Six Sigma Green Belt Certification from the American Society for Quality.