While the University of Minnesota is home to the Golden Gophers, its facility operations are home to a winning green strategy. Environmentally responsible practices are saving the university money, time, labor and resources while improving worker safety and productivity.
Its largest campus is in the Twin Cities area of Minneapolis and St. Paul, with others in Duluth, Morris, Crookston and Rochester. The university has a strong commitment to the environment. It involves all campus activities, from teaching to waste management, building design and purchasing.
At the University of Minnesota, Larry Van Grootheest (left) and Ben Krohling load hampers of computers and electronics collected from campus building as part of Beautiful U Day. The university enrolls more than 60,000 students and employs more than 3,000 faculty and another 13,500 researchers, instructors, and staff.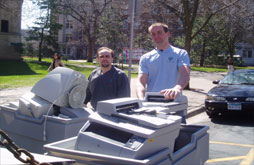 Teamwork Vital for Success
Central to campus green efforts is the Building Services Group, which combines building and custodial services with waste management and recycling. Waste/recycling operations employ 12 full-time staff members, and the custodial group has 500 custodians on staff, all of whom must complete an extensive two-week training program.
"Communication between waste management and custodians is extremely important," says Dana Donatucci, manager of University of Minnesota's recycling program. "We have custodians tour our facility so they can see what the recycling staff does. Knowing how we handle the materials helps each group to know what the other is doing."
"We wanted to cross-train everyone, and it's made a big difference," says Ruthann Manlet, Facilities Manager at the University of Minnesota. For example, when the recycling program began, 16,000 quad-system modular containers were placed on campus to separate recycling and trash, but custodians were lining them with plastic bags.
"We now show them what happens when items reach our recycling plant," Ruthann notes. "They can see that if they've put a liner in a paper recycling bin, recycling staff members will have to stop and open the plastic bag to get the paper out."
Improved training has helped dramatically reduce the work at the recycling center. Teamwork, training and procedures have also reduced the number of cleaning and other chemicals used on campus from about 500 to 50, as well as the number of injuries from staff improperly mixing chemicals.
"As a group, we said we need to set up processes, we need to control this, we care about our employees," Ruthann explains. "We required vendors to pass criteria for green-certified chemicals." With 78 percent of the custodial staff using English as a second language, proper labels, training and containers (such as colored, not clear) all help to improve efficiency and avoid risk.
Relamping Sheds New Light
Until recently, lighting issues were the most frequent service request for campus facilities management. Improper or inconsistent lighting can be distracting, leading to poor student or staff productivity and giving the impression of a poorly maintained space. Replacing burned out light bulbs is also labor intensive, disruptive, and tough to schedule.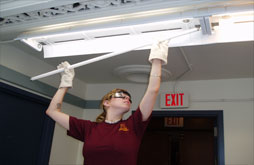 After relamping a test area of 95 rooms, the University of Minnesota changed bulbs in all 300 classrooms of the Twin Cities campus. The entire process took less than two months.
"We wanted to make the process more efficient, smarter and faster," Ruthann says. "We have a large campus, and labor is a big issue."
They started with a test area of 95 rooms. Ten specially trained custodians replaced all bulbs at once with more efficient bulbs. In one year, the test group buildings reduced lighting-related issues by more than 50 percent. Labor savings totaled $36,000. Later, bulbs were changed in all 300 classrooms on campus, which took less than two months.
For the entire Twin Cities campus, maintenance efficiencies and lower energy consumption alone will save the university over $500,000 per year. Other relamping benefits include improved facility appearance; greater ability to budget, plan, and schedule maintenance; reduced management time; employees engaged in a productive process; and reduced risk of staff injury. In addition, the spent lamps are pro- cessed by an outside vendor that crushes the bulbs and recovers materials such as mercury, glass and metal caps.
Lean, Green Campus Activities
Beautiful U Day began in 1997 with a massive, one-day cleanout event in which 1,000 tons of recyclable or disposable items were collected from campus buildings. Since then, the annual event has become a more organized process in which Facilities Management helps departments purge unneeded books, papers, electronics and computer equipment. As with the relamping process, a dedicated custodial crew provides large recycling containers. This year, crews collected about 23 tons of recyclable materials, Dana says.
The university is also giving "zero waste" the old college try. Zero waste is a goal in which everything is recycled or composted. The school's first major zero-waste event was held in June during a staff appreciation day when meals were served to about 6,000 people. Plates, cups and other concession items were made of compostable materials, and food waste was composted.
"We wanted to have just two streams—recycling and compost—no waste," Dana says. "For example, we ordered bulk potato chips instead of individual packages. That way, we'd have a recyclable cardboard box, a large recyclable plastic bag, and the chips." But when the chips arrived, each box contained several bags made of polypropylene (non-recyclable) versus polyethylene (recyclable).
Even the food service staff was surprised by the packaging. "You can't assume how your products will be packaged. You really have to know what you're ordering," Dana advises. "We ended up with some waste, but the event went well overall." He adds that careful planning is critical, but as the university conducts more zero-waste events, workers and attendees will get used to the concept, and they'll want to promote it more often.
Taking it Slow on H2O
The university also reduces usage, cost and pollution through water conservation. Food service staff used to run water continuously to wash food refuse down sink disposals. Now, food waste is collected for composting. This has dramatically reduced water consumption and plumbing costs to repair overworked sink disposals.
In campus residence halls, restricted flow shower heads have saved millions of gallons of water per year. Throughout campus, low-flush toilets and sink shutoff sensors have been installed.
To address storm water runoff, the recycling facility property includes a rain garden. Instead of contaminated runoff water flowing from the parking lot into the street and eventually into the Mississippi River, garden soils naturally filter the water before it reaches the river.
For the University of Minnesota, the vision and hard work of its custodial and recycling groups are helping students, faculty and staff get on board as well. "As we educate people about these programs, they're definitely interested," Dana says. "This community is good at recycling and saving energy, and the university is gung-ho about it."