Above the ceilings, behind the walls, and through the floors of utility closets lies a hidden intricate network made up of thousands of miles of pipes, ducts, wires, cables, and lines carrying water, heated and cooled air, electricity, data, oxygen, medical gas mixtures and more. This extraordinary grid is segmented across multiple life safety compartments to reduce the risk of fire and smoke traveling from one area of the hospital to another.
One might think a new hospital is automatically compliant with the life safety and health care facility codes (NFPA 99 and 101), but unfortunately this is often not the case due to a number of factors facing hospitals today:
Construction efforts are often completed in accordance with International Building Code (IBC) and International Fire Code, whereas CMS (Centers for Medicare & Medicaid Services) compliance is based upon the National Fire Protection Agency (NFPA) standards.
Poor oversight of the construction process by hospital owners and leaders often results in noncompliance at the time of occupancy.
Remodeling and expansion efforts are both constant and often must be completed under different municipal code versions.
New state-of-the-art medical equipment and technologies are constantly being deployed, requiring the implementation of new utility services and communication lines throughout the facility.
Seemingly endless information technology upgrades requiring new cabling throughout the facility, into every type of occupancy.
New requirements for firestopping, which insist upon more technical sophistication in doing all of the above (to be compliant, hospital facilities management personnel must understand the application of F ratings, T ratings, and L ratings for each barrier, and choose among more than 10,000 firestop systems for the correct application).

"We see a lot of situations where a CMS accreditation and certification agency finds hundreds of life safety deficiencies," says Kirk Kaiser, owner of Barrier Compliance Services, a nationwide containment contractor and Grainger's exclusive national partner for fire and smoke barrier solutions.
According to studies cited in Medical Construction and Designmagazine, the number of such deficiencies in a new health care facility is roughly one per every 300 square feet. The cost to repair firewall deficiencies discovered during an inspection of wall and ceiling enclosures is approximately $700 per issue, on average. Consequently, a 360,000 square-foot building could possibly have about 1,200 violations—an enormous number. Back of the envelope math indicates the expense of resolving the problem is close to $1.1 million for this 360,000 square foot facility.
Not only is there a cost associated with non-compliance, but there is also a significant reputational risk. "Once the violations become public record, they blemish the reputation of both the hospital and its CEO," says Kaiser. "These are life safety issues that CMS takes very seriously. Ultimately the repairs must be made. Otherwise, the medical facility is at risk of losing its CMS accreditation, which would put most facilities out of business due to lost Medicare and Medicaid revenue."
Considerations in Hospital Construction
To ensure adequate barrier protection in the development of a new hospital, Kaiser says it is crucial for hospital facilities management to be actively involved during all phases of the facility's design and construction. Kaiser confirms his direct experience is in accordance with the Medical Construction and Designarticle, noting, "If the facility is not actively involved in all phases of construction, there is a significant likelihood of compliance violations arising from new construction. In fact, Chapter 17 of the International Building Code now requires owners to be involved through special inspections during new construction."
A proactive approach, in which a medical facility's top leadership, facility maintenance staff, and safety personnel are engaged with the contractors from the design stage and throughout the entire construction process is a must, he maintains.
"Once the structure is completed, there is a long list of people who will inspect it, such as the building inspector, the IBC special inspector, the local fire marshal, The Joint Commission or some other CMS accreditation entity, and the hospital's property and casualty insurer, among others," says Kaiser. "Each has a vested interest in making sure it was built correctly to the various codes and standards at the time turnover (to the hospital). If it isn't, this will delay the opening of the facility."
Ongoing Considerations
Once a hospital is up and running, it isn't long before walls and ceilings are opened up to install additional pipes, wires, and cables behind or above walls and ceilings. These tasks are performed by hospital personnel or by outside contractors. While such individuals are competent in terms of their respective trades, they may not be experts in firestopping procedures. 
"It's not uncommon for corners to be cut," says Kaiser. "I've seen more than my share of holes poked in a barrier that are hastily and poorly repaired. For example an electrician running a new wire may be a great electrician, but does he or she really have the knowledge to ensure adherence to proper barrier compartmentalization and a neat and compliant installation?" he says. "Unfortunately this is not often the case, as the tradesperson is primarily interested in completing the craft and not proper firestopping."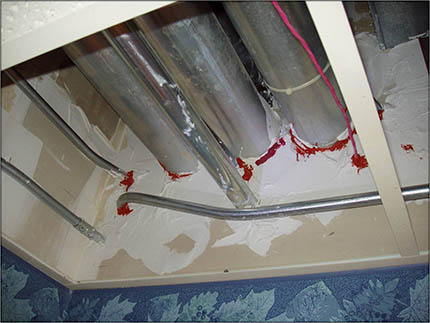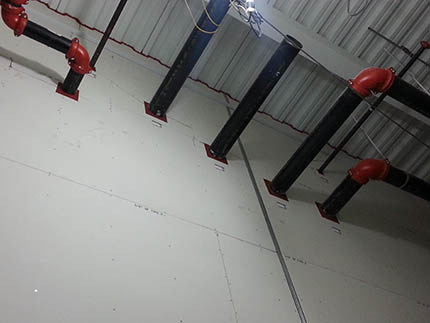 Furthermore, Kaiser adds that most hospital owners are not willing to invest the time or effort into their facilities management personnel to become journeymen, pointing to such dedicated firestopping crafts as Local 207, which sponsors a 5-year journeyman program exclusively for firestopping.
Vague Rules and Requirements
Exacerbating the problem for hospitals is the lack of clear requirements in NFPA 99 and NFPA 101, constituting exactly what the "scenery" behind walls and ceilings must look like to ensure compliance. There are also differences in the IBC codes and NFPA standards regarding what constitutes assemblies as fire walls, fire barriers or fire partitions, as well as smoke partitions or smoke barriers.
By contrast, NFPA's new annual testing requirements for hospital fire and smoke doors include as many as 13 specific items that a facility manager can follow to verify that each door adheres to the NFPA 80 fire-code standard code. NFPA 99 and 101 are not prescriptive in these testing requirements for fire barriers.
The lack of clear directions is not an excuse for shoddy workmanship. "While the appearance of a barrier does not equate to it being done correctly, it is indicative of the level of intention the hospital has towards overall compliance, setting in motion the inspector's resolve to find inferior construction throughout the facility," says Kaiser. "The last thing you want is for them to pop one tile and find a mess, as it encourages popping more tiles and finding more deficiencies. Those deficiencies are then published, much to the regret of the facility's owner."
Functional Firestopping
The challenges in complying with the life safety codes recently compelled The Joint Commission to partner with other organizations like Underwriters Laboratory to create a training program ensuring the assemblies behind hospital walls and ceilings are up to snuff and compliant. The decision underscores the vital importance of installation practices that align with proper firestopping procedures and materials.
However, one cannot learn all there is to know in a two-hour or even two-day course, which is what some organizations are providing. Installers need to have more than passing familiarity with the technical language of the codes and their implications. "To be effective you must thoroughly understand firestopping, building and fire codes, NFPA standards, blueprints, wall types, and more," says Kaiser. "Not having this knowledge in any one area is a recipe for non-compliance."
He makes a good point. Not all of the approximately 10,000 firestop systems in today's marketplace are equally applicable to the situation at hand. For example, each system is made of specific substrates and other materials, with components that come together in different ways.   
"Most firestop applications have more than 20 variables to consider in the selection of a correct firestop system," says Kaiser. "One step missed or an incorrect variable tweaked and the installation will fail to perform. The International Firestop Council and Underwriters Lab have produced a great video showing why this is the case. I highly recommend everyone watch it: Demonstration of Proper vs. Improper Firestopping.'"
Need for Specialized Expertise
Given the life safety codes' lack of clarity and the complexity of installations to ensure compliance, hospitals would be prudent in seeking assistance from experts like Grainger and Barrier Compliance Services. The latter provides a turnkey inspection, training, repair and reporting solution—from the design phase of a new hospital to its ongoing maintenance.
"There are no shortcuts," says Kaiser. "We also do not subcontract out our work, as it leads to a host of problems. We utilize our own employees who serve a five-year apprenticeship before becoming a full-fledged journeyman. With patient life safety and our customer's compliance at risk, anything less than that is unacceptable." 
Kym Orange Jr. is an accomplished healthcare strategy, marketing and sales professional with experience in strategic planning, employee development, sales & marketing, and business management. His current responsibility and focus since 2011 includes creating unique healthcare value through insight-driven solutions and ensuring the delivery of positive customer experiences through various Grainger business channels. Kym holds a BA from Indiana University in Bloomington, IN.