Storing tools the right way makes life easier when there's a job to be done. But the storage and organization possibilities are almost endless, from burly jobsite boxes with room for everything to simple belt sheathes that are just right for that one tool you want at your fingertips.
Regardless of whether you're dealing with a million sockets or a single screwdriver, the basic goals are the same. As you evaluate tool storage ideas, keep these principles in mind:
Keep it organized: A jumbled kit is a recipe for wasted time. Organization means you know just where to find just what you need. 
Keep it safe: Tools can be costly, and your storage system needs to protect them. That might mean shielding them from unnecessary knocking around, or it might mean safeguarding them from would-be thieves.
Keep it portable: With the right storage system you'll have the things you need right where you want them, whether that means wearing a tool belt around the jobsite or stationing a locker full of power tools beside your workbench.
Tool Storage Cabinets, Tool Chests and Lockers
For organizing and storing tools in a shop or work area, look to tool storage cabinets, chests and lockers.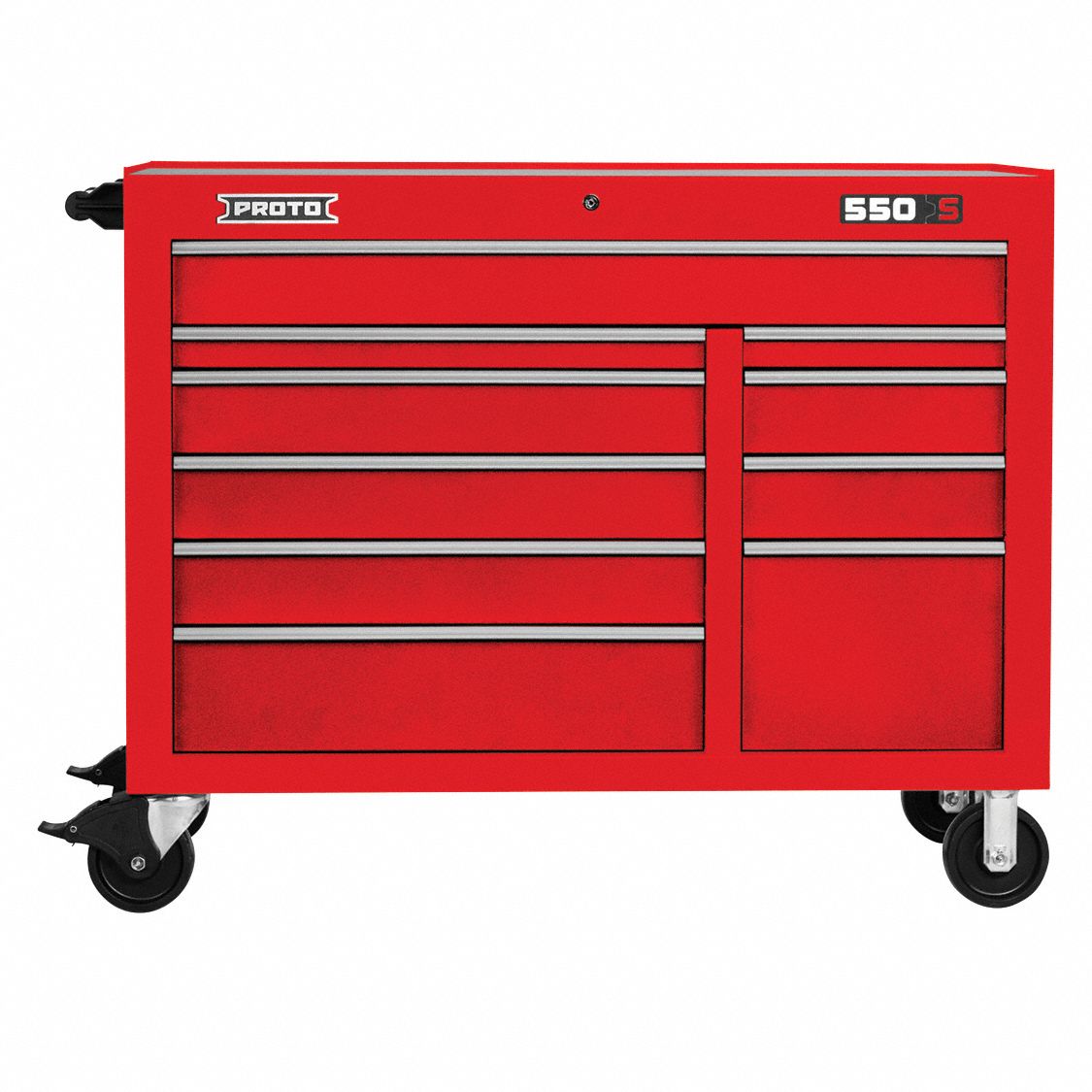 Rolling cabinets feature sliding drawers and caster wheels, providing tool storage that's easy to organize and that can be rolled around a flat shop floor. Most rolling cabinets are waist-height, with a flat top that can be used as a workbench or a platform for stacking additional storage.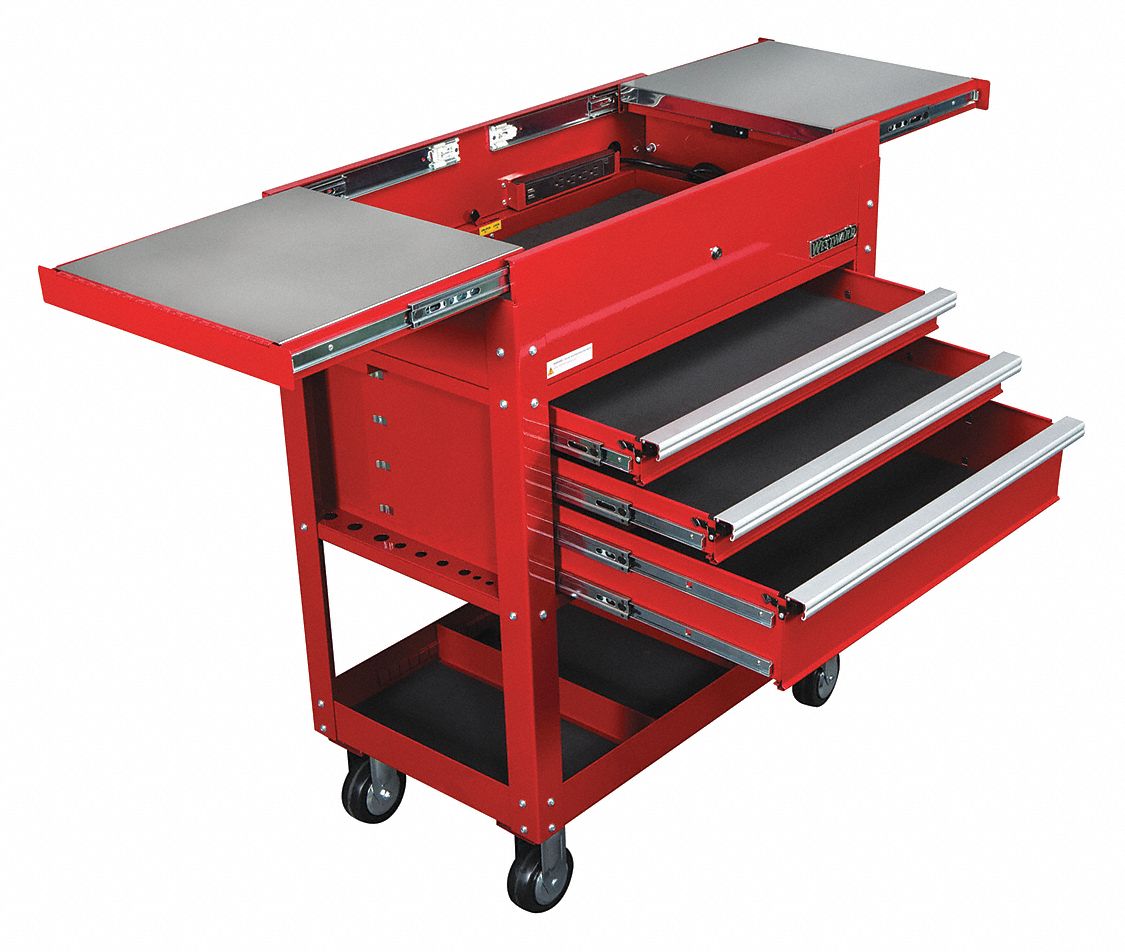 Tool utility carts are lighter and more mobile than cabinets, offering many of the same features in a more maneuverable package.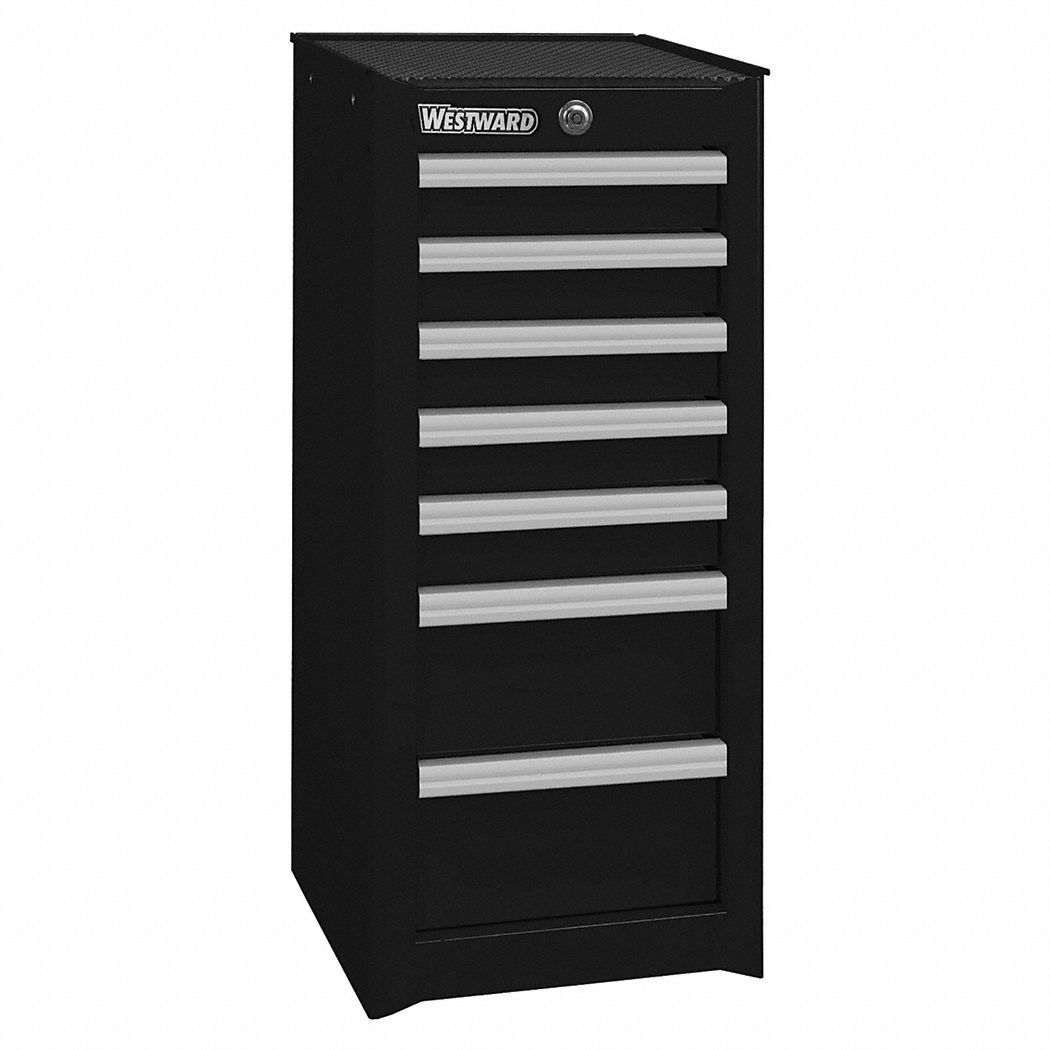 Side cabinets and lockers can be attached to the side of rolling tool cabinets, and they can also be used on their own as stationary storage. Side cabinets have sliding drawers, while lockers have a secure door and shelving inside.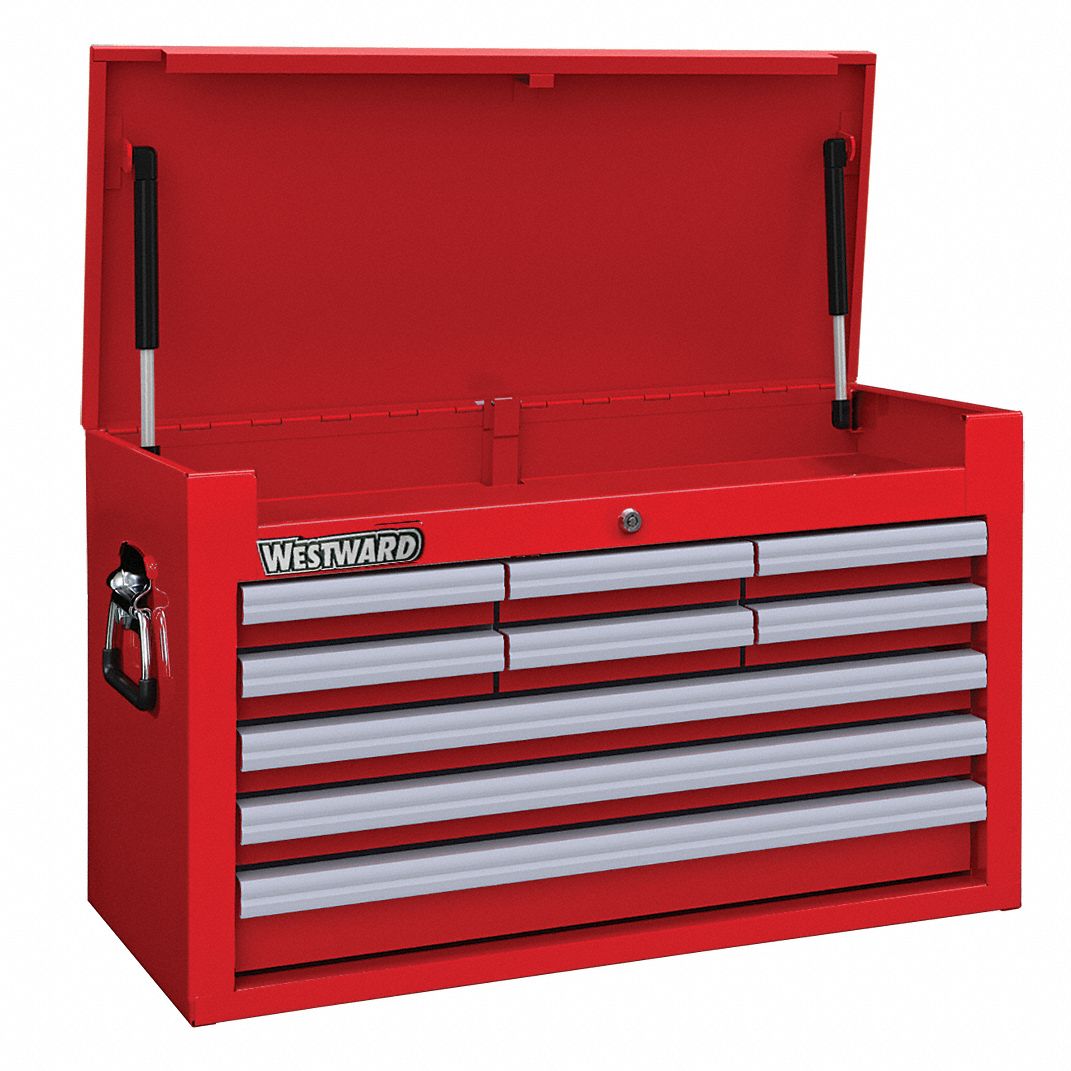 Top chests, intermediate chests and hutches are designed to be placed atop rolling cabinets or on workbenches. Top chests and hutches have lids that swing open for easy access, while intermediate have fixed tops designed to support an additional chest.
Here are some features to pay attention to when choosing tool cabinets, chests and carts: 
Drawer configuration: Numerous small drawers are great for organizing bits and sockets, while larger drawers are perfect for holding power tools.
Weight capacity: Cabinet drawers are rated to hold from 55 to 500 pounds. 
Locks: Many cabinets and chests are lockable. Some have keyed drawers, while others have padlock hasps.
Tool Organizers
Don't let your tool chest become a black hole. There are many types of tool organizers that can help you keep even the smallest stuff in its place: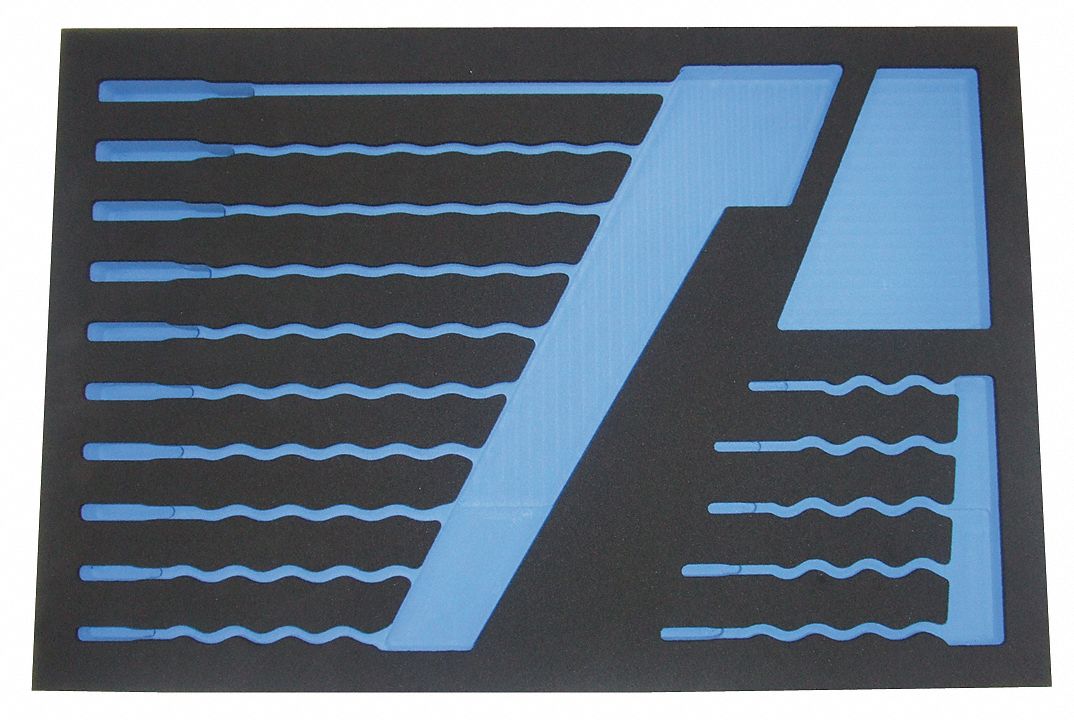 Foam inserts line the drawers of a tool cabinet to cushion tools and keep them from rolling around when moving the cabinet. When you open the drawer, everything will be right where you left it.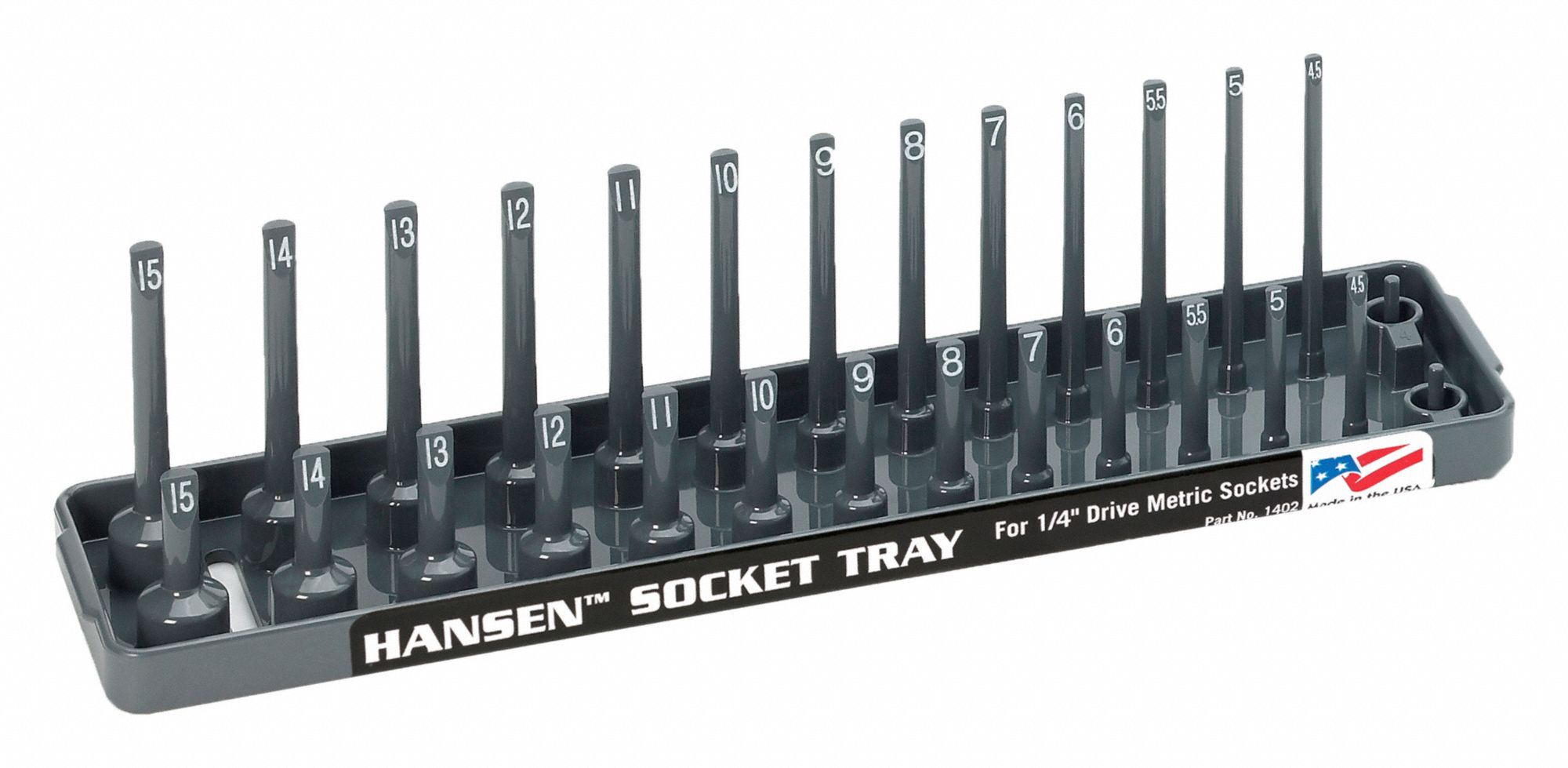 Socket rails and organizer trays allow you to arrange your sockets by size, making it easy to find the one you need. 

Wrench racks, rolls and magnetic bars protect your wrenches, keeping everything visible and organized.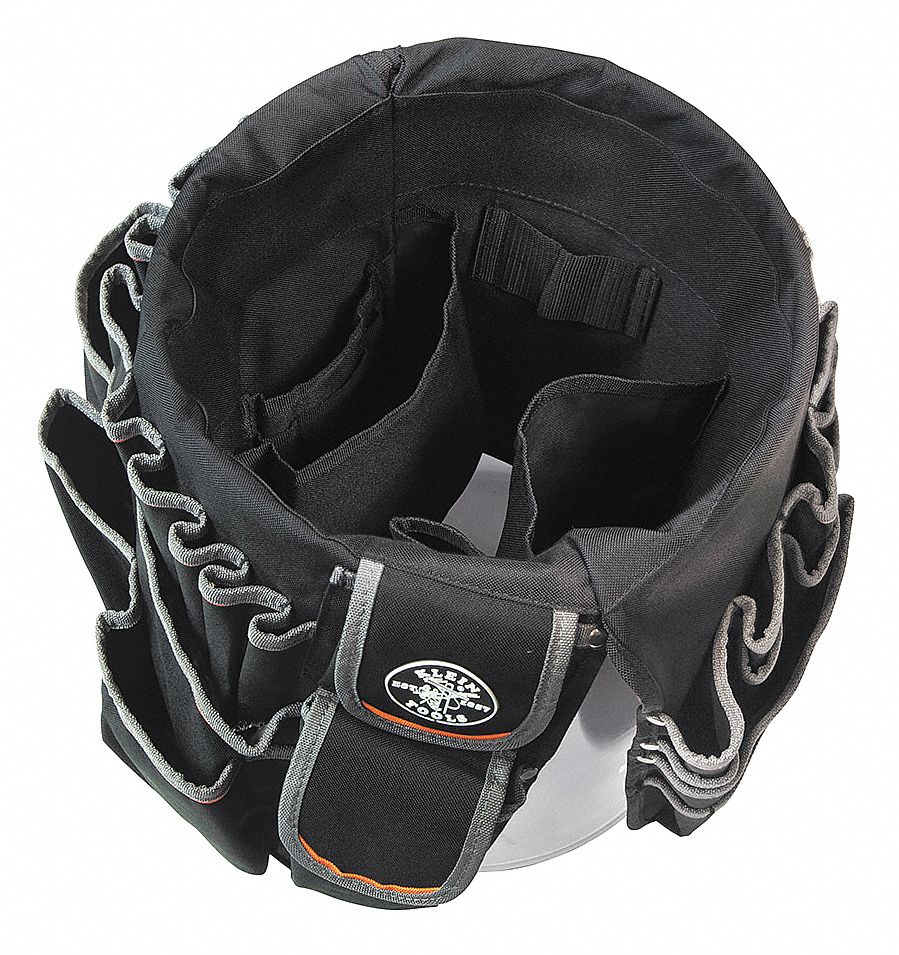 Bucket organizers are fabric sleeves that fit inside a plastic bucket, lining it inside and out with pockets to hold tools.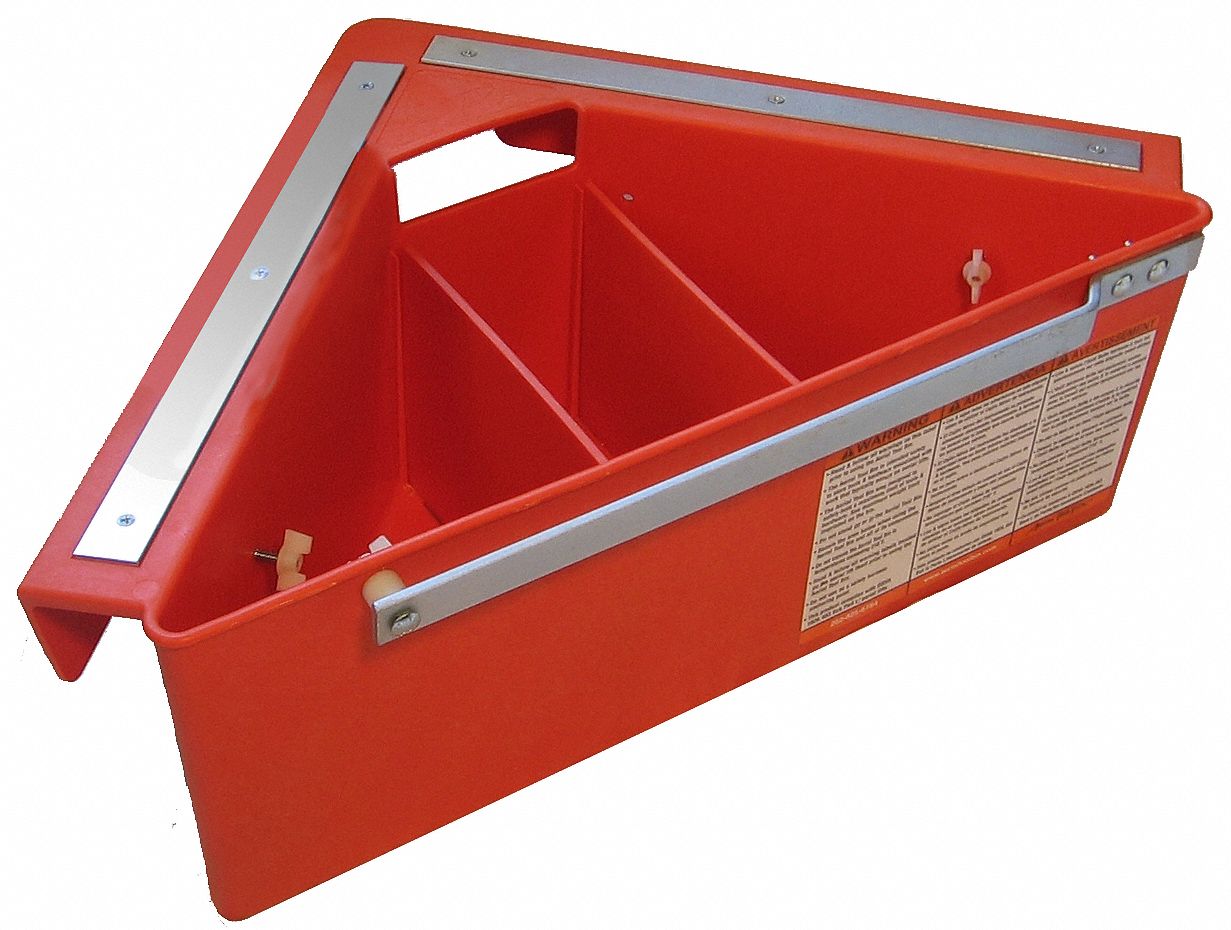 Triangular tool trays are designed to be mounted in the corner of a room or on the rail of a high lift.
Tool Hangers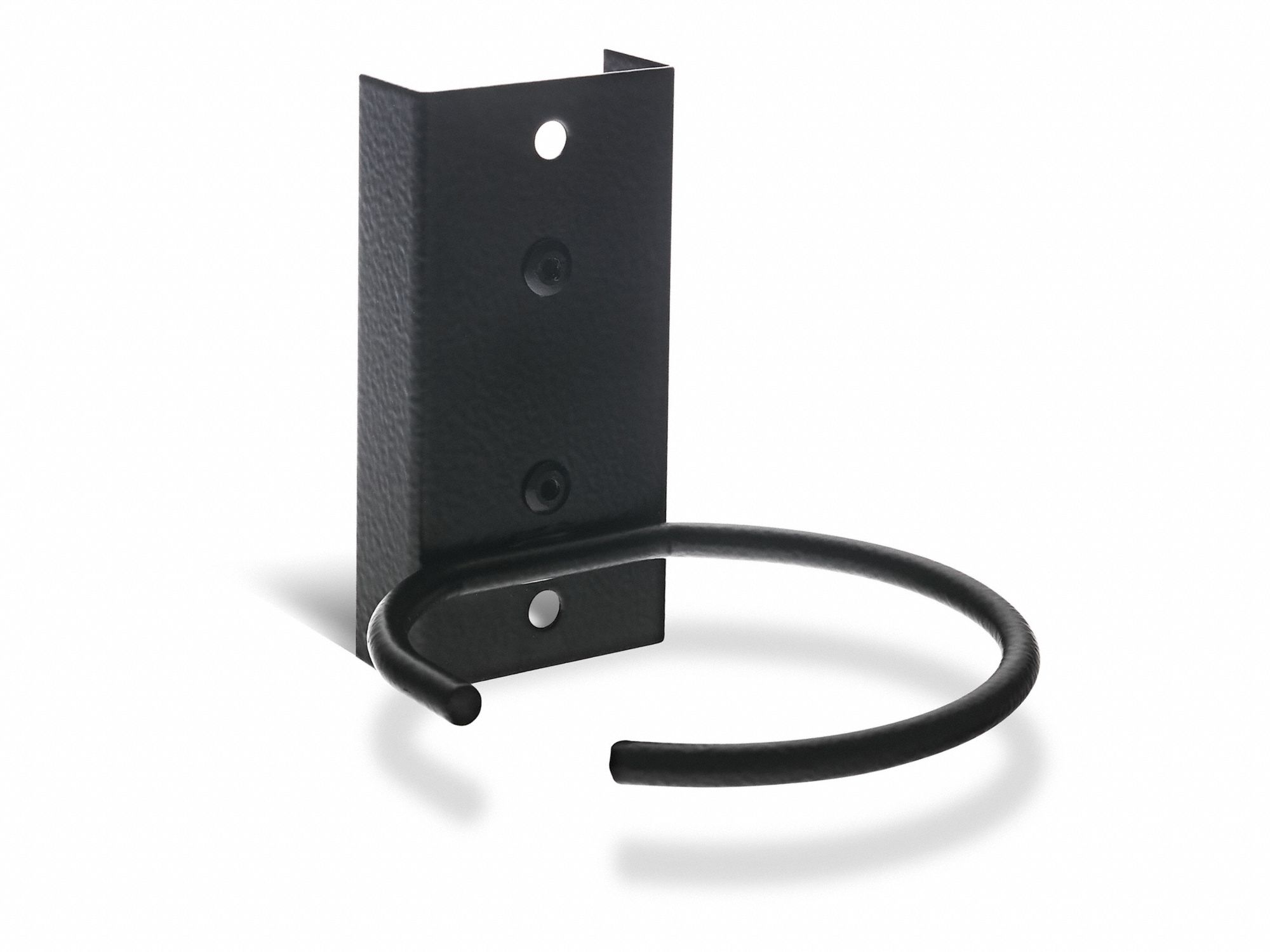 Not every tool fits easily inside a case, and not every tool needs to travel. When portability isn't required, tool hangers and brackets allow you to stow larger power tools and long-handled tools that don't fit comfortably into your tools chests and boxes. Specialized tools that you use less frequently are also good candidates for this type of storage. Hangers and hooks are also useful for garage tool storage, helping make the best use of limited space.
When choosing hangers and brackets, make sure to look for hardware that's rugged enough for the tools in question. Heavy-duty steel hooks can hold 50 pounds or more, but for lightweight tools a plastic hanger may be enough.
Tool Boxes, Tool Bags and Tool Belts
When portability is the highest priority, look to tool boxes, bags and belts.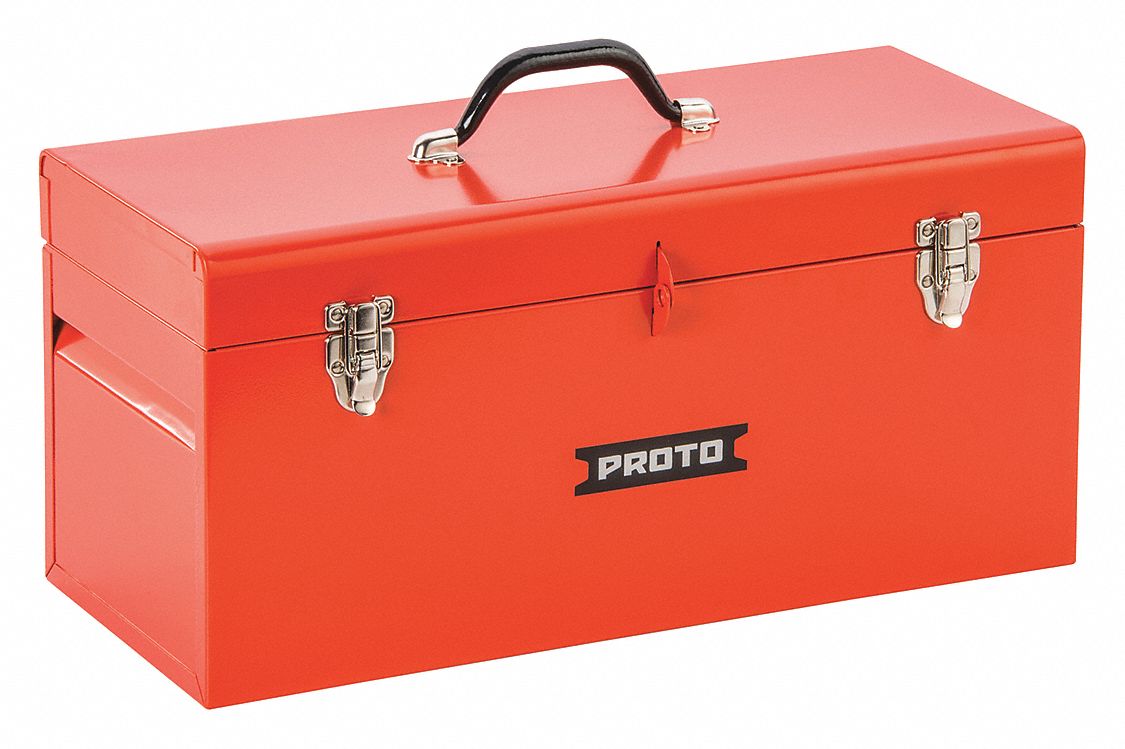 Hard toolboxes come in a wide variety of sizes and styles, from rolling steel boxes with drawers to the traditional hinged-top handyman's box to lighter weight boxes made of plastic or structural foam. But the basic idea is the same—to pack some of the organizational and protective power of a tool chest into a size that can be easily carried. 
Here are some things to pay attention to when choosing a toolbox:
Size and weight: The box needs to be big enough to hold your tools while still being easily portable. If your work takes you to residential or office buildings, a smaller box will be less prone to banging into walls and fixtures. 
Compartments: Hinged-top boxes are great for keeping a handful of tools at the ready, while organizer cases can keep a collection of washers and bolts organized. 
Material: Boxes are made from steel, plastic, structural foam and polyester. Each offers a different level of protection, weight and weatherproofing.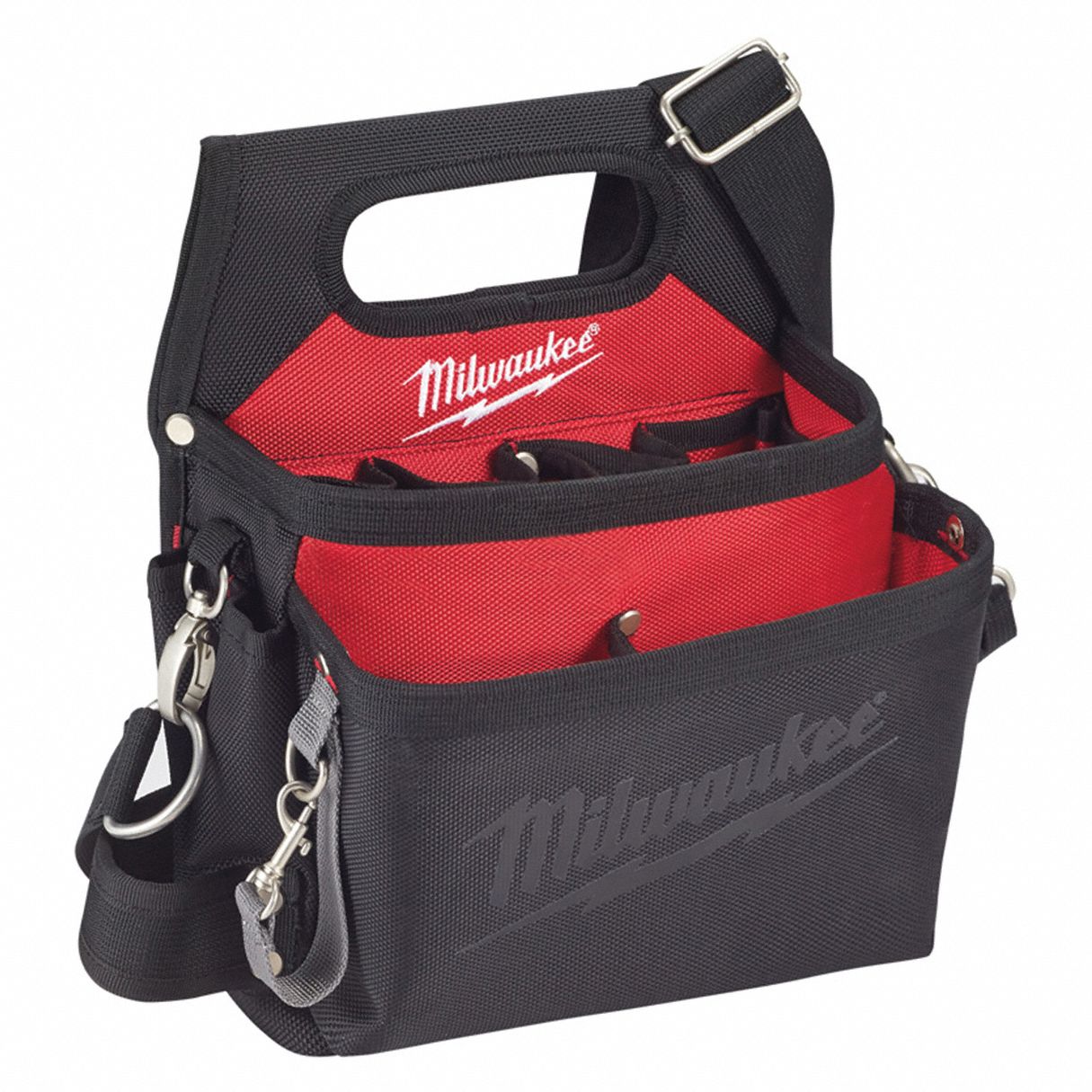 Soft tool bags and totes are lightweight and easy to store. They can be simple, like collapsible fabric buckets and totes, or more versatile, like zippered backpacks that keeps your hands free for using hand tools or climbing ladders. Rolling tool bags can carry large kits, while flat zippered tool bags are designed to organize a small clutch of hand tools. Many bags and totes can also be hung on a peg or collapsed and stowed away when not in use.       
Here are some things to pay attention to when choosing a soft tool bag:
Size: From a 16-inch bucket to a 3-inch zippered pouch, soft cases come in a wide range of capacities. 
Enclosure type: Some buckets and totes are open-topped, other soft cases have zippers or buckles.   
Material: Tool bags can be made of leather, ballistic nylon, canvas or heavy polyester. Fabrics offer different levels of puncture and stain resistance.    
Pockets: Many bags and totes are partitioned into dozens of pockets and sleeves to keep tools organized. The right number and size of pockets will depend on the type of kit you're carrying to the job.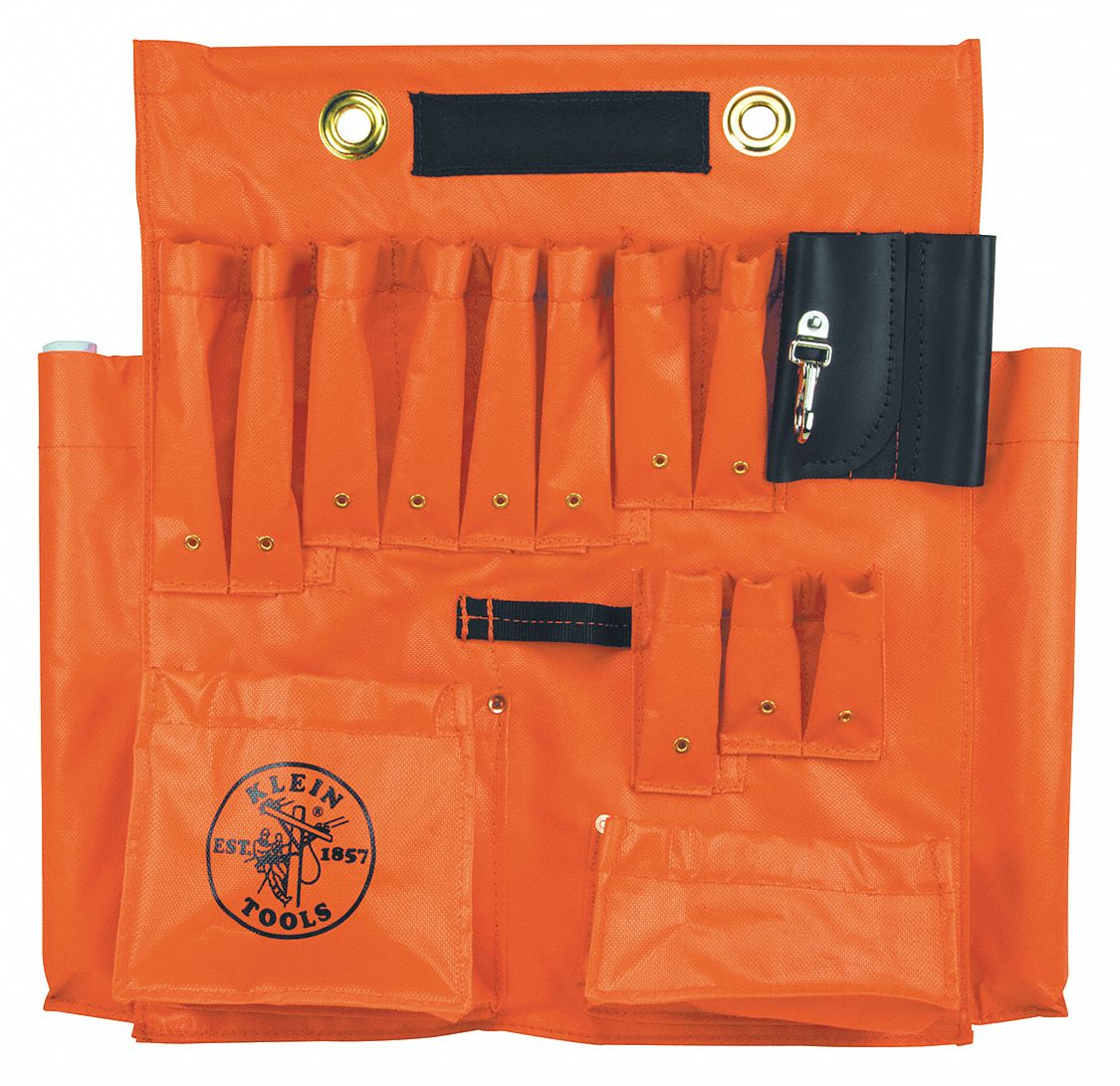 For the tools you need access to at all times, wearable organizers are the way to go. Tool belts and aprons, tool suspenders and tool vests provide extreme convenience, keeping your most frequently used tools within easy reach while keeping your hands free. Add on tool pouches, holsters and sheaths for even more storage.
Here are some things to pay attention to when choosing wearable tool storage:
Weight distribution: Tool belts are easier than rigs to slip on, but the rig's suspenders distribute the weight of your toolkit onto your shoulders for a more secure fit. Aprons and vests ride entirely on the shoulders and keep your toolkit in easy view on your chest.   
Pockets, pouches, and loops: Consider what combination of open pockets, zippered pouches and hammer loops will best carry your kit. 
Modular Tool Storage Systems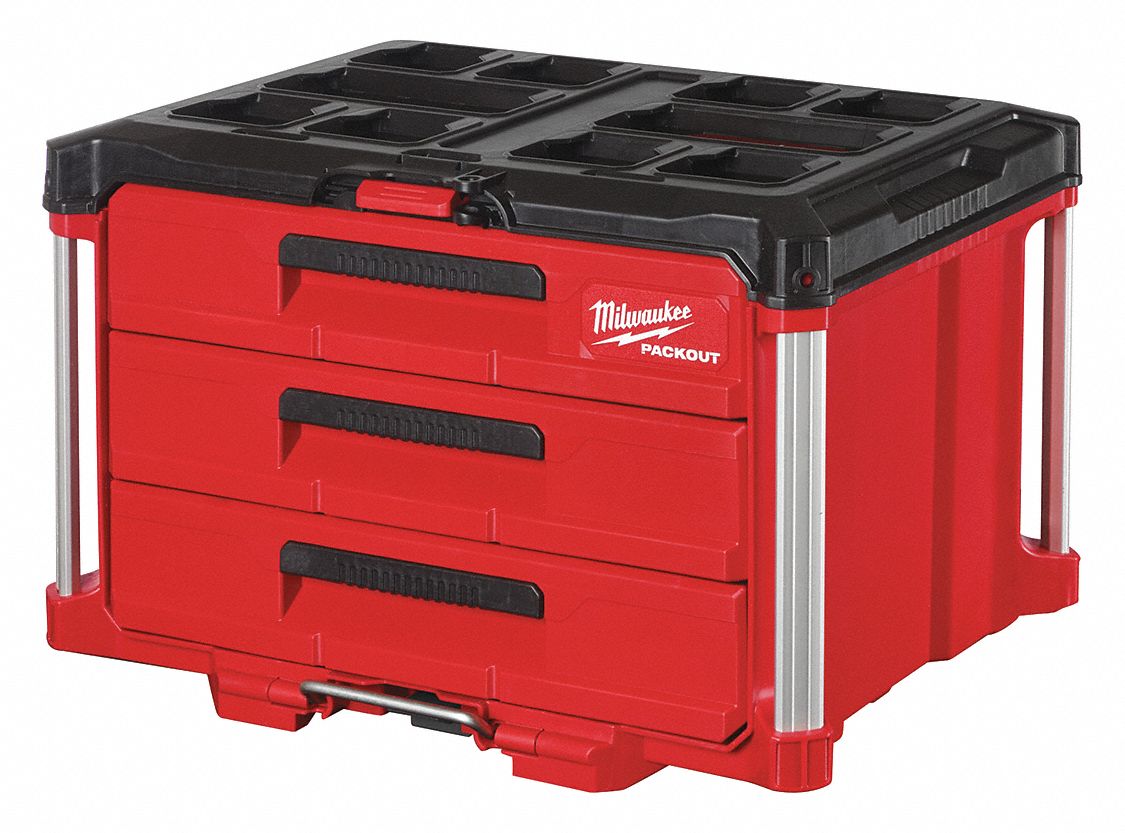 Modular tool storage systems take portability to the next level. The idea is to combine tool boxes, organizers, totes, bins and even jobsite radios and coolers into a standardized system that can be stacked and interlocked into a single unit that can be easily transported to and from the jobsite. And when you're back at the workshop, mounting can hold everything in place, keeping it all accessible.
Jobsite Boxes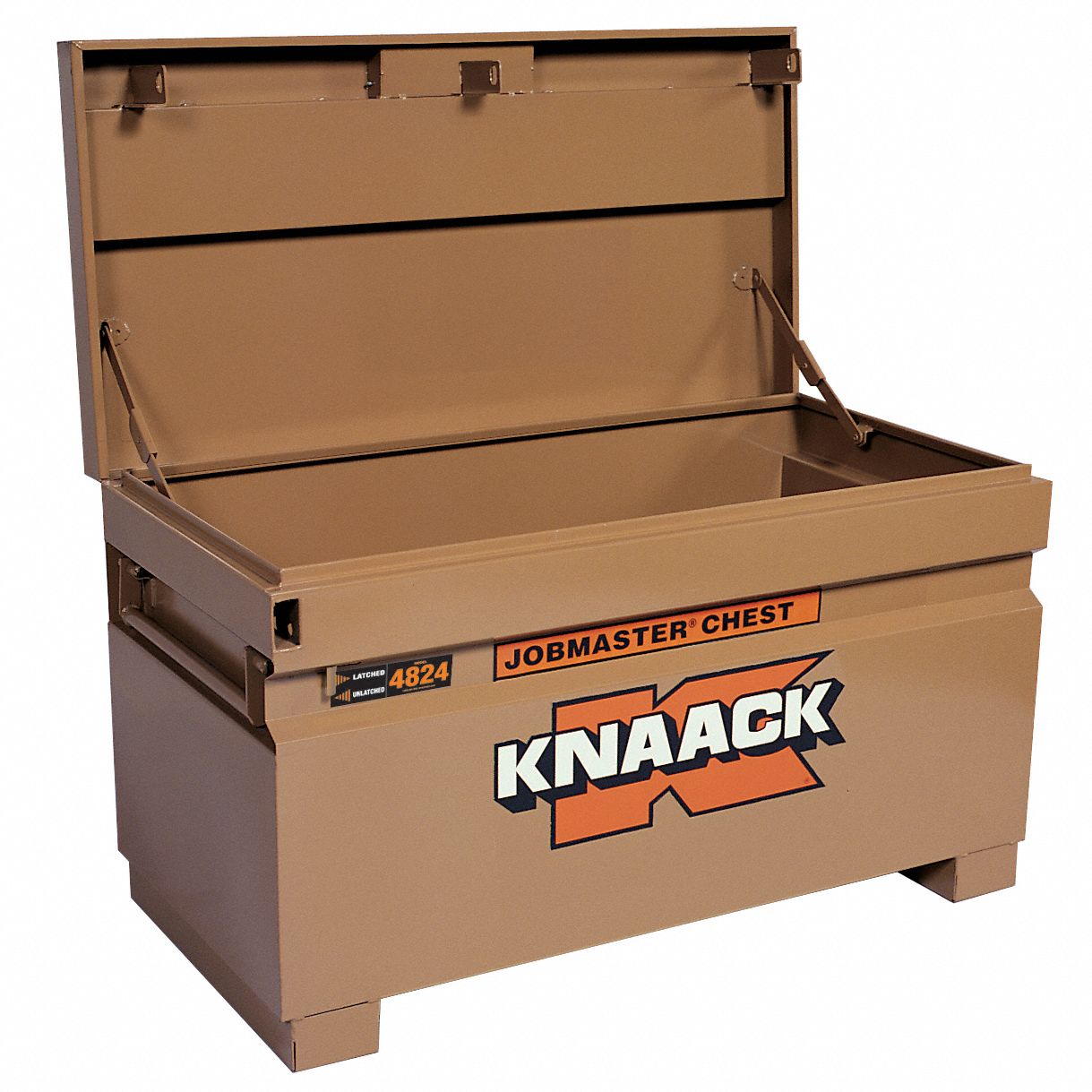 Jobsite boxes are large, stationary containers that protect the equipment that you need to leave at the jobsite. They're weatherproof and lockable, designed to be a safe place to store tools overnight. Some jobsite boxes are simple hinge-topped chests, others have an integrated desktop for handling paperwork on site.   
Here are some things to pay attention to when choosing a jobsite box:   
Capacity: The purpose of the jobsite box is to eliminate the need to haul tools to and from the jobsite every day. Be sure your box will hold everything you need to leave at the site.
Drawers and partitions: Some jobsite boxes have an undivided interior for holding large power tools. Others have cabinet drawers or locker doors and internal shelving. 
Locking system: Jobsite boxes are designed to secure tools overnight. Some have recessed padlock hasps for added security.