United States Postal Service (USPS)
United States Postal Service Relationship
Grainger is proud to continue its long-standing relationship with the United States Postal Service. By shipping tens of thousands of contracted items via USPS Parcel Select every month, these Grainger shipments are vital to helping us get you what you need.
The USPS has honored Grainger with many service awards, including:
2010 Supplier Performance Award
2010 Corporate Business Achievement Award
2008 Supplier Performance
2008 Postal Supplier Council Award
USPS Contracts
As one of the USPS contract holders for Custodial, Building/MRO and Industrial Supplies, Grainger simplifies the purchasing process. Take advantage of your contracts and automatically receive a pre-negotiated price on the supplies you need to maintain your facilities and service your truck fleet.
Grainger / United States Postal Service Contracts:
Building & Equipment Maintenance – 2CMROS-11-B-1026/2CMROS-11-C-1022
Custodial Products – 2CMROS-11-B-1026/2CMROS-11-C-1023
Industrial Products – 2CMROS-11-B-1026/2CMROS-11-C-1024
All current prices are loaded on eBuy.usps.gov.
USPS Roadmap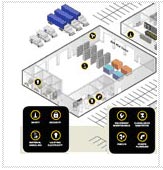 Grainger has solutions for USPS facility
maintenance issues you face every day.
Ordering Information
Place orders on eBuy at usps.verian.com/ebuy2 the preferred method for all USPS purchases.
Need help ordering on eBuy?
Please make use of the eBuy2 blue page for any one of the available resources such as FAQs, eBuy2 Administrators, Glossary, or other eBuy2 user guides and aids. The blue page can be accessed at: http://blue.usps.gov/purchase/eBuy2_home.htm
For eBuy2 technical assistance, please contact USPS National Materials Customer Service at 800–332–0317.
For eBuy2 purchasing assistance, please contact the USPS Purchasing Shared Services Center at 877– 293-2410.
Four easy ways to order:
Order online at usps.verian.com/ebuy2 (preferred method)
Call 1-800-GOV-TEAM (1-800-468-8326)
Fax 1-877-699-4881
Email: uspsteam@grainger.com
Contact Us
For help with orders or product information, call 1-800-GOV-TEAM.
For questions about Grainger, contact:
Chris Wells
Senior National Government Sales Manager
Phone: 678-725-2698
Chris.Wells@grainger.com
Locate your nearest Grainger Branch.
Other important Grainger information:
Grainger 24-Hour Emergency Services - Phone: 1-800-225-5994
Repair Parts - Call your local branch