Your Grainger
Representatives:
MCAGCC Twenty-Nine Palms
Nino-Ramon Santiago
Phone: 951-367-9910
Grainger Team: 760-304-7197
MCLB Barstow
Michael Loya
Phone: 760-304-7198
Cell: 951-203-5892
Grainger Team: 760-577-6964
MCB Hawaii
Les Nishikawa
Phone: 808-253-7320
Fax: 808-423-0028
---
Your USMC Contacts:
MCAGCC Twenty-Nine Palms
Building 1102
Phone: 760-830-1931
DSN: 230-1931
Fax: 760-830-1930
0700-1500 Daily
MCLB Barstow
Building 8
C Street
Phone: 909-549-8993
0700-1500 Daily
MCB Hawaii
Building 209
Second Street
MCAS Kaneohe Bay
Phone: 808-254-4069
Fax: 808-254-7163
0700-1500 Daily
---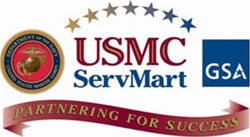 Welcome to the Grainger GSA 4PL Marine Corps SERVMART Support Site
Be sure to sign in on Grainger.com® to view your special pricing
Grainger offers an extensive selection of products—plus solutions and technical expertise you can rely on to support your continuous improvement and cost savings initiatives. Work with your local Grainger team to take full advantage of all that your agreement has to offer.
In order to view the Grainger products available through the GSA 4PL Marine Corps SERVMARTs at MCAGCC Twenty-Nine Palms, MCLB Barstow and MCB Hawaii along with GSA prices, you must be registered and signed in at Grainger.com®. Please contact your local Grainger GSA 4PL SERVMART site manager to receive a Grainger.com® User ID and password.
Find out more about Grainger's valuable Services and Resources to help you get your job done.
Existing Account Login


Sign in now
Use your User ID and password provided by your manager. Password is case sensitive.

Forgot password?
We will send your User ID and Password via email.

Not Registered

Contact your Grainger Account Manager if you have any questions about registration or logging in.
Safety
| | | |
| --- | --- | --- |
| | | As North America's largest distributor of safety products, Grainger has the products and resources to help you maintain regulatory compliance and reduce workplace injuries. |
Additional Solutions