Grainger is a proud member of the National Safety Council and supports their mission.
For information on the benefits of membership, visit nsc.org.
SPECIAL EDITION – October, 2012

Techlines is a quarterly eNewsletter that provides important safety information and news that affects professionals like you. This special edition coincides with the 100th Anniversary of The National Safety Council's Congress and Expo.

Not a Subscriber to Techlines? Subscribe now!
In This Issue:
OSHA's Most Violated Standards
According to the National Safety Council (NSC), the most frequent topic of questions from members involves the publication of the Occupational Safety and Health Administration's (OSHA's) list of the top ten most violated standards. This OSHA publication sheds light on the enforcement policies and procedures of the agency.
At this year's National Safety Council Congress and Expo in Orlando, Grainger is proud to have been a co-sponsor of the live presentation of OSHA's top ten most violated standards for fiscal year 2012.
This is why we've collected a general overview of these ten standards (in order of the most cited) with outlines of the top sections cited. You'll also find helpful products, reference material and training programs to help your workplace stay safe and facilitate regulatory compliance.
It's our hope that by focusing on the compliance efforts in these standards some serious workplace hazards can be eliminated. The chart below, courtesy of OSHA, provides a historical perspective on these most frequently cited standards:
OSHA's Top Ten - Most Frequently Cited Standards
Historical Perspective - Fiscal Years 2002 – 2011
Ranked by Number of Violations
Violation
FY 2002
FY 2003
FY 2004
FY 2005
FY 2006
FY 2007
FY 2008
FY 2009
FY 2010
FY 2011
Scaffolding
1926.451
1
1
1
1
1
1
1
1
1
1
Fall Protection
1926.501
3
3
3
3
2
3
2
2
2
2
Hazard Communication
1910.1200
2
2
2
2
3
2
3
3
3
3
Respiratory Protection
1910.134
4
5
5
4
4
4
5
4
4
4
Lockout/Tagout
1910.147
5
4
4
5
5
5
4
5
6
5
Electrical, Wiring Methods
1910.305
6
7
6
7
7
7
6
6
7
6
Powered Industrial Trucks
1910.178
8
8
8
6
6
6
7
8
8
7
Ladders
1910.1053
10
9
8
8
7
5
8
Electrical, General Requirements
1910.303
9
10
9
9
10
10
10
9
9
9
Machine Guarding
1910.212
7
6
7
8
8
9
9
10
10
10
FY 2002 Number 10: Mechanical Power - Transmission Apparatus 1910.219
FY 2003 Number 9: Bloodborne Pathogens 1910.1030
FY 2004 Number 10: Mechanical Power - Transmission Apparatus 1910.219
Scaffolding Guidelines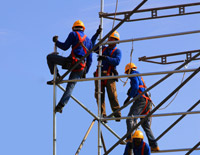 For ten years running, scaffolding has held the number one position on OSHA's list of top ten most frequently cited standards following worksite inspections by federal OSHA representatives.
Scaffolding refers to a temporary platform or series of platforms that allows workers to work above ground-level, often at considerable heights. The scaffolding standard (29 CFR 1926.451) covers general safety requirements for scaffolding. Scaffolds are to be designed by a qualified person and constructed and loaded in accordance with the design.
Top sections cited include:
Failure to provide fall protection – 1926.451(g)(1)
Failure to provide adequate platform construction – 1926.451(b)(1)
Failure to provide proper access – 1926.451(e)(1)
Failure to support scaffolding properly – 1926.451(c)(2)
Failure to install guardrail systems properly – 1926.451(g)(4)
Employers must protect construction workers from falls and falling objects while working on or near scaffolding at heights of 10 feet or more. This threshold differs from 29 CFR 1926.501 fall protection requirements, which requires the use of fall protection at six feet or more. Different thresholds are required because scaffolds are temporary structures erected to aid workers who are constructing or demolishing other structures, and scaffolds are less amenable for the use of fall protection at the time the first level is erected.
Accidents most often result from planking or supports giving away, or from employees slipping or being struck by falling objects.
Some helpful planking suggestions include:
Planking must be 2" x 10" graded and marked as scaffold planking.
At a minimum, the platform must be 18" wide.
No openings except for brackets or connectors.
Planks must be inspected prior to use and damaged planks must be removed from service.
Plank overlaps must be at least 12 inches.
To help protect against falling objects:
Wear hardhats.
Stack materials to prevent sliding, falling, or collapse.
Secure tools and materials to prevent them from falling on people below.
Barricade hazard areas and post warning signs.
Use toe boards, screens, or guardrails on scaffolds to prevent falling objects, or,
Use debris nets, catch platforms, or canopies to catch or deflect falling objects.
Toe boards are required if there is foot traffic below the work area, above all entryways, exits, and stairs.
Grainger offers a full line of fall protection anchors, harnesses, and lanyards and lifelines. Construction fall protection training systems, guardrails and warning line systems are also available.
Grainger also has a Quick Tip document you can read on Scaffolding Requirements.
Source: www.osha.gov
Fall Protection Basics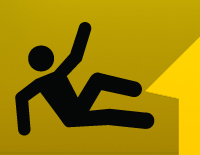 Falls are one of the major causes of serious injuries and work related deaths for workers in the construction trades. The fall protection standard, 29 CFR 1926.501 identifies where fall protection is required, what systems are appropriate for given applications, the design and proper construction and installation of safety systems and the supervision of employees to prevent falls. Its purpose is to protect employees on a walking/working surface (horizontal or vertical) with an unprotected side or edge above six feet.
From a historical prospective, this standard has been in the top three most frequently cited standards by OSHA for 10 years and running.
From October 2010 through September 2011 Construction Special Trade Contractors and Building Construction General Contractors and Operative Builders SIC codes accounted for the majority of inspections, citations and penalties levied relating to 1926.501.
Traditionally, the most frequently cited violations are:
1926.501(b)(13) – Failure to provide fall protection for residential construction.
1926.501(b)(1) – Failure to provide fall protection for walking/working surfaces six feet or higher above lower levels.
1926.501(b)(10) – Failure to provide fall protection for roofing activities on low-slop roofs.
1926.501(b)(11) – Failure to provide fall protection for steep roof activities.
1926.501(b)(14) – Failure to protect workers from falling into or through holes and openings in floors and walls
OSHA requires employers to provide working conditions that are free of known dangers. To help prevent employees from being injured from falls employers must:
Guard every floor hole into which a worker can accidentally walk by using a railing and toe-board or a floor hole cover.
Provide a guard rail and toe-board around every elevated open sided platform, floor or runway.
Regardless of height, if a worker can fall into or onto dangerous machines or equipment, employers must provide guardrails and toe-boards to prevent workers from falling and getting injured.
Other means of fall protection that may be required on certain jobs include safety and harnesses and lines, safety nets, stair railings and hand rails.
Grainger has a full line of fall protection safety equipment from harnesses to lanyards and self-retracting life lines and guard rails to warning lines.
There are several documents that discuss fall protection on Grainger.com®: Quick Tips #130: Fall Protection Equipment, Quick Tips #131: Construction Fall Protection, Subpart M, and Quick Tips #347: A New Lift to Fall Protection Standards.
Source: www.osha.gov
Hazard Communication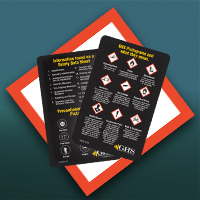 The Occupational Safety and Health Administration's (OSHA's), 29 CFR 1910.1200 Hazard Communication Standard (HCS) is in the "Top 10 Most Frequently Cited Standards" again this year. Over the last ten years, this standard has consistently been ranked as the second or third most cited.
The purpose of the HCS, which is also known as the Right-to-Know law, is to ensure that all chemical hazards in the workplace are identified and evaluated, and that the information is shared with employers and employees. This transfer of information is accomplished by means of a comprehensive hazard communication program that includes container labeling and other forms of warning, Material Safety Data Sheets (MSDSs) and employee training.
The HCS is comprised of six main categories:
Hazard determination,
Material safety data sheets,
Labels and other forms of warning,
Employee information and training,
The written hazard communication program, and
Trade secrets.
All of these sections are critical to the standard and if not followed properly, can result in a citation.
Sections of the HCS that are most often cited are:
1910.1200 (e)(1) – Failure to develop and maintain a written program
1910.1200 (h)(1) – Failure to provide training
1910.1200 (f)(5) – Failure to ensure every container of hazardous chemicals in the workplace is labeled, tagged or marked
1910.1200 (g)(1) – Failure to have a Material Safety Data Sheet for each hazardous chemical
1910.1200 (g)(8) – Failure to maintain in the workplace copies of Material Safety Data Sheets
On March 26, 2012, a much-anticipated revision to the HCS was published in the Federal Register (with an effective date of 60 days thereafter). The most significant change in this revision is OSHA's adoption of the United Nations' Globally Harmonized System (GHS) of Classification and Labeling of Chemicals. The basic framework, scope and exemptions of the HCS have remained largely unchanged. The three major areas of change center on hazard classification, labels and safety data sheets.
The revisions to the HCS are being phased-in over a four- year period. During the transition period, all chemical manufacturers, importers, distributors, and employers may comply with either the current, revised or both 29 CFR 1910.1200 standards.
Grainger offers several resources to help keep you in compliance with both the current and revised HCS. Available through our Quick Tips Library are #150 The Hazard Communication Standard, #200 Hazard Communication Labeling, and #374 Globally Harmonized System. Archived in our On the Job Webinar Series you will find "Safety: Implementing Global Harmonization (GHS) into your HazCom Program."
Grainger also carries many products to help you with your HCS compliance - MSDS binders and holders, labels, and training materials. New GHS items are being added daily.
Let Grainger help you with your HCS and GHS compliance.
Respiratory Protection
The Respiratory Protection standard (29 CFR 1910.134) has been one of the top ten most frequently cited standards following inspections of workplaces by OSHA for the past ten years.
OSHA considers respirators to be necessary to protect the health of employees at those work sites where feasible engineering controls and work practice controls are not available or are not sufficient to protect the employee's health.
The Respiratory Protection standard directs employers in establishing and maintaining a respiratory protection program. It lists requirements for program administration, worksite-specific procedures, respiratory selection, employee training, fit testing, medical evaluation, respirator use, and respirator cleaning, maintenance and repair.
The top cited sections of the Respiratory Protection standard generally include:
1910.134(c)(1) – Where respirators are necessary, requires employers to develop a written respiratory protection program with workplace-specific procedures.
1910.134(e)(1) – Sets the minimum requirements for the medical evaluations required to determine the employee's ability to use a respirator prior to fit testing or use.
1910.134(c)(2) – Establishes requirements for voluntary use of respirators.
1910.134(f) – Requires fit testing and specifies the types of fit testing allowed, procedures for fit testing and how to interpret the results.
1910.134(d)(1) – Establishes general requirements for respirator selection.
Written Respiratory Protection Program
During workplace inspections where respirators are used, OSHA inspectors evaluate the written respiratory program to determine if it is adequate and complete. The program must be tailored to cover the specific work operations and practices and must include the following unless it is determined that they are not applicable:
Procedures for selecting respirators
Medical evaluations for users
Fit-testing procedures for tight-fitting respirators
Procedures for proper use during routine and emergency situations
Procedures for cleaning, storing and disinfecting
Procedures to ensure adequate air quality and flow for atmosphere-supplying respirators
Training on respiratory hazards
Training on proper use, donning and doffing
Procedures for regularly evaluating the effectiveness of the program
Medical Evaluations
Compliance officers will determine if the medical evaluation requirements are being met by interviewing a number of employees and asking if they have been provided with a confidential evaluation of their ability to wear a respirator. They will also determine what mechanism is being used to ensure that the employer does not see the answers to the questionnaire in order to maintain confidentiality.
Voluntary Use
Respirators that are voluntarily used by employees are limited to filtering face pieces. This use does not require the employer to have a written program. Employers must only ensure that the respirators are not dirty or contaminated, that their use does not interfere with the employee's ability to work safely, and that a copy of Appendix D has been provided to each voluntary wearer.
Fit Testing
Compliance officers will determine which protocol was used for fit testing and if all the employees who are wearing tight-fitting respirators have been fit-tested in the last 12 months for the respirator they are wearing. Fit test records will also be reviewed.
Respirator Selection
OSHA inspectors closely scrutinize the employer's estimate of employee exposure to determine if the hazard assessment is based on appropriate data and reliable information. They will also review the employer's Hazard Communication Program for information on existing respiratory hazards. They will be aware of the potential for emergency situations and the use of emergency respirators. Routine employee interviews will be conducted to determine what actions have been taken to re-evaluate employee exposure when employees have made complaints.
Grainger offers a full line of respiratory protection products from particulate respirators to SCBAs, and cleaning supplies to training programs.
There are several documents that discuss respiratory protection on Grainger.com® in the Quick Tips Library, under the Resource tab. For example, Quick Tips #140 Respirator Fit Testing Requirements and Procedures, Quick Tips # 143 Medical Evaluation Questionnaire, 29 CFR 1910.134 and Quick Tips #195 Starting a Respiratory Protection Program.
Source: www.osha.gov
Control of Hazardous Energy, i.e. Lockout/Tagout
OSHA's Control of Hazardous Energy standard (Lockout/Tagout) 29 CFR 1910.147, went into effect on January 2, 1990. This standard covers servicing and maintenance of machines and equipment in which the release of unexpected energy due to start-up or release of stored energy could cause injury. Potential stored energy sources include electrical, mechanical, hydraulic, chemical, nuclear and thermal energy.
"Lockout" is the placement of a locking device on an energy isolation device (circuit breaker, slide gate, line valve, switch, etc.) to insure the energy isolating device and equipment being controlled cannot be operated until the lockout device is removed. A lockout device utilizes a positive means such as a lock (key or combination type) to hold an energy isolating device in a safe position and prevent the energization of a machine or equipment. The lockout device must be substantial enough to prevent removal without use of excessive force or unusual techniques.
"Tagout" is the placement of a tagout device (a tag or other prominent warning device and a means of attachment) on an energy isolation device to indicate the energy isolating device and equipment being controlled may not be operated until the tagout device is removed.
A lockout device must be used unless the employer can demonstrate that the utilization of a tagout system will provide full employee protection. Tagout devices must be non-reusable and hand attached. A tagout program must be able to provide a level of safety equivalent to a lockout program.
Logout/Tagout is consistently in the OSHA top 10 violations year after year. Historically, the most cited sections of the standard have included:
Failure to develop, document and utilize procedures 1910.147(c)(4)
Failure to conduct a periodic inspection of the energy control procedure 1910.147 (c)(6)
Failure to provide training as described by OSHA 1910.147(c)(7)
Lockout compliance is not as simple as purchasing padlocks, tags and lockout devices. Compliance to this standard is more than just the application of devices. In fact, the top cited sections had nothing to do with protective devices and hardware.
The National Safety Council (NSC) has developed an effective 4-step plan to help ensure that your company's lockout/tagout program is compliant:

Step 1: Develop and document your energy control program and written procedures.
Step 2: Identify and mark all energy control points. Locate and mark all of your facility's energy control points – valves, switches, breakers and plugs – with permanently placed labels or tags.
Step 3: Train employees and conduct periodic inspections. Effective training programs are essential to successful LO/TO compliance.
Step 4: Equip your employees with proper lockout tools and warning devices. A successful lockout program depends on employees and workers properly applying lockout hardware according to established procedures. It is vital to know which specific devices are acceptable to use at each lockout point.
Grainger Quick Tips #170 Lockout/Tagout, 29CFR 1910.147 outlines and identifies specific aspects of the standard with an aim to help you understand and comply with the OSHA Lockout/Tagout standard.
Grainger offers a full line of Lockout/Tagout products – from devices to training to identification products.
Source: www.osha.gov
Electrical and Wiring Methods
The OSHA requirements for wiring methods, components and equipment for general use are found in 29 CFR 1910.305. It covers the grounding of electrical equipment, wiring and insulation and also includes temporary wiring and splicing, such as flexible cords and cables.
The top sections cited, in decreasing order, include:
1910.305(g)(1) – Failure to use flexible cords and cables properly
1910.305(b)(1) – Failure to effectively close conductors entering boxes, cabinets or fittings, and to protect from abrasion
1910.305(g)(2) – Failure to properly use flexible cords or cables and identify them as a grounded conductor or an equipment grounding conductor to distinguish from other conductors
1910.305(b)(2) – Failure to provide appropriate covers for pull boxes, junction boxes and fittings
1910.305(a)(2) – Failure to properly apply temporary wiring installations.
To help avoid potential flexible cord and cable violations, ask yourself:
Are flexible cords and cables only used for pendants, fixtures, portable lamps or appliances, portable and mobile signs, elevator cables, cranes and hoists, frequently interchanged stationary equipment, appliances with specially designed means to permit removal for maintenance, data processing systems, connecting moving parts, or to prevent the transmission of noise or vibration?
Are the following uses of flexible cords and cables prohibited:

As a substitute for fixed wiring?
Where run through holes in walls, ceilings or floors?
Where run through doorways, windows or similar openings?
Where attached to surfaces?
Where concealed behind building walls, ceilings or floors?
To avoid potential conductors, cabinets, boxes or fittings violation, ask yourself:
For open wiring on insulators, are all conductors rigidly supported on non-combustible, non-adsorbent insulating materials and not contacting other objects?
Are open conductors separated from contact with walls, floors, partitions through which they pass by tubes or bushings of non-combustible, non-adsorbent insulation materials?
Are all open conductors within seven-feet of the floor protected from physical damage?
Are all conductors entering boxes, cabinets, or fittings protected from abrasion and openings closed?
Are all unused openings in cables, boxes and fittings closed?
Are all pull boxes, junction boxes and fittings provided with covers identified for the purpose?
Are all metal covers grounded?
After answering these questions it is recommended that you take the actions needed to first protect your employees and secondly to avoid potential violations.
Grainger offers a wide variety of voltage and conduit markings to assist you with properly identifying the covers of pull boxes, junction boxes and fittings. Also offered are a vast array of wiring blocks, covers, devices, and ducts.
Source: www.osha.gov
Powered Industrial Trucks
OSHA's Powered Industrial Trucks standard (29 CFR 1910.178) covers the design, maintenance and operation of powered industrial trucks. A powered industrial truck is any mobile power-propelled truck used to carry, push, pull, lift, stack or tier materials. The most common of these include forklifts and motorized hand trucks or pallet trucks.
Each type of powered industrial truck presents different operating hazards. For example, a sit-down, counterbalanced high-lift rider truck is more likely than a motorized hand truck to be involved in a falling load accident because the sit-down rider truck can lift a load much higher than a hand truck.
Violations most often cited by OSHA historically have centered on operator training and certification. Sections with the greatest number of violations have included:
Operator Training – 1910.178(l)(1)
Refresher Training and Evaluation - 1910.178(l)(4)
Certification - 1910.178(l)(6)
29 CFR 1910.178 requires employers to develop and implement a training program based on the general principles of safe truck operation, the types of vehicle(s) being used, the hazards created by the use of these vehicles and general safety requirements. The training must include a combination of formal instruction, demonstrations by the trainer, exercises performed by the trainee and an evaluation of the trainee's performance. Truck related and workplace related topics must be covered.
Because powered industrial trucks are manufactured by different companies with various models available, the training must be specific to the operating characteristics of the specific powered industrial truck the employee will be using.
Every operator must complete all the training and evaluation requirements and demonstrate competence in the operation of the truck(s).
An evaluation of the performance of each powered industrial truck operator needs to be conducted at least every three years. Retraining may also be required sooner if the operator has been observed operating in an unsafe manner, been involved in an accident or near miss incident or fails an evaluation. Also, operating a different type of truck or changes to the workplace that could affect the safe operation of a truck are conditions that require retraining.
The employer must certify that every operator has received appropriate training, has been evaluated and has demonstrated competency in performing the operator's duties. The name of the trainee, date of training and signature of the designated evaluator must all be included in the certification.
Grainger Quick Tip #106 discusses Forklift Operator Training.
Grainger offers a vast array of forklift safety products - training programs, posters, inspection tags, signs, decals, etc. to help you comply with this OSHA standard.
Source: www.osha.gov
Ladder Safety
Violations of the Occupational Safety and Health Administration's (OSHA's) ladder safety regulations (29 CFR 1926.1053) have ranked in the top ten most cited regulations since 2005. The top cited violations have included:
29 CFR 1926.1053(b)(1) – Requires ladder side rails to extend at least three feet above an upper landing surface, or be secured at its top to a rigid support.
29 CFR 1926.1053(b)(4) – Use of ladders is restricted to only the purpose for which they were designed.
29 CFR 1926.1053 (b)(13) – Prohibits using the top of top step of a stepladder as a step.
29 CFR 1926.1053(b)(16) – Requires defective ladders to be marked with a "Do Not Use" notification and withdrawn from service until repaired.
29 CFR 1926.1053(b)(22) – Prohibits an employee from carrying any object that may cause the employee to lose balance and fall.
When selecting a ladder, the use environment, the length needed and the duty rating must be considered. Make sure the ladder material is appropriate for the environment – do not use a metal-framed ladder if working near sources of electricity or if there are power lines present. Using a ladder that is too short or too long is a safety hazard. The ladder should be sized so that the user does not have to stand on the top step or rung of the ladder. If using an extension ladder, the top three rungs should not be used for climbing. A straight ladder is too long if, due to clearance issues, it cannot be set up at the proper (safe) angle. The duty rating is the maximum weight bearing capacity of the ladder, which includes the weight of the user and the weight of all tools and supplies the user may be using or carrying while on the ladder.
When using ladders remember these safety tips:
Do not use ladders during storms or in high winds.
Footwear should have clean, slip-resistant soles.
Inspect the ladder before use. A ladder with broken or missing parts should not be used. If your ladder is equipped with rung locks and/or spreader braces, make sure they are set before using the ladder.
Do not place ladders in front of a closed door that can be opened towards the ladder. The door must be locked, blocked, or a guard must monitor the door to ensure it is not opened while the ladder is present.
The ladder must be on a level and firm surface. The top and bottom support points of the ladder must not be on resting on slippery surfaces.
Straight, single, and extension ladders should be set-up at a 75° angle.
Do not use metal ladders near electrical equipment or power lines! Never allow any ladder to touch live electrical lines.
Only one person at-a-time is allowed on a ladder, unless the ladder is designed for multiple climbers.
Only use a ladder for its intended purpose. Read and follow the manufacturer's instruction labels.
Never leave a raised ladder unattended. When you're finished put the ladder away.
Grainger offers ladder safety training courses and a wide variety of ladders. There is also Grainger Quick Tip #132 which discusses ANSI/OSHA Ladder Requirements.
Three online safety training courses featuring multimedia and interactive simulations, ongoing updates, quizzes and check points are available on the Werner website. Werner is the leading supplier of climbing equipment in the United States.
For more Information visit:
www.osha.gov/pls/oshaweb/owadisp.show_document?p_table=STANDARDS&p_id=10839
www.osha.gov/SLTC/etools/construction/falls/4ladders.html
www.cpsc.gov/onsafety/2011/12/ladder-safety-101/
www.laddersafety.org/choosetherightladder.aspx
Source: www.osha.gov
Electrical - General Requirements
Title 29 Code of Federal Regulations (CFR) 1910.303 Electrical (General Requirements) provides guidance regarding general safety requirements for designing electrical systems.
The top sections of the standard cited by OSHA (in decreasing order) are:
Failure to install and use electrical equipment according to factory instructions – 1910.303(b)(2)
Failure to keep work spaces clear – 1910.303(g)(1)
Failure to guard electrical equipment – 1910.303(g)(2)
Use of electrical equipment containing recognized hazards – 1910.303(b)(1)
Failure to identify disconnecting means and circuits – 1910.303(f)(2)
In accordance with 1910.303(b)(1) electrical equipment must be free from recognized hazards that are likely to cause death or serious physical harm to employees.
29 CFR 1910.303(b)(2) requires that listed or labeled equipment must be used or installed in accordance with any instructions included in the listing or labeling. This section was cited because of equipment being used or installed that was not in accordance with the instructions included in the listing or labeling.
Equipment is listed if it is of a kind mentioned in a list that:
Is published by a nationally recognized laboratory, which makes periodic inspections of the production of the equipment, and
States the equipment meets nationally recognized standards or has been tested and found safe for use in a specific manner.
Equipment is labeled if there is a label, symbol, or other identifying mark of a nationally recognized testing laboratory which makes periodic inspections of the production of the equipment and whose labeling indicates compliance with nationally recognized standards or tests to determine safe use in a specific manner.
29 CFR 1910.303(f)(2) requires that each electrical disconnect for motors and appliances must be legibly marked to indicate its purpose.
Per 29 CFR 1910.303(g)(1) sufficient access and working space is required for all electrical equipment. This allows safe operation and maintenance of the equipment. The minimum clear distance in front of electrical equipment (600-volts or less) and installed prior to 4/16/1981 is two feet six inches. For equipment built or installed after that date, the minimum clear distances varies from three to four feet, depending upon conditions.
Also, per 1910.303(g)(2) unless elsewhere required or permitted, live parts of electric equipment operating at 50-volts or more must be guarded against accidental contact. Having adequate clearance and guarding around electrical equipment can help avoid workers' accidental exposure to electric shock.
For a general review of electricity and its effects on bodies, plus a general review of OSHA's 1910 Subpart S – please view our Quick Tips document # 266.
Grainger offers a variety of electrical safety training aids and electrical safety products to aid you with your 29 CFR 1910.303 – Electrical, General Requirements compliance.
Source: www.osha.gov
Machine Guarding
OSHA's 29 CFR 1910.212 standard gives the general requirements for all machines and describes machine guarding. It covers the guarding of machinery to protect operators and other employees from hazards created by point of operation, ingoing nip points, rotating parts, flying chips and sparks.
Examples of deaths and injuries associated with machine guarding issues:
An employee was killed when he leaned into an unguarded area of a machine to untangle a piece of cloth from a roll. The machine closed on the employee's head.
An employee's left arm was severed at her elbow by an unguarded meat-grinding machine.
Emergency surgery was required to remove a piece of wood from an employee's stomach. The wood was driven into his stomach after splintering from lumber running through an unguarded edger.
An employee had two fingers amputated after being injured by a mechanical power press.
The most cited sections of this standard include:
1910.212(a)(1) – Requirements for guarding to protect employees in the machine area from hazards.
1910.212(a)(3) – Requirement concerning the point of operation guarding.
1910.212(b) – Requires the secure anchoring of machinery for machines at a fixed location.
1910.212(a)(5) – Specifies requirements for guarding blades.
1910.212(a)(2) – General requirements for the location of a machine guard.
Any machine part, function or process which may cause injury must be safeguarded. Safeguard is an umbrella term. It is a solution or a combination of solutions that eliminate or reduce the risk of exposure to hazardous moving parts or other harmful conditions. Safeguards include barrier guards, shields, pressure-sensitive mats, warning signs, etc. used singly or in combination.
Guards are physical barriers or covers designed, constructed and installed over moving parts to prevent contact with them. Barrier guards must prevent employees from reaching around, over, under, or through the guard to a danger area. Fixed barrier guards are the first choice of engineering control.
29 CFR 1910.212(a)(3) defines the point of operation as the area where the work is being done. If there is shaping, drilling or cutting with belts, pulleys, bits, etc., this is the point of operation. It is also the place where the worker is most likely to get injured. These points must be guarded as much as possible to prevent the employee from being in the area of operation.
Machines designed for a fixed location must be securely anchored to prevent "walking" or moving.
When the periphery of the blades of a fan is less than seven feet above the floor or working level, the blades must be guarded and the openings on the guard must be no larger than one-half inch.
Grainger offers machine guards, warning signs, and training programs to assist you with your machine guarding compliance needs.
Source: www.osha.gov
Think Safety. Think Grainger.®
Rely on North America's largest distributor of safety products. You'll also find a network of safety resources that help you stay in compliance and help protect employees from hazardous situations. Count on Grainger for lockout tagout, fall protection equipment, confined space products, safety signs, personal protective equipment (PPE), emergency response and so much more!
Please Note
The content in this newsletter is intended for general information purposes only. This publication is not a substitute for review of the applicable government regulations and standards, and should not be construed as legal advice or opinion. Readers with specific compliance questions should refer to the cited regulation or consult with an attorney.

If you have any questions regarding product specifications or applications, email us at SafetySupport@grainger.com