Maximize Productivity on the Mobile Jobsite

You Might Also Like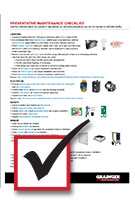 Every hour of the workday counts, especially when you are on site. Unfortunately, research has shown that up to two-thirds of a mobile tradesman's days are lost to a variety of time-wasting activities, including the search for tools and materials and the eventual trip to and from the hardware store to purchase misplaced or forgotten supplies. These tasks, along with other time-robbing activities such as inventory shortages and good, old-fashioned disorganization, can and will severely impact productivity and profitability if left unaddressed.
The good news is, both mobile tradesman and construction professionals can take back their day in just a six easy steps. Clearly defining goals, implementing comprehensive organization systems, entering into strategic partnerships with manufacturers, utilizing technology and finally, ensuring individuals are always properly equipped with the highest quality tool, supplies and training, will ensure your team is making the most of their time on the jobsite.
1. Define It
A great place to start is simply defining what productivity means to you as a construction business owner. Not surprising, every company defines productivity differently. Optimal productivity for one business could be completing a designated number of daily or month service calls, while for another operation it could be receiving great customer feedback. At the end of the day, for most professionals and businesses, optimal productivity translates into financial profitability.
Once productivity is defined, business owners can focus on identifying goals and the core tasks that need to be completed to achieve them. This provides a framework from which you can make business decisions that will improve jobsite efficiency. Be careful to make these benchmarks specific so you can closely measure progress and better define success.
2. Equip Your Team
Ensuring that your team has best-in-class tools, complete supply inventories and proper equipment brings you one step closer to completing jobs on time in a high-quality fashion. Not up to date on the latest tool technology or innovations? Not a problem. Subscribe to relevant tool trade publications, talk with a sales representative at your local hardware store or make efforts to attend regional tradeshows– all resources are full of great information on tools and equipment. Manufacturers are constantly striving to bring tools to market that help improve jobsite efficiency. More powerful tools, longer lasting batteries and storage solutions allow users to complete jobs in less time, which ultimately saves money.
3. Stock and Organize
Anything that can happen on a jobsite will. Without the proper inventory of supplies and parts, both mobile pros and construction tradesmen automatically generate less output. Add to that poorly organized tools and supplies, and productivity decreases even more.
Mobile professionals and construction business owners should review their material and past usage histories on a weekly basis to properly stock jobsites or mobile vehicles with anything that might be needed in a given day. This will allow professionals to avoid frequent, one-off trips to hardware stores and suppliers to pick up parts or accessories.
A customizable and comprehensive organization and storage system is also a key factor in maximizing productivity. A versatile, portable solution will offer professionals a wide variety of options for both tool and supply storage. These storage options vary by manufacturer but should offer a customizable solution you can structure and organize to best meet your needs. For example, some systems offer many different storage choices including customizable inlays that fit a wide variety of tools that allow you to build your own combo kit and color-coded trays for small parts and supplies. A combination of portability, versatility and durability will guarantee you can find what you need, when you need it and eliminate time spent searching for the right part or worse yet, driving to the store to replace a lost item. Having the right vehicle, tool and inventory organization system will put you on the path to optimal productivity.
4. Go Digital
Mobile applications aren't just for teenagers these days. Forget the paper and pencil used to jot down product orders, dimensions and material lists while on the jobsite. More and more software and digital smart phone solutions are being introduced to help professionals stay organized by keeping information a click away. New apps boast several useful features that enhance jobsite productivity including measurement tools, unit converters, LED lights, voice memo capabilities and more. Need to find a replacement tool or accessory to complete a project? These apps make it easy by including items like dealer locators that tap into GPS-enabled phones and do all of the work for you, while online tool catalogs make it a snap to quickly identify item and product numbers for purchasing.
5. Seek Training
Another key to productivity is seeking the proper education or training to guarantee you and your team are performing job functions to the highest standards. Just as new tool technology advancements have improved functionality and tool efficiency, updated installation or demo methods and industry-specific training can greatly improve productivity on the jobsite. For company owners, skill assessments are often a good idea to ensure mobile professionals or other employees are meeting and exceeding expectations.
6. Make Contigency Plans
Just as many consumers have emergency preparedness plans, so too should construction professionals. These plans should cover everything from the smallest hiccup, such as a missing part, to larger issues, like tool malfunctions. Having clear and actionable response tactics outlined in a plan for employees will allow you to make sure these issues are dealt with immediately and effectively, wasting as little time as possible.
Mobile and construction professionals face many challenges to productivity on a daily basis. Equipping your team with the right knowledge, resources, organization systems and training is essential to eliminate time-consuming mistakes or issues, maximize jobsite output and increase profitability.
Article courtesy of Bosch Corporation