Lighten Up the Lighting Bill
Related Articles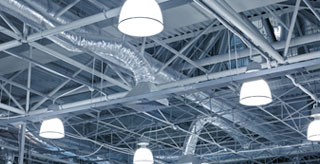 ---

---

Updating your facility's lighting technologies can provide a multitude of benefits, from helping save the environment to improving quality of life to cutting costs. Find out what the integration of energy-efficient lighting can do for you:
Shedding Light on the Facts
Thousands of companies across the country have completed or are pursuing energy-efficient upgrades to their buildings. For example, one improvement involves purchasing energy-efficient lamps, ballasts and lighting controls. Products like these can automatically turn lights on and off as needed, saving energy. Lighting controls such as these can routinely reduce lighting costs up to 30 to 50 percent. That's an investment that pays for itself within two to three years or less.
Lighting costs account for an estimated 20 to 40 percent of total energy usage in a typical commercial building. But an energy-efficient lighting solution can help reduce total facility energy consumption costs by as much as 20 to 25 percent2. Newer, lower-maintenance lighting systems can also cut labor costs. As if those aren't compelling enough reasons to pursue an energy-efficient lighting upgrade, the 2005 Energy Policy Act could be the extra push you need. This law states that commercial tax reductions are available for eligible upgrades in facilities, making green initiatives both easier and more affordable.
A Study in Savings
Still not convinced? Here's a real-life example of how a lighting upgrades improved quality and reduced costs at St. Xavier University in Chicago, Illinois.
Home to over 600 students, the St. Xavier campus is situated across 72 acres on the southwest side of the city of Chicago. Its more than 620,000 square feet of classroom, office and residential space was dimly lit by outmoded T12 fluorescent lighting. Although this light bulb model was once the standard for commercial buildings, in 2012 the U.S. Department of Energy mandated that T12 fluorescent lamps be phased out of production. The university decided to make a change and integrated a variety of energy-efficient light fixtures throughout the campus, including LED (Light Emitting Diode) lights, CFL (Compact Fluorescent Lights) and T5 lights. These modern upgrades at have reduced energy costs by up to 40 percent.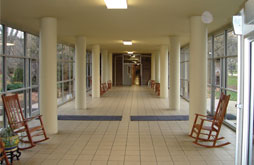 "In addition to consuming excessive amounts of energy, a lot of the university's classrooms, hallways, offices and living spaces seemed darker than they should be," says Bob Anderson, SXU facilities manager. "In addition, there were always maintenance issues with the system, which were tedious and problematic for the campus' small, in-house maintenance team."
With a $35,000 grant from the Illinois Clean Energy Community Foundation helping to offset product costs, the facilities team began its lighting upgrade, primarily in the campus' main Ward Academic Center. They converted to a system using nearly 1,200 two- and four-lamp Centium® electronic ballasts from Advance driving 3,050 more efficient, fluorescent 30-watt T8 lamps.
The upgrade quickly reduced the 286,000-square foot building's energy consumption and costs by 30 percent to 40 percent, while standardizing the lighting systems and significantly improving light quality.
"We're delighted with the results of the upgrade so far," Anderson said. "The new lighting system has vastly improved operations and aesthetics in our main campus building."
Don't Wait to Illuminate
Now is the time to take initiative and convert to energy-efficiency lighting in your building or facility. Because lighting impacts other building systems through its electrical requirements and the heat waste it produces, facilities across the country should not wait on updating their lighting systems. It's the next step in the right direction of green thinking. Not only do lighting system upgrades save costs and energy, but they can also improve the visual environment of the space. This has potential to increase productivity, so you can you save money and make money—at the same time.
Sources
Advance, U.S. Department of Energy.

1. Based on findings from the 1999 Commercial Buildings Energy Consumption Survey (CBECS), published by the U.S. Department of Energy and the Energy Information Administration, as well as the 2002 U.S. Lighting Market Characterization (Volume 1), published by the U.S. Department of Energy's Office of Energy Efficiency and Renewable Energy

2. The Energy Cost Savings Council's Analysis of 1,000 Electrical Product Upgrade Projects (1998). Based on findings from the 1999 Commercial Buildings Energy Consumption Survey (CBECS), published by the U.S. Department of Energy and the Energy Information Administration, as well as the 2002 U.S. Lighting Market Characterization (Volume 1), published by the U.S. Department of Energy's Office of Energy Efficiency and Renewable Energy
Update: 12/2016