Hospitality at its Finest—LED Lighting Extends a Warm Welcome
Problems with "Legacy" or Older Lighting Systems in Hotels
Higher maintenance costs due to shorter lamp life can contribute to "burned-out" lamps and poor image.
Higher energy costs with incandescent and halogen lighting can negatively impact your bottom line.
Poor color rendering with fluorescent systems can impact your guests' first impressions, especially in the lobby and other common areas.
Poor lumen maintenance with fluorescent systems creates dimly lit spaces, which can make guests feel uncomfortable and unsafe in hallways and external entrances and exits.
Cree® LED Lighting Solution Improvements
Long lifetimes that surpass legacy systems up to 5 times (5X Factor)2 can reduce maintenance time, life time, and first cost, while virtually eliminating "burned out" lamps to improve your overall hotel image.
Energy efficiency improvements can deliver up to 80% savings, directly impacting your bottom line.
The highest color rendering available (90+ CRI) can accentuate the hotel property investments in furnishings, décor, and color schemes.
Consistent and high lumen performance that features improved color rendering illuminates hallways, entrances and exits and creates a warm and inviting feel for guests.
Financial Case Study: Twelve-Story Hotel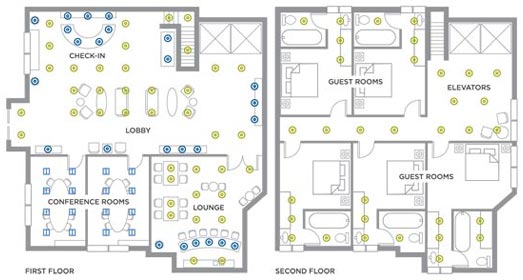 Estimated Payback Using Three Lighting Products from Cree
$53,362 total lifetime savings
Payback within 9 months
8,037 total watts saved
38,405 kWh saved annually
187 hours saved relamping
What Are the Products?
Standard Features: The Cree products in the chart below are designed to last 50,000 hours and have a 5-year fixture warranty.

To see how these savings were achieved, and to calculate your own please visit:
http://www.cree.com/lighting/why-cree-led-lighting/payback
Find Your Lighting Solution
In the hospitality and healthcare industries, lighting systems are in use 24/7 and represent a large part of a facility's overall operating costs. Finding the right lighting solution that offers long life and efficiency, while still achieving the right atmosphere and effect can be a real challenge. The good news is that lighting manufacturers like Cree have recognized this issue and now offer a variety of solutions to meet your needs.
Where do you start? You can find out more by visiting grainger.com/lighting and grainger.com/cree. You'll find the tools and resources you need to get started changing your lighting for the better.
Energy savings will vary depending on the system watts of the existing lighting system being replaced. Payback (ROI) will also vary depending on the cost per kilowatt hour (KWH) being charged by the local utility supplying electricity. Savings and payback in this example is representative of what a hotel property could expect operating in a typical environment using comparable products in the example.
(Comparison to a 26W average rated life @10,000 Hr compact fluorescent vs. CREE CR6 Series LED Downlight average rated life @ 50,000) 50,000 hr divided y 10,000 hr = 5 (5X= Factor)
Savings and payback are representative of what customers could expect operating in a typical hotel environment using comparable products.
The information in this case study was provided by Cree Lighting and was used with permission.
/Grainger/static/supplylink-CREE_LED_Lighting_Extends.html