Working Smart in a Tough Economy
You Might Also Like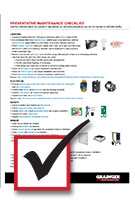 Specifically, reconsider processes and technologies you may have seen before but had not seriously considered using. Look at not only reducing purchasing costs, but the total cost of ownership and improving overall maintenance, repair and operations (MRO). Here are some areas that offer great opportunities to improve efficiency and lower costs at your facility when the economy tightens your belt.
Get serious about energy solutions
A wise place to start reducing operating costs is with energy use. Schedule a professional energy audit – the U.S. Department of Energy's Advanced Manufacturing Office is one source that offers these services. By having an energy expert conduct an energy audit and cost-savings analysis (versus making sporadic improvements on your own), you'll see exactly how and where you can reduce energy costs as well as consumption. You'll also have a more accurate idea of how soon and how much return you'll get from your investment once you make the recommended improvements.
Focus on areas such as:
Manage inventory
The cost of labor is another top concern during tough times. Optimizing your on-hand inventory allows you to allocate valuable resources and time to your core business, resulting in decreased labor costs and increased productivity.
How valuable would it be to free up man-hours, space and dollars tied up in dust-collecting inventory? Arrange for an MRO inventory analysis by Grainger. By improving purchasing processes for planned and unplanned needs, you may be able to reduce on-hand inventory and stock the critical products to do the job.
Take advantage of the latest tools that help you streamline your MRO inventory process. Automated scanners make it easier to order MRO material in tool cribs, storerooms, multiple storage units, inventory stored in multiple locations and point-of-use (POU) locations. You'll reduce order-processing costs and give staff more time to focus on their jobs.
Also consider using a vendor-managed inventory (VMI) solution. If you're operating with a leaner staff, it may help to schedule periodic visits to your stock room by a third-party professional who uses scanning technology to replenish and reorder just the products you need, helping you save time and money.
Streamline processes
By consolidating and streamlining the procurement process, you can drive down cost and improve productivity.
Vendor consolidation is one way to save process costs and time. It eliminates the need to manage multiple purchase orders and accounting processes. In some cases, one vendor allows you to use one purchase order, receive one invoice and issue one check. This requires far less human intervention than managing hundreds of vendors.
Adopt cost-saving technologies
In addition to energy-savers such as lighting technologies, consider other types of tools that save time and reduce facility downtime.
As cordless tool technology has advanced, it's an area worth checking into for hidden cost-saving opportunities. From high-powered drills to circular saws, cordless tools improve mobility and safety while eliminating the cost of extension cords, compressors and extra maintenance. They're also built to last longer and provide more power and longer run times. New battery technology is also improving the charging process and performance, helping to offset the cost of the batteries themselves.
As you carefully consider which tools will give you the most bang for your budget, you may want to use a centralized sourcing service to compare products, save time and reduce freight costs through order consolidation.
Seize the opportunity
It all boils down to taking off those "economic blinders." As you keep a close eye on front-end costs, don't lose sight of significant long-term gains you could be making through higher efficiency and productivity, and lower maintenance and operating costs. Take a proactive approach to learn, plan, adapt and contribute to the ongoing success of your business. Use a challenging economy as a wake-up call to review your entire operation, and you just might be the hero.
Sources: Today's Facility Manager, Building Owners Management Association, U.S. Department of Energy.
Grainger provides assistance and resources to help you operate your facility more cost-effectively. Call your local branch.
Related Links:
www.grainger.com/lighting
www.grainger.com/green
www.doe.gov
www.boma.org
www.todaysfacilitymanager.com