State & Local Solutions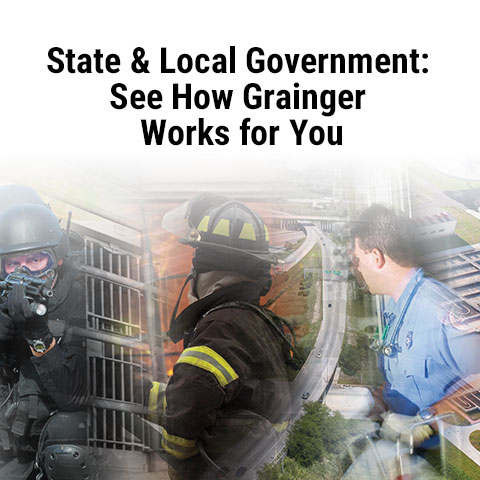 Grainger is proud to be a trusted partner for our state & local government customers. From state agencies to local municipalities, we've built out key solutions for areas of your business that go beyond maintenace, repair and operation initiatives. Let us help you get your work done quickly, safely, efficiently and economically—so you can get back to the work that matters most.
How We Serve
Compliance
Cost Savings
Inventory Management
Product Solutions
Contracts
Safety Services
Transportation
Products and solutions to help DOT professionals keep their operations running and their people safe while conducting their mission.
Water, Air & Sewer
Grainger helps in providing products and solutions to maintain a healthy water, air and sewer infrastructure.
Public Works & Roads
Grainger carries the right products and solutions to keep your city and state running efficiently.
Mass Transit
Products and solutions to help passengers reach their destination in a safe and timely fashion.
Corrections
We offer products and solutions designed to help maintain controlled environments that are safe, humane, cost efficient and secure.
Emergency Management
We have the products and expertise to help state & local customers prepare, respond and recover from natural and man-made disasters.
Parks & Recreation
Products and solutions to support your park and recreational goals.
Fire
We've got an extensive selection of firefighter gear, search and rescue equipment, and all your fire station essentials that meet or exceed industry standards.
Police
With thousands of items specific to law enforcement, you are sure to find everything you need to fit your crew from head to toe.
©1994-2015 W.W. Grainger, Inc. All rights reserved.