Selecting Concrete Drilling and Demolition Tools
Related Categories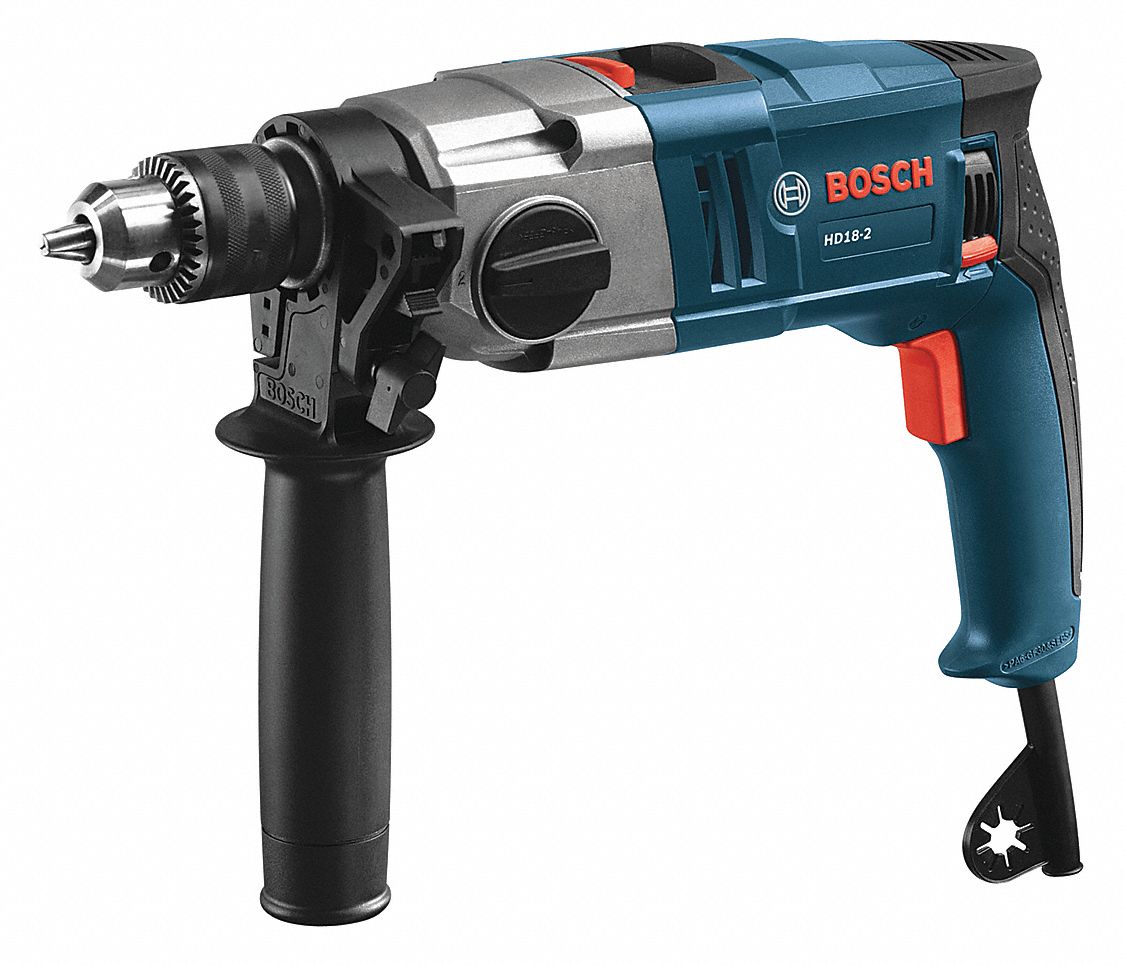 ---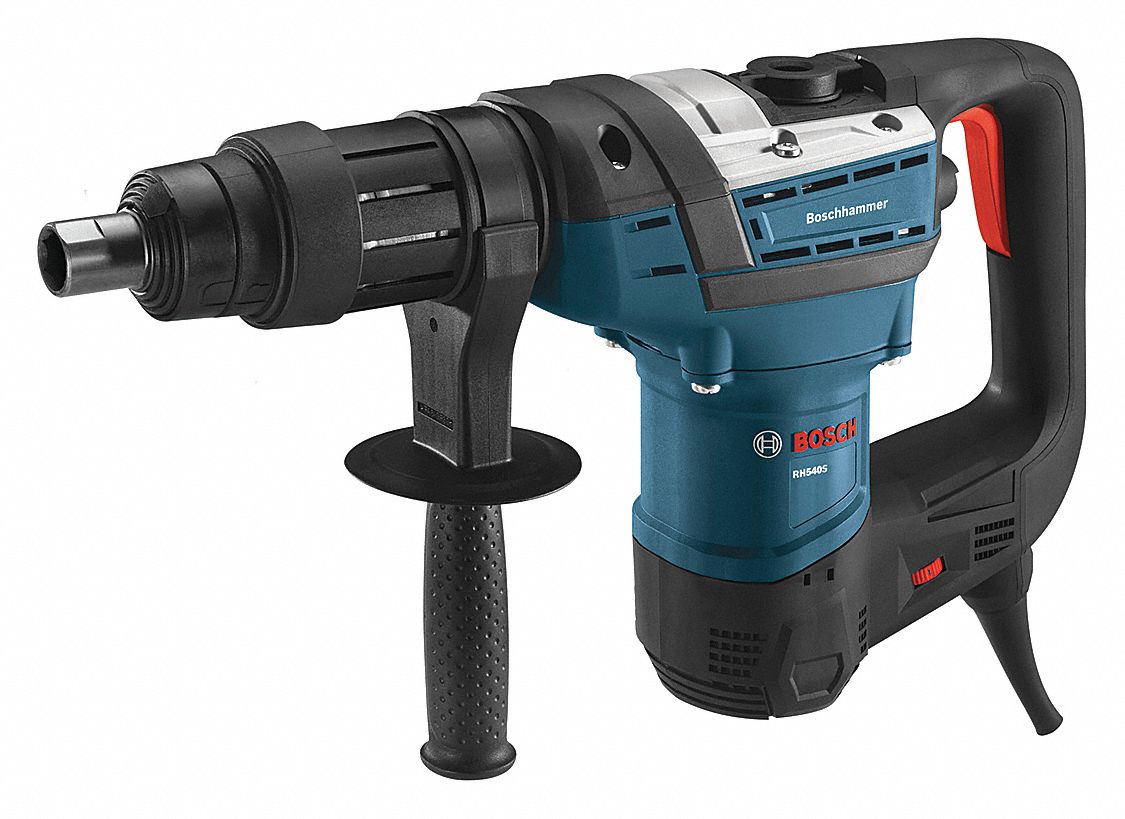 ---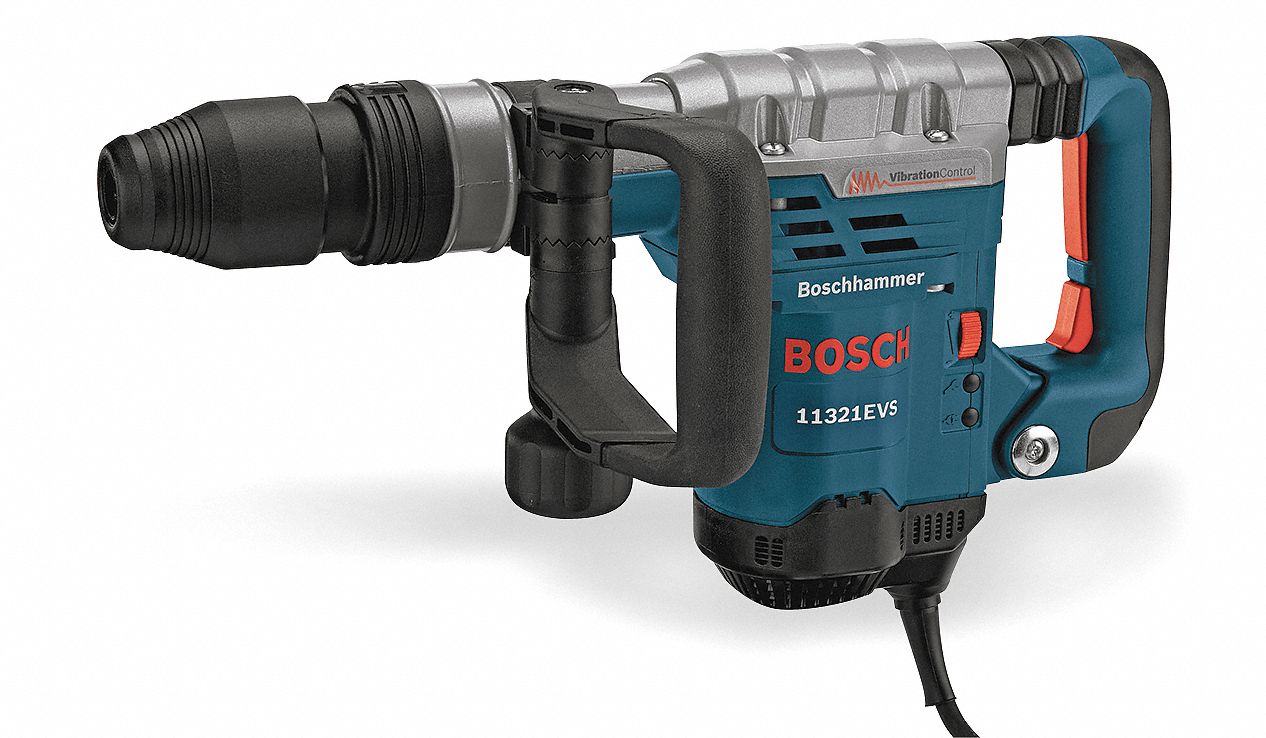 HAMMER TYPES
Hammer Drills: Basic-Duty Drilling
A hammer drill is handy for drilling a few smaller diameter holes in lower-density concrete and block. These tools generally make use of a mechanical cam that can be engaged and disengaged to allow for hammer drilling or drilling only mode. If you need to drill more than a handful of holes or are drilling in higher-density concrete, do yourself a favor and consider stepping up to a rotary hammer.
Optimal Bit Range: Straight shank up to 1/2 inch
Core Bit Range: Not applicable
Example: Bosch HD18-2 (Grainger Item No. 39RY34)
Rotary Hammers: Drilling Workhorses
Rotary hammers are the go-to tool for most pros working with concrete. A rotary hammer is primarily used for drilling, anchoring and light chiseling. Rotary hammers generally use an electro-pneumatic hammer piston to generate impact, allowing them to last longer, hit harder and operate in a "hammer only" mode. This makes for a handy companion when performing chiseling tasks like pulling up floor tiles.
Optimal Bit Range: SDS-plus® 5/32 inch through 1 inch
Core Bit Range: Up to 3-1/2 inches
Example: Bosch RH328VC (Grainger Item No. 44H756)
Combination Hammers: Drilling and Light Demo
Combination hammers are for drilling bigger holes through tougher concrete, or for when you need to step up your chiseling game to "light demolition." These tools use larger, harder-hitting electro-pneumatics to generate their impact and provide rotary hammer and hammer only modes, but typically don't offer rotation only mode.
Optimal Bit Range: SDS-max® 1/2 inch through 2 inches
Core Bit Range: 4 inches through 6 inches
Example: Bosch 11264EVS (Grainger Item No. 4GAE3)
Demolition Hammers
Demo hammers don't drill because there is no rotation of their bits. They're built to break, chip and chisel. Available in a variety of sizes, demo hammers hit hard but are versatile enough for work on walls and other vertical surfaces.
Bit Style: SDS-max® or Spline Hammer Steel
Core Bit Range: Not applicable
Example: Bosch 11316EVS (Grainger Item No. 4WN49)
Breaker Hammers
The hardest of the hard hitters, these hammers are used for breaking up concrete and other demolition tasks. They make quick work of trenching in clay soil and are great for breaking up slabs of concrete. Due to their size, however, they're primarily used on floors and other horizontal surfaces.
Bit Style: 1-1/8 inch Hex Hammer Steel
Core Bit Range: Not applicable
Example: Bosch BH2760VCB (Grainger Item No. 6TXC1)
MODES OF OPERATION:
Hammer drills, rotary hammers and combination hammers allow users to select different modes of operation depending on the task at hand.
Rotation Only: This mode can be used in hammer drills when you need to drill an occasional hole in wood or metal, or can be used on smaller rotary hammers when nearing completion of a through-hole to minimize/prevent "blowout" (a rough finish around the exit of a through-hole).
Rotary Hammer: Not to be confused with hammer drilling, the rotary hammer mode is optimal for drilling in concrete (see additional differences above). The tool creates an impact that is transferred through the drill bit to chip away concrete. This debris is then scooped up and removed from the hole with help from the spiral action of the drill bit's rotating flutes.
Hammer Only: There is no rotation in this mode of operation and is used with chisels, not fluted bits. It allows combination, demolition and breaker hammers to make quick work of a variety of jobs such as tile removal, trenching, staking, chipping and breaking.
DRIVE SYSTEMS (a.k.a. BIT CONNECTION):
Concrete tools are available in a number of different drive system variations. Drive system refers to the type of accessories the tool makes use of, and should be carefully noted to help ensure you're pairing the right accessory to the right tool.
Straight Shank: A tool that takes straight shank bits will use a three-jaw chuck, like a hammer drill. These bits are simply round shanks, although it is becoming increasingly common to see them with crimping, flat spots or a hex shank to assist with gripping. It's not uncommon to find straight shank hammer drill accessories, but they typically can't handle the added torque and impact generated by a more powerful tool. Note that use of straight shank accessories is not recommended for drilling holes larger than 1/2 inch.
SDS-plus® and SDS-max®: In both the plus and the max SDS systems, bits are designed to accommodate several detents, allowing tools to impart significantly more torque on bits than is transferred via a straight shank. SDS-plus accessories are generally used with smaller rotary and combination hammers while SDS-max accessories are built for more punishing combination and demo hammer tasks.
Spline: While capable of handling high amounts of rotational torque, spline accessories can't transfer impact as efficiently as SDS accessories, which is why we've seen their steady decline over the last decade or so.
Hex: Hex systems are found on large demolition and breaker hammers. The most common size for electric demolition hammers is 1-1/8 inch hex. These are heavy bits intended for demanding applications.
This primer should help address the basics when selecting the tool that's right for you, but this is by no means an exhaustive list of considerations for your next concrete tool purchase. Features like dust collection and vibration reduction are extremely important to consider as well.
Article courtesy of Robert Bosch Tool Corporation
The information provided herein, including product recommendations as to use and application, has been provided, reviewed and approved by the product supplier. However, proper product operation requires individual user accuracy, skill and caution. W.W. Grainger, Inc. does not guarantee the result of product operation or assume any liability for personal injury or property damage resulting from the user's reference to any product instructions provided herein.