Requirements for Shipped Container and Workplace Labels
As part of the 2012 revision of the Hazard Communication Standard, 29 CFR 1910.1200, OSHA adopted new hazardous chemical labeling requirements for shipped containers that align with the United Nations' Globally Harmonized System (GHS) of Classification and Labeling of Chemicals. The revised standard requires chemical hazard information to be displayed on labels using quick visual notations. These labels must also provide instructions on how to handle the chemical so users know how to protect themselves. It is important to note that Safety Data Sheets (SDSs) are the more complete resource for details regarding hazardous chemicals.

shipped

container label

requirements
The shipped container label with the six elements shown below must be affixed to, printed on or attached to the immediate container of the chemical, or to the outside packaging.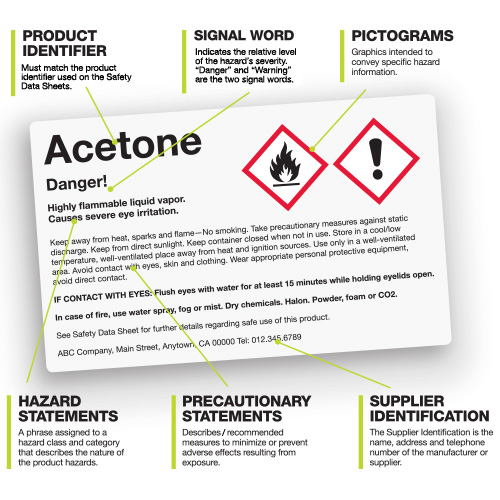 WORKPLACE

label

REQUIREMENTS
Under the 2012 revision of the Hazard Communication Standard, employers still have the flexibility to determine what types of workplace labels they use. They may choose to label workplace containers either with the same label information used on the shipped containers or with alternate labels that meet the requirements of the standard, such as the National Fire Protection Association (NFPA) 704 diamond. If using NFPA 704 labeling, employers must, through training, ensure their employees are fully aware of the hazards of the chemicals used.
NFPA

704 label

REQUIREMENTS
NFPA 704 is a recognizable and easily understood labeling system that provides a general idea of a material's hazards. Some safety data sheets (SDSs) may provide the NFPA hazard ratings. If the hazard ratings are not provided, you can find the information in the following sections of the SDS: