2014 Lighting Legislation

The second phase of the Department of Energy's Lighting Legislation takes effect on ?July 14, 2014 with a focus on the manufacturing of T8 lamps. In an effort to provide ?options without adding expense, Grainger and GE have come together to help make ?this transition as easy as possible.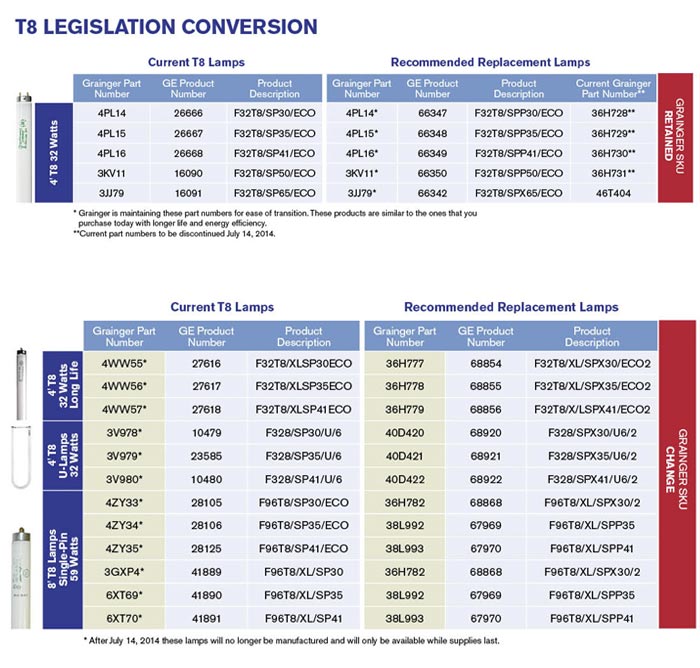 Shop T8 Linear Fluorescent Lamps Now!
Incandescent A19 Lighting Legislation
The standard A19 incandescent bulb can no longer be manufactured for sale in the U.S. based on the following schedule*:
Rated Lumens
Typical Current
Lamp Wattage
Maximum Rate
Wattage
Minimum Rated
Lifetime
Effective Date
California
Effective Date
1490-2600
100
72
1,000 hours
1/1/2012
1/1/2011
1050-1489
75
53
1,000 hours
1/1/2013
1/1/2012
750-1049
60
43
1,000 hours
1/1/2014
1/1/2013
310-749
40
29
1,000 hours
1/1/2014
1/1/2013
Retailers and distributors may still sell these bulbs until their inventory is exhausted. Lamp manufacturers may also sell off their existing inventory. Consumers may continue to use existing incandescent bulbs.
Most specialty and decorative lighting sources are not regulated and will continue to be sold.
Reflector Legislation
In addition, all incandescent R20, R30, R40, BR30, BR40, and BPAR reflector bulbs must meet halogen efficiency levels except:
Lamps rated at 50 watts or less that are ER30, BR30, BR40, or ER40
Lamps rated at 65 watts that are BR30, BR40 or ER40
R20 incandescent reflector lamps rated 45 watts or less
Linear Fluorescent and Halogen Legislation
The Department of Energy announced new efficiency standards for linear and U-shaped fluorescent lamps and halogen PAR lamps. The new standard will become effective on July 14, 2012 and will implement lumens per watt (LPW) regulations for linear fluorescent and halogen PAR lamps.
The new regulations will affect the following fluorescent and halogen bulbs*:
All standard 4-foot T12 bulbs eliminated
Most 8-foot T12 bulbs eliminated
Some 4-foot T8 bulbs eliminated
All standard halogen PAR38, PAR30, PAR20 bulbs within the 40 watt – 205 watt standard eliminated
No changes for T5 bulbs
Energy-Efficient Lighting Replacement Options
Linear Fluorescent T8 Lamps
Linear Fluorescent T5 Lamps
Compact Fluorescent Light Bulbs (CFL)
High-efficiency Halogen Bulbs
---
LED Bulbs
The True Cost of a Light Bulb—Costs to Consider
The obvious cost of a light bulb is the sticker price, but that's not the whole story. Even after you leave the checkout counter, choosing the right bulb can help save you money.

Lighting Calculators
Cost of Waiting Estimator

Don't wait. Start saving energy now. Compare the cost of electricity for your current lighting system vs. your proposed lighting systems, and estimate how much it will cost to delay the upgrade.
Try it now

Linear Fluorescent Retrofit Calculator

This guide can help you select which solution maximizes the benefits most important to you.
Start saving now
Lighting Energy Resources
† Source: GE Lighting
* There are exclusions to each of these regulations. The regulation dates are when the products can no longer be manufactured. Inventory built prior to the cut-off date can still be sold. Information is subject to change.