Walking Working Surfaces (WWS) Rule for General Industry
Quick Tips #398
Introduction
Falls from heights and on the same level historically are among the leading causes of serious work-related injuries and deaths. The Occupational Safety and Health Administration (OSHA) estimates that, on average, approximately 200,000 serious (lost-workday) injuries and 345 fatalities occur annually among workers directly affected by falls from heights and on the same level.
On November 17, 2016, OSHA published a revised Subpart D Walking and Working Surface (WWS) rule for general industry with an effective date of January 17, 2017. The rule updates the general industry WWS standards specific to slip, trip and fall hazards. The main objective of this new rule is to better protect workers in general industry from falls by updating and clarifying standards and adding training and inspection requirements. Many changes in this rule are robust and detailed.
Historically, industries have used the construction fall protection standards (1926 Subparts L and M) as guidance. This new rule harmonizes the general industry standard with the construction standard to make compliance easier for employers who conduct operations in both sectors. Prior to the issuance of the WWS rule, OSHA standards for general industry recognized physical barriers and guardrails as the only means to prevent falls. The new rule recognizes the advantage of adding personal fall protection and arrest systems to protect employees should a fall occur. It also recognizes the updated national consensus standards and industry practices addressing improved technology and extensive testing resulting in advancements in fall protection personal protective equipment (PPE). The final rule uses performance-based language whenever possible to give employers greater compliance flexibility and incorporates plain language to make the rule easier to understand and follow.
Structure of New WWS Standard

| Old Rule — Subpart D | New Rule — Subpart D |
| --- | --- |
| 1910.21 — Definitions | 1910.21 — Scope and Definitions |
| 1910.22 — General Requirements | 1910.22 — General Requirements |
| 1910.23 — Guarding Floor and Wall Openings and Holes | 1910.23 — Ladders |
| 1910.24 — Fixed Industrial Stairs | 1910.24 — Step Bolts and Manhole Steps |
| 1910.25 — Portable Wood Ladders | 1910.25 — Stairways |
| 1910.26 — Portable Metal Ladders | 1910.26 — Dockboards |
| 1910.27 — Fixed Ladders | 1910.27 — Scaffolds and Rope Descent Systems |
| 1910.28 — Safety Requirements for Scaffolding | 1910.28 — Duty to Have Fall Protection and Falling Object Protection |
| 1910.29 — Manually Propelled Mobile Ladder Stands and Scaffolds (towers) | 1910.29 — Fall Protection Systems and Falling Object Protection – Criteria and Practices |
| 1910.30 — Other Working Surfaces | 1910.30 — Training Requirements |
Additionally, OSHA amended the following subparts to reflect the changes made in subpart D:
Subpart F

1910.66 — Powered Platforms for Building Maintenance
Mandatory Appendix D of 1910.66 — Existing Installations
1910.67 — Vehicle-Mounted Elevating and Rotating Work Platforms
1910.68 — Manlifts

Subpart I

1910.132 — Personal Protective Equipment (PPE) General Requirements
1910.140 (New) — Personal Fall Protection Systems — See details below

Subpart N

1910.178 — Powered Industrial Trucks
1910.179 — Overhead and Gantry Cranes

Subpart R

1910.261 — Pulp, Paper, and Paperboard Mills
1910.262 — Textiles
1910.265 — Sawmills
1910.268 — Telecommunications
1910.269 — Electric Power Generation, Transmission, and Distribution
Notable Changes-Subpart D
Many changes are introduced in these new standards. For a full understanding of all the changes, the new Subpart D rule should be reviewed in detail. Some of the most notable changes include:
Training (1910.30) - Employers must now provide training for each employee who uses personal fall protection equipment or any other fall protection system that is used. Training must be done by a qualified person and should address the: nature of fall hazards in the work area; correct procedures for erecting, maintaining, disassembly and inspection of fall protection systems; and use, operation and limitation of equipment, including proper hook up, anchoring and tie off. Retraining is required if there is reason to believe the employee does not understand or have the skill to perform procedures to minimize hazards.
Duty to have fall protection (1910.28) - This specific requirement requires employers to protect workers from all fall hazards along unprotected sides or edges that are at least four feet above a lower level. The rule now provides more fall prevention and protection options other than guarding, such as safety net systems, personal fall arrest systems (PFAS), positioning systems, travel restraint systems, and ladder safety systems. Exceptions to this requirement are:

Portable ladders;
When inspection, investigation, and assessment of work is conducted prior or after all work has begun or is completed (if fall protection systems are not already in place);
Fall hazards by the exposed perimeters of entertainment stages;
Exposed perimeters of rail-station platforms;
Powered platforms covered by 1910.67(c)(2)(v);
Aerial lifts covered by 1910.67(c)(2)(v);
Telecommunication work covered by 1910.268(n)(7) and (8); and
Electric power generation, transmission, and distribution work covered by 1910.269(g)(2)(i).

Work on low-slope roofs [1910.28(b)(13)] - OSHA details fall protection options that must be utilized when working on low-slope (<4inch rise over 12 inch run) roof applications. What needs to be implemented depends on the distance from the roof edge. Skylights are also considered a roof edge. See image below: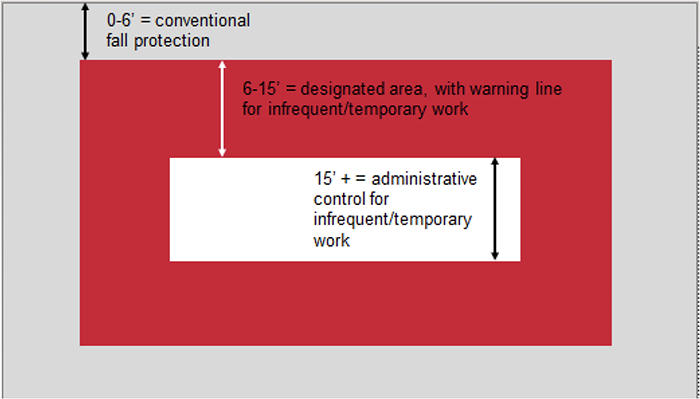 (Source: LJB, Inc.)
Zero to six feet from edge: Conventional fall protection which includes guard rails, safety nets, travel restraint or PFAS.
Six feet to less than 15 feet from edge: Conventional fall protection or a designated area with warning line for work that is both infrequent/temporary.

Infrequent: Brief, simple, short-term, performed in less time to set up fall protection, completed at one time, and does not require significant equipment, personnel or resources.
Temporary: Only on occasion, not routine part of job.

15 feet or more from the edge: Conventional fall protection or designated area. Administrative controls only can be used if the work is both infrequent and temporary, and the employer implements, trains and enforces a work rule prohibiting employees from going within 15 feet of the edge.
Ladder safety requirements (1910.23 and 1910.28(b)(9)) - All ladders are now included in 1910.23. They are no longer addressed separately under "wood" and "metal" ladders. Section 1910.23 primarily provides specification requirements that detail acceptable distances and clearances. Two notable exceptions to this section requirement include:

When they are used in an emergency operations setting such as firefighting, rescue, and tactical law enforcement operations or for the training of those workers.
If a ladder is designed into or is an integral part of machines or equipment, then it is exempt from the ladder rules.

Fixed ladders that extend more than 24 feet above a lower level (1910.28(b)(9)(i)) - A new framework is introduced to protect workers from fixed ladder fall hazards and allows employers to gradually, over 20 years, phase in ladder safety systems / PFAS and phase out the use of cages and wells as a means of fall protection. The final rule establishes the following phase-in/phase-out schedule:

For existing fixed ladders that extend more than 24 feet above a lower level erected before November 19, 2018 employers have up to 20 years to install a ladder safety or PFAS. This means employers may continue to use existing fixed ladders during this 20 year phase-out period, even if only equipped with cages and wells until the final compliance date of November 18, 2036 unless replaced or new fixed ladders are installed .
For new fixed ladders that extend more than 24 feet above a lower level erected on or after November 19, 2018) employers must equip the new ladder with a ladder safety or PFAS.
For replacement and repairs of fixed ladders that extend more than 24 feet above a lower level, effective January 17, 2017– when an employer replaces any section/portion of the fixed ladder the replacement section/portion must be equipped with a ladder safety or PFAS. This does not require that employers install ladder safety or PFAS when they make minor repairs to fixed ladders, cages or wells, such as replacing a bolt or repairing a weld on a cage. However, should employers determine that they cannot simply make a repair to a section or a portion of a section of a fixed ladder, cage, or well but must replace that portion or section, employers must ensure that the replacement section/portion is equipped with a ladder safety or PFAS. This does not prohibit employers from keeping those portions of a cage or well that are functioning properly, or installing a new cage or well, provided the employer also installs a ladder safety or PFAS, and that the cage or well does not interfere with the system.
On and after November 18, 2036 all fixed ladders more than 24 feet above a lower level must be equipped with a ladder safety or PFAS throughout the entire vertical distance of the ladder, including all ladder sections.

Inspection of all WWS (1910.22(d)) – Employers must inspect all WWS regularly and as needed and correct, repair, or guard against hazardous conditions.
Scaffolds (1910.27) – There were inconsistencies between the old general industry scaffolding rules and the construction standard scaffolding rules. The new rule now refers general industry users to the construction scaffold requirements found in 29 CFR 1926 Subpart L.
Competent and qualified persons - The new rule is much more specific about the roles of competent and qualified persons and indicates distinct training and other responsibilities for personnel with these designations. A qualified person is required for the following:

Training of workers, which had historically been tied to a competent person.
When correction or repair involves the structural integrity of a walking-working surface. o Inspecting knots in a lanyard or vertical lifeline.
Annual inspection of rope descent anchorages.
Anchorage certification.
Summary of New – Section 1910.140, Subpart I — Personal Protective Equipment
This new section was added to establish performance, care and use criteria for PFAS. OSHA felt establishing design and performance criteria was necessary to reduce the risk that a PFAS may fail for a number of reasons. For example:
The wrong or inadequate system being used (especially one that is not strong enough for the particular application in which it is being used);
A system not tested or inspected before use;
A system not rigged properly;
A system that does not have compatible components; or
A system in which workers are not properly trained.
All PFAS in use in the workplace must comply with the requirements of this section. OSHA believes that employers should not experience significant difficulty complying with these requirements because most of the requirements in the final rule come from OSHA's existing fall protection standards found in construction, as well as the American National Standards Institute / American Society of Safety Engineers (ANSI/ASSE) Z359 family of national fall protection consensus standards, which have been in place for years and represent industry best practices.
ANSI/ASSE Z359.1-2016 received final ANSI administrative approval on August 15, 2016 and became effective on August 14, 2017. Since the last revision of Z359.1 in 2007, many new voluntary consensus standards were developed within the Z359 series to cover various specific types of fall protection products and processes. Between 2007 and 2016, some manufacturers chose not to follow the equipment specific standards, yet still claimed compliance with the ANSI/ASSE Z359.1-2007. At the time, those statements were true because Z359.1 did not specifically address the elements covered by the other 11 standards in the Z359 family. The revised ANSI/ASSE Z359.1 – 2016 (The Fall Protection Code) standard references each of the Z359 standards and requires that products meet the current version of the applicable standard when purchased. Products in use when new standards or revisions to existing standards become effective can continue to be used until they are removed from service. For more information on the revised ANSI/ASSE Z359 standard, please see Quick Tip #347 "A New Lift to Fall Protection Standards."
Commonly Asked Questions
Q. Who and what does the new final WWS rule cover?
A. The final rule applies to all general industry workplaces and covers all walking-working surfaces, which include horizontal and vertical surfaces such as floors, stairs, roofs, ladders, ramps, scaffolds, elevated walkways and fall protection systems.

The final rule covers a wide variety of general industry firms including building management services, utilities, warehousing, retail, window cleaning, chimney sweeping and outdoor advertising.
Q. Do I have to follow the guidelines of ANSI/ASSE Z359?
A. No, like any ANSI/ASSE standard these are voluntary consensus standards used to complement OSHA regulations. The new rule on WWS does not provide specific guidance about the fall protection equipment being used in the market today. Purchasing equipment that meets the ANSI Z359 family of standards ensures that the equipment meets industry standards and safety specifications.
Sources
American National Standards Institute / American Society of Safety Engineers (ANSI/ASSE) Z359 family of national fall protection and arrest consensus standards
Buying Fall Protection Equipment in 2017, Occupational Health & Safety, Thomas E. Kramer, January 2017
OSHA Walking and Working Surfaces (WWS) Landing Page
(Rev 08/2017)
Find even more information you can use to help make informed decisions about the regulatory issues you face in your workplace every day. View all Quick Tips Technical Resources at www.grainger.com/quicktips.
Think Safety. Think Grainger.®
Grainger has the products, services and resources to help keep employees safe and healthy while operating safer facilities. You'll also find a network of safety resources that help you stay in compliance and protect employees from hazardous situations. Count on Grainger for lockout tagout, fall protection equipment, confined space products, safety signs, personal protective equipment (PPE), emergency response and so much more!
Please Note:
The information contained in this publication is intended for general information purposes only and is based on information available as of the initial date of publication. No representation is made that the information or references are complete or remain current. This publication is not a substitute for review of the current applicable government regulations and standards specific to your location and business activity, and should not be construed as legal advice or opinion. Readers with specific questions should refer to the applicable standards or consult with an attorney.


©2017 W.W. Grainger, Inc.