Avoid Silicosis from Abrasive Sand Blasting
Quick Tips #384
Abrasive sand blasting is a common practice for workers who fabricate products made of metal. Sand blasting is used to remove rust or to clean metal surfaces of oils. Industries that rely on this sand blasting on a daily basis include painters who work on large structures like bridges, granite monument makers, foundries and shipbuilders.
One downside to the use of sand blasting is the media used; silica. The term "silica" broadly refers to the mineral compound silicon dioxide (SiO2). Although silica can be crystalline or amorphous in form, crystalline silica is more hazardous to employees. It is most commonly found in the form of quartz, but it is also found in substances such as cristobalite, tridymite and tripoli. Breathing crystalline silica dust poses an industrial hazard and can lead to severe health problems and even death.
Exposure to silica or crystalline silica can cause silicosis and a host of other illnesses. Silicosis is one of the world's oldest known occupational diseases, with reports of employees contracting the disease dating back to ancient Greece. OSHA regulates silica under the General Industry, Construction and Shipyard standards. Air sampling, ventilation, personal protective equipment, respirator usage, silica substitutes, blasting cabinets and room design are hazards addressed by OSHA within these standards.
OSHA has a list of preferred solutions to help protect workers from exposure to silica during abrasive blasting. The most preferred method is to use a silica substitute. Next on OSHA's list is implementing engineering controls such as ventilation, followed by improving work practices. OSHA's final line of defense is the use of personal protective equipment such as respirators. For more on silica exposure and silicosis see our Quick Tips #354.
Air Monitoring
When using silica in the workplace, the first action that needs to be completed is to see what, if any, protective measures need to be taken. To make this determination, collecting and measuring the concentration of silica in the air will need to be done. Once collected, the sample is sent to a laboratory for analysis. The results of this analysis will determine if better ventilation and/or a change in work practices or respiratory protection is needed. If it is required, OSHA advises that respiratory protection would be the last line of defense for choices of protection.
Typically, air monitoring is done by an Industrial Hygienist. If there is not an Industrial Hygienist or safety professional available on your worksite, you may find on your own or consult the insurance carrier for your facility for a recommendation. Collecting an air sample is done using a sampling pump and filter cassettes. The pump will pull air from around the workers breathing zone and it will collect in the filter cassette. The person doing the sandblasting work and possibly the nearest workers, who may be exposed, would wear the pump and the cassette. After an eight hour work shift the cassettes will be collected and sent to a laboratory for analysis.
When analyzing the silica content of the cassettes collected from your workplace, the lab will need to know the contents of the sample collected. For instance, the percentage of quartz, cristobalite, tridymite and respirable dust specific to your worksite needs to be taken into account to calculate the permissible exposure limit (PEL). The different percentages can change what the PEL is for your workplace. The make-up of the silica being used can be found in the SDS or product label.
OSHA has a helpful calculator on its website called Advisor Genius which will let you input your numbers and information and come up with three different result types; PEL (calculated permissible limit for dust to which the worker may be exposed), Exposure (the actual amount of dust in your work environment) and Severity (this number tells you if you are above or below the limit). The permissible exposure limits for crystalline silica for General Industry, Construction and Maritime are all the same and can be found in OSHA regulation 1910.1000 Table Z-3. The limits listed for all the types of silica are 3mg/m3.
Silica Substitutes
Abrasive sand blasting is where the most severe cases of silicosis can occur. Many of these cases occur because the sand blasting is performed at outside locations where engineering controls, such as ventilation or dust collection, are not possible. The workers in these situations (and abrasive sandblasting in general) may benefit from using silica substitutes. Some of the possible substitutes are:
| | | |
| --- | --- | --- |
| Alumaglass™ | Garnet | Starblast XL™ |
| Aluminum Oxide | Glass Beads | Steel Grit |
| Aluminum Shot | Melamine Plastic | Steel Shot |
| Ambient Polycarbonate | Novaculite | Urea Plastic |
| Amex™ | PC+™ | Visigrit™ |
| Apricot Pits | Polycarbonate | Walnut Shells |
| Corn Cobs | Silicon Carbide | Wheat Grain |
| Cryogenic Polycarbonate | Stainless Cast Shot | White Aluminum Oxide |
| Emery | Stainless Cut Wire | Zircon |
The advantages of using a silica substitute outweigh using silica in abrasive sandblasting. Any health issues and healthcare costs related to silica would greatly reduced or eliminated. The time and cost of implementing and maintaining engineering controls would also be eliminated. The disadvantages are that the substitutes may not be as hard as a silica product; therefore, more of the substitute may need to be used to achieve the same result. It may also be more expensive. However, with more than two dozen substitute types available, there should be one product that will get your needed job done.
Engineering Controls & Ventilation
OSHA regulation 1910.94(a)(1)(viii) requires mechanical ventilation for the removal of contaminated air where abrasive sand blasting and silica use takes place. In protecting employees from contaminated air, engineering controls such as ventilation should be the first choice, after sourcing silica substitutes. This can be accomplished through a number of options. OSHA describes a ventilation system in 1910.94(a)(1)(viii) Exhaust Ventilation System. A system for removing contaminated air from a space, comprising two or more of the following elements (a) enclosure or hood, (b) duct work, (c) dust collecting equipment, (d) exhauster and (e) discharge stack.
There are a variety of ways that sandblasting can be accomplished. The most common types of sandblasting performed are in blasting rooms, cabinets or in open air. A blasting room is an enclosed room where the operator works inside the area, moving around freely with respiratory protection or supplied air with equipment such as an accepted blasting helmet. Sandblasting in a blasting room ( Fig. 1 below), is generally performed where larger pieces need to be sand blasted. Cabinet sandblasting (Fig. 2 below), another common application, is generally performed in an enclosed cabinet where the operator stands outside the cabinet and operates a sand blast nozzle through openings in the cabinet wall. Gloves usually extend into the cabinet and the silica dust is evacuated to a dust collection and ventilation system. Where a room or cabinet enclosure is not feasible, due to size or logistics, abrasive sandblasting is done in an outdoor location. The ventilation needed is dependent on each situation. OSHA standard 1910.94 (a)(4)(i) gives the requirements on the construction, installation and inspection requirements for abrasive blasting ventilation as set forth by the American National Standard Institute (ANSI) which is specified by OSHA.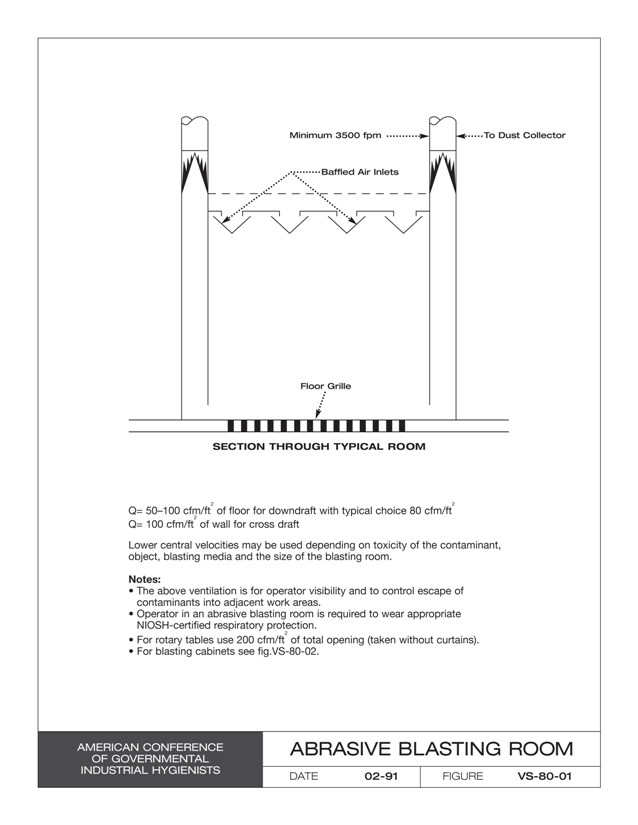 Fig. 1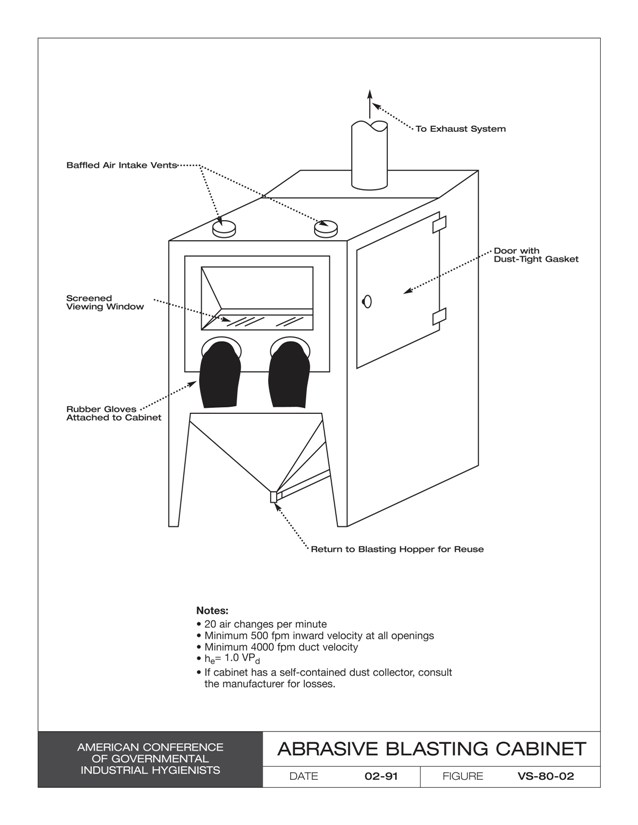 Fig. 2
Respiratory Protection & PPE Respirators
There are only 4 types of respiratory protection that are suitable and National Institute for Occupational Safety and Health (NIOSH) approved for abrasive blasting. These types are:
Continuous-flow respirator with a loose fitting hood and an APF* of 25
Continuous-flow respirator with a tight-fitting hood and an APF of 50
Positive pressure respirator with a tight- fitting half-mask face piece and an APF of 1000
Pressure-demand or positive-pressure respirator containing a tight-fitting face piece and an APF of 2000
* APF = assigned protection factor from NIOSH
Air purifying respirators and powered air purifying respirators (PAPR's) are not recommended for abrasive blasting operations but they may be suitable for auxiliary work, such as clean-up operations.
In very limited situations, the 29 CFR 1910.94(a)(5)(ii)(b) interpretation only provides for limited deviation, such as a breakdown in the air supply or when the abrasive blasting respirator is temporarily unavailable. Only then can a dust filter respirator can be used as interim protection. If it does not provide additional face and eye protection supplementary equipment will be needed. This is in accordance with the OSHA standard 29 CFR 1910.94 (a)(5)(v)(b).
PPE
Whether it be General Industry 29 CFR 1910, Construction 29 CFR 1926 or Shipyard 29 CFR 1915 standards, all these OSHA standards have PPE requirements that need to be followed. The requirements may also intertwine with each other such as the shipyard PPE standard 1915 referring to the 1910 standard for respiratory protection. All three industry standards are similar in their PPE requirements also. The following is an example of the requirements from the shipbuilding 1915 standard for PPE.
Workers performing abrasive blasting should wear:
An example of typical PPE worn by a worker when performing abrasive blasting is shown in Fig.3.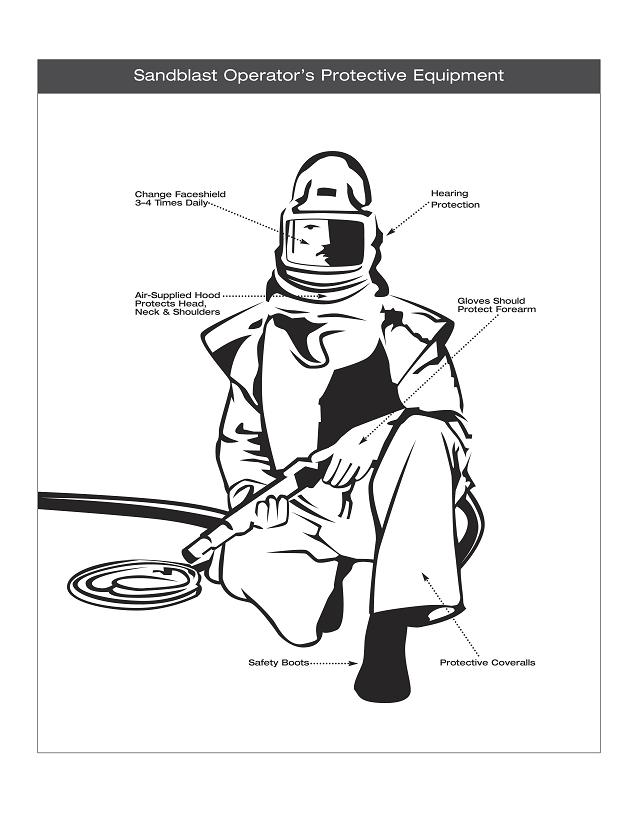 Fig. 3
Abrasive blasting can create a host of safety factors, considerations and necessary protections when it comes to employees in any industry in which it is performed. To help keep employees who are performing abrasive blasting and those in the areas around them safe, NIOSH has a list of recommendations. They recommend:
Using a silica substitute and that silica only be used as a last resort.
Exhaust systems and other dust controls be used as the primary means of protection.
Supplemental NIOSH approved respirators be used when engineering controls cannot prevent exposures below the recommended limits.
Environmental monitoring be conducted in all sandblasting operations to help insure employees are not overexposed and receive the proper PPE.
If silica sand is used, only the highest level NIOSH approved respiratory protection, such as positive pressure or pressure- demand hood or full facepiece should be used.
Respirators should be properly fitted according to the manufacturer's instructions, NIOSH guidelines and the OSHA standard 29 CFR 1910.134.
Following OSHA regulations and NIOSH recommendations will help keep those performing abrasive blasting (and those that are in and around the operation) safe and healthy.
Sources for Information:
(9/2013)
---
Find even more information you can use to help make informed decisions about the regulatory issues you face in your workplace every day. View all Quick Tips Technical Resources at www.grainger.com/quicktips.
Think Safety. Think Grainger.®
Grainger has the products, services and resources to help keep employees safe and healthy while operating safer facilities. You'll also find a network of safety resources that help you stay in compliance and protect employees from hazardous situations. Count on Grainger for lockout tagout, fall protection equipment, confined space products, safety signs, personal protective equipment (PPE), emergency response and so much more!
Please Note:
The information contained in this publication is intended for general information purposes only and is based on information available as of the initial date of publication. No representation is made that the information or references are complete or remain current. This publication is not a substitute for review of the current applicable government regulations and standards specific to your location and business activity, and should not be construed as legal advice or opinion. Readers with specific questions should refer to the applicable standards or consult with an attorney.


©2016 W.W. Grainger, Inc.