Manage Your SDS Library Electronically
Our SDS online tools will help you manage your site-specific safety data sheet (SDS) and globally harmonized system (GHS) requirements. Search from a library of millions of SDSs right from your PC. You'll have 24/7 access to industry-leading databases of safety data sheets to ensure your SDS library is complete, up to date and in compliance.
SDS Management System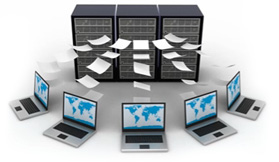 Get notified automatically as the latest GHS-compliant SDS become available for any existing SDS you have in your binder. The SDS Management System is ideal for managing a smaller number of sites. Also available are SDS enterprise management solutions. Call 855-5eSafety (855-537-2338) for more information.
Click here
to learn more about the GHS (Global Harmonization Standards) and
how Grainger can help you meet the 2013 OSHA-mandated GHS Training!
Grainger® Online SafetyManagersm: SDS Management System
Features
Online SafetyManager
Online SafetyManager with SDS Complete
SDS Search Features
24x7 Access to SDSonline Database
•
•
Multi-Language Search Interface
•
•
Open & View SDSs
•
•
Print SDSs
•
•
Request Missing SDSs (Max. 25/year)
•
•
SDS Management Features
Save SDSs to Secure eBinder
•
Search & Sort eBinder
•
Auto-Update New Versions
•
Assign & Manage Products to
Multi-Level (Customizable) Locations
•
Assign Products to Custom Groups
•
Add Unique Product Synonyms
•
Generate Product Summary Sheets
•
Mark Products Active or Inactive
•
Archive SDS Versions
•
Generate Exportable Inventory Reports
•
*Training courses sold separately.

Applicable terms and conditions include, without limitation, the Master Subscription Agreement, as set forth at grainger.com/safetymanager. Fees are based on services purchased and not actual usage; payment obligations and user subscriptions are non-cancelable and fees paid are non-refundable.