2015 Small Motor Legislation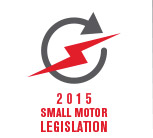 Enacted by the U.S. Department of Energy, the 2015 Small Motor Legislation requires motor manufacturers to stop producing motors that do not meet the new efficiency standards by March 2015. This legislation affects small general-purpose motors between 1/4HP–3HP, with an open construction and NEMA design.
what does this mean for you?
• Increased Efficiency - New motors have been designed to help reduce energy consumption and save you money!
• Finding Your New Motor is Simple - When you replace your existing, pre-legislation motor, you will be purchasing a different SKU. The new SKU will be listed under "Alternatives" when you search for your pre-legislation motor on Grainger.com®.
• Limited Supply of Pre-Legislation Motors - After March 2015, pre-legislation motors will no longer be produced, so supply will be limited after this time.
Benefits of new Motors
• The more efficient, cooler-running motor along with the Class H wire, Class F insulation material and Class F lead wires helps provide a longer-lasting motor.
• Increased winding size provides a cooler running motor, improves efficiency, extends bearing life and reduces motor insulation degradation.
• High-grade electrical steel reduces energy losses and improves efficiency.
• Run capacitor provides winding with increased energy to help improve efficiency.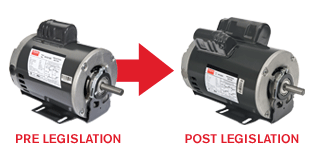 • Tighter machining tolerance between the stator rotor reduces magnetic flux losses.
• Lower-resistance rotors with a special slot design and higher-grade aluminum bars help improve performance and efficiency.
• Some motors may be longer and include an additional capacitor (cap start/cap run) to increase efficiency.

Look for this icon that indicates a legislation-compliant motor when you search for your pre-legislation motor on Grainger.com®.
Let Grainger help make your transition to the new energy-efficient, DOE compliant motors simple
and easy. Check out the information below to learn more about this legislation and how we can help.