Grainger's Order Management System (OMS) allows you to quickly set up an online workflow for approving your company's orders before they are fulfilled. OMS helps to control spending, drive policy compliance, and provide visibility.
It's simple to use and provides flexible controls that allow an account administrator to easily set up requirements and adjust as necessary.
Overview
How to Access
Must be signed in to Grainger.com with Admin access
Order Management can be accessed from My Account
Roles
Users place orders on Grainger.com for the products they need.
Approvers review orders from Users and ensure they meet company guidelines. Orders can be approved or rejected.
Reviewers see orders for final review after they have been approved, providing an additional layer of control. They can add or edit reference information (e.g. P.O.) or cancel the order altogether.
Limits
Spend limits can be established in multiple ways:

At the order level – all orders by a User over a certain $ amount would require approval.
Over a certain time period – when total spend by the User over a specified time period (month, quarter, year) exceeds the limit, the order would require approval.

Approval limits can be established for each Approver. Orders assigned to a specific Approver that exceed the approval limit will need to be approved by a higher-level Approver. This allows for added controls on larger orders.
Budget limits can be established for each user. Users can purchase freely and without approval required until they reach their allotted budget value. At that point, the order needs to be reviewed by an Approver.
Order Approval Notifications
Notifications with instructions will automatically be generated for all roles when an order requires approval. This occurs through email, within the website (e.g. pending approval list), and within mobile apps.
How To
Setting up OMS is easy and flexible for account administrators. Choose from two setup options depending on your needs: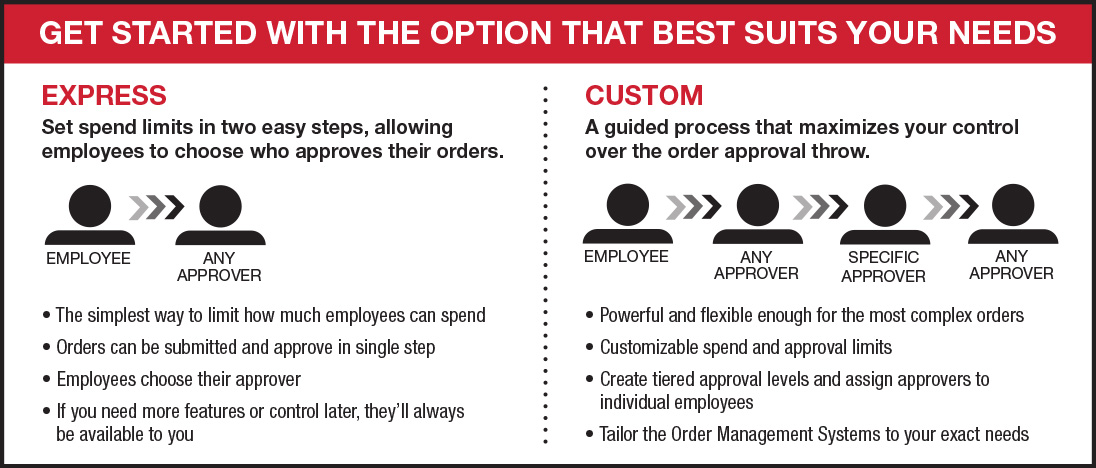 Managing OMS can be done any time in the Order Management dashboard. This allows you to view your OMS setting and make edits to limits, Users, and Approvers.
To access, click on My Account and then choose Order Management in the left side navigation bar.
How can I contact Grainger?