Why Grainger
Because No One Solution is Right for Every Business
At Grainger, KeepStock® solutions mean managing inventory the right way. Anything less will not help you get the cost reductions, productivity gains or stockroom improvements that you're looking for. That's why Grainger offers a variety of KeepStock® solutions—because we know your business has unique challenges and goals.
Managing Inventory the Right Way with KeepStock® Solutions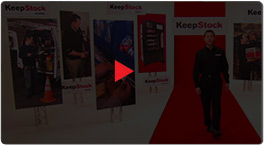 Improve your inventory management with Grainger KeepStock® solutions. You can manage your own inventory with Customer Managed Inventory (CMI) solutions or Grainger can manage it for you with Grainger Managed Inventory (GMI) solutions. Either way, we work with you to assess your inventory and together, choose the best solution for your business needs.
Identifying Your Inventory Needs
A Grainger Rep will work with you to find the best KeepStock® solution to help you meet your inventory management goals. We'll continue to support and work with you after the solution is up and running to make sure you're on the right track with making the most of your inventory management. All software, machines and support are provided through Grainger as part of our goal to help you manage your inventory effectively.
One System Supports Your Solutions
Take advantage of all the technology support Grainger offers for your KeepStock® Inventory Management solution.
• All-in-one app helps you manage your Keepstock inventory faster and easier. Download the Grainger mobile app to scan barcodes, search catalogs, and view and confirm orders right in the palm of your hand. Learn more at graingermobile.com.
• Using only the KeepStock Order Management System (OMS) at Grainger.com®, you can simplify processes and improve productivity, get more order approval and confirmation options, and receive full accounting information.
Inventory Management Resource Center

Grainger KeepStock® solutions are subject to customer eligibility and agreements.