Spend and Approval Limits
Our Chat hours are:
6am - 7pm CST M-F

1-800-GRAINGER
(1-800-472-4643)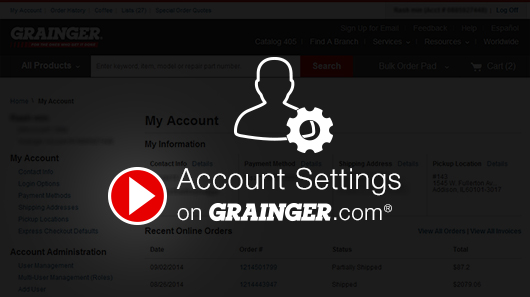 Account administrators may use default limits or define unique spend and approval limits.
Spend Limit: Orders that fall below your specified spend limit flow through the fulfillment process and do not require approval. Orders that exceed your set spend limit flow through the workflow to the aligned Approver, subject to the specific account setup.
Approval Limit: For an Approver to approve an order, the pending order must be at or below their approval limit prior to order fulfillment by Grainger. Orders assigned to a specific Approver that exceed the approval limit of that Approver will need to be approved by a higher-level Approver. OMS settings can help ensure the flow of orders to the correct set of Approvers.
After the initial setup process, a user with Administrator (Admin) rights can access and edit OMS settings on the OMS dashboard within the account.
Access the OMS dashboard through My Account and select Order Management on the left rail navigation post setup.