Our Chat hours are:
6am - 7pm CST M-F

1-800-GRAINGER
(1-800-472-4643)
Additional Resources:
The Grainger suite of mobile options makes it easy for you to get the supplies you need no matter where your work takes you. The Grainger mobile apps can be downloaded on your iPad, iPhone or Android devices. Grainger also has a mobile optimized page when accessing Grainger.com® from a mobile web browser, no downloading needed.
The experience on the Grainger mobile app works seamlessly with the full Grainger.com site. You can sign on to the apps and mobile site with the same user ID and password you use on Grainger.com. All of the same features you enjoy on the full Grainger.com site are also enabled on your mobile device—My Lists, the Order Management System (OMS), Custom Catalog and Order History.
Grainger has also enabled several mobile-specific features like barcode scanning, chat with an agent, and geo-based lists to help you order the product you need on the go.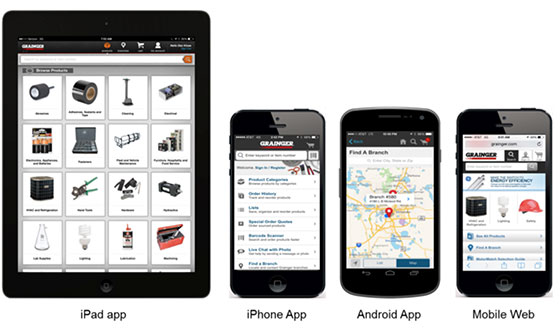 iPhone and iPad are registered trademarks of Apple Inc. Android is a trademark of Google Inc.