Location-Based Lists Overview
Our Chat hours are:
6am - 7pm CST M-F

1-800-GRAINGER
(1-800-472-4643)
Need the right bulb, filter or belt for the job? Location-Based Lists will show you which product you need for a location and the best way to get it. It's great for field technicians or anyone who faces the challenge of identifying the right products for their facilities.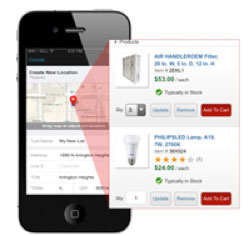 WHAT LOCATION-BASED LISTS DO:
Associates personal and shared lists to your specific service locations
Conveniently displays product lists sorted by the closest to your current location on your mobile device
Automatically defaults a shipping address to your set location during checkout
WHY YOU NEED IT:
Improves productivity
Product consistency
Streamlined re-ordering
GET STARTED NOW
Setting up a Location-Based List is easy. You can do it on Grainger.com® or use the mobile app. If you haven't already, DOWNLOAD THE GRAINGER MOBILE APP TODAY!
Learn how to get started creating a Location-Based List on Grainger.com.