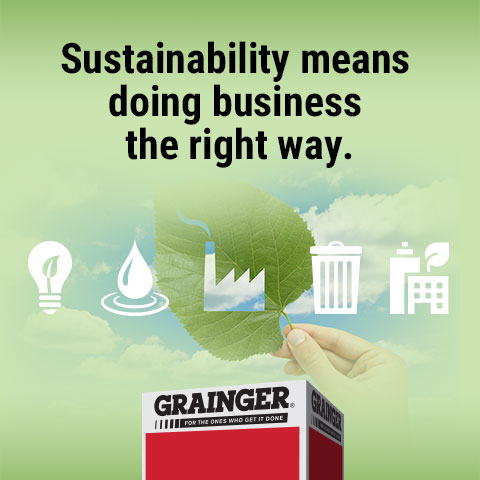 At Grainger, we believe that sustainability is going mainstream for the long term. No matter where your organization may be in its sustainability journey, we'd like to understand your definition of sustainability and explore the many ways that our products, services and commitment to the environment can help you get there.
Our customers have increasingly requested environmentally preferable products (EPP) and over the years we have significantly expanded our EPP portfolio to fulfill customer needs. Through this portfolio, we're able to help customers maintain sustainable facilities thru efficient energy management, water conservation, waste reduction and improved indoor air quality. Use our online filtering capability to filter any product search and evaluate environmentally preferable alternatives (see How To Find Environmentally Preferable Products on Grainger.com). Grainger also maintains a growing portfolio of sustainability-related services which include site audits, payback analysis, utility rebate assistance and recycling of replaced product.
Solutions for Managing Energy
Solutions for Conserving Water
Solutions for Reducing Waste
Solutions for Indoor Air Quality
©1994-2019 W.W. Grainger, Inc. All rights reserved.