Energy Services

Help reduce costs and conserve energy without disrupting your operations through Grainger's network of qualified, insured and licensed service providers.* From HVAC upgrades, compressed air system studies and lighting retrofits to water conservation, steam system assessments and more, see how the Grainger Energy Services team can help you reduce your facility's carbon footprint.
*Provided by third-party service providers. Subject to customer eligibility and agreements.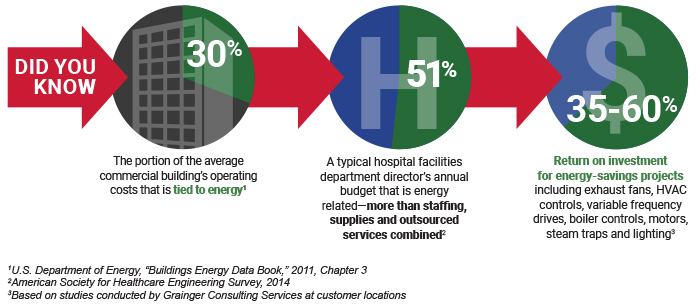 DID YOU KNOW?
30% — Portion of the average commercial building's operating costs that is tied to energy1
51% — typical hospital facilities department director's annual budget that is energy related - more than staffing, supplies and outsourced services combined2
35-60% — Return on investment for energy-savings projects including exhaust fans, HVAC controls, variable frequency drives, bioler controls, motors, steam traps and lighting3
1 U.S. Department of Energy, "Buildings Energy Data Book," 2011, Chapter 3
2 American Society for Healthcare Engineering Survey, 2014
3 Based on Studies conducted by Grainger Consulting Services at customer locations

WHAT'S IN IT FOR
YOU!

DECREASED
energy/water costs
WARRANTIES
open new
equipment
REDUCED
facility carbon
footprint
STRONG
RETURN
on investment
UTILITY
REBATES from
your provider
REDUCED
maintenance costs
UPGRADED
infrastructure
Safety Solutions for Your Business
Click on the tabs below to learn more about each service.
Lighting Retrofits & Upgrades
HVAC Optimization & Upgrades
HVAC Filter Change-Out & Preventative Maintenance
Water Conservation Upgrades
Steam System Assessments & Upgrades
Electric Vehicle Charging Station Installations
Compressed Air System Studies & Upgrades
Dust Collection System Studies & Upgrades
Motor & Drive Upgrades
Electrical Services
Comprehensive Services Include:
Multiple energy- and water-saving solutions
Audit and financial analysis
Material, contractor and project management
Installation by qualified, insured and licensed service partners
Identification of applicable incentives and rebates
Disposal and recycling

Energy Services Insights
Related Articles
Contact Us
For additional questions, please call us today at (866) 597-1330.
Related Links