Special Orders

Here is how it works:
Contact us at 1-800-GRAINGER
(1-800-472-4643) or call your local branch or your Grainger Representative
Our experienced staff will help you obtain a quote on items you can't find in our catalog
We'll notify you with an email when your Special Order quote is ready (usually within 24 hours). Then you can order directly from your quote on Grainger.com® under "Special Order Quotes"
For future purchases, you can find the details of previous special order purchases under "Order History" on Grainger.com®. It's the fast and simple way to request a new quote for these items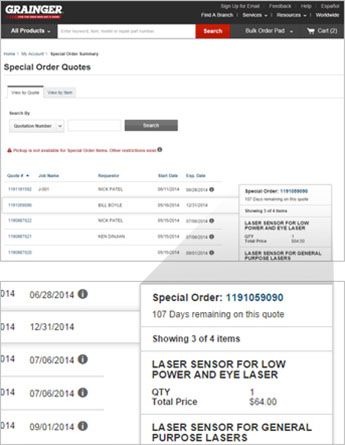 Benefits:

Save time and money by consolidating your unplanned purchasing through one supplier.
Grainger can be your single source for MRO supplies

Save on processing costs. Supplier consolidation means a reduction in purchase orders,
fewer invoices to pay and fewer suppliers to manage

You'll help eliminate service gaps with our ability to source and ship directly from our
supplier to your facility

Find what you need now!
Call
1-800-GRAINGER
, your local branch or your Grainger Representative today!
Cleaning
Click Here To See Brands
Bobrick Washroom
Equipment
CP Industries
Diversified Brands
Georgia Pacific
GOJO Industries
Lagasse Brothers
MI-T-M
Minuteman
Pitt Plastics
Rubbermaid
Commercial Products
Rust-Oleum
Superior/Notrax
Tek Products
Weiler Brush
World Dryer
Electrical
Click Here To See Brands
3M
Advance Electric
Appleton
AWP
(American Wire Products)
General Cable
Leviton
Omron
Industrial Automation
Power Cell
Battery Products
Square D
Thomas & Betts
Tripp Lite
Wellmade Products
Woodhead
Fasteners
Click Here To See Brands
ABC Spax
Accurate Mfd. Products Group, Inc.
APM Hexseal
Celus Fasteners Mfg., Inc.
Danaher Tool Group
Earnest Machine Products Co.
Hexagon Enterprises, Inc.
I.G. Marston.
Lindstrom Metric, Inc.
Mechanical Plastics Corp.
Mega Metric
Midwest Acorn Nut Company
Porteous Fastener Company
Precision Brand Products
Prospect Fasteners
Tamper Pruf Screws, Inc.
TE-CO
Vulcan Threaded Products, Inc.
Fleet Vehicle Maintenance
Click Here To See Brands
A Thomas Ind.
Balwin
Campbell Hausfeld
Champion Pneumatic
Chicago Pneumatic
Dynaquip Controls
Enerpac
Exxon Mobile
Hankison Division/Hansen
Hastings
Ingersoll Rand
KD Tools
MacNeil
Plews
Rietschle Thomas
SPX OTC
Stanley-Bostitch
Valvoline
HVAC
Click Here To See Brands
Adobe Air
Broan-Nutone
Filtration Group
Fostoria
G & O Thermal Supply
GE Appliances
Heatcraft Refrig. Products
Honeywell
Johnson Controls
Madison Mfg.
Marley Engineered Products
Port-A-Cool
Sterling
White Rodgers
York International
Lighting
Click Here To See Brands
Cooper Lighting
Fostoria Industries
GE Lighting
Hubbell Lighting
Lithonia — Acuity
Lutron Electronics
Pelican Products
Spectrum Brands
Material Handling
Click Here To See Brands
AKRO Mils
Albion
Ashland Conveyor Products
Best Diversified Products
CE Clarke & Son
CM Hoist
Cotterman
Durham Mfg.
Edsal Mfg.
ER Wagner
Casters & Mfg.
Folding Guard
Genie
Hallowell
Hamilton Caster
Harrington Hoists
Interlake Material Handling
Intermetro Industries
Intertape Polymer
JLG
KI
Lift Rite
Lista
Louisville Ladder
Lyon Workspace Products
Magline
Nashville Wire Products
National Partitions
Pro-Line
Rubbermaid Home Products
SAFCO Products
Signode
Southworth Products
Stanley Vidmar
Steel King
Strong Hold Products
T&S Equipment
Tennsco
Tri-Arc
Werner
WESCO
Metalworking
Click Here To See Brands
3M Abrasives
Alemite
Arcet Equipment
CRC Industries
Dake Corporation
Graymills
Greenfield
Kennametal
LA-CO Industries
Lenox
Loctite
L.S. Starrett
Miller Electric
Mitutoyo
M.K. Morse
Osborn International
Precision Brand Products
Saint-Gobain
Victor Equipment Thermadyne
Walter
Motors
Click Here To See Brands
ACME-Miami
A.O. Smith Electrical
Bison Gear
& Engineering
Boston Gear
Fasco Industries
GE Commercial Motors
Leeson Electric
Merkle-Korff
Nord Gear
Regal Beloit
Pneumatics
Click Here To See Brands
Enerpac
Florida Pneumatic
Gast Mfg.
Geib Industries
Norgren Actuator/Cylinder
Reelcraft
Pumps & Plumbing
Click Here To See Brands
Acorn Engineering
American Machine Tool
Amtrol
Asco Valve
Chicago Faucet
Cuno
Elkay
FE Meyers
Flint and Walling
Goulds Pumps
Halsey Taylor
In Sink Erator
Just Mfg.
Little Giant Pump
Moen
Parker
Rheem Manufacturing
Sloan Valve
The Berns
Watts Regulator
Wicor
Zoeller
Safety
Click Here To See Brands
Air Systems International
Aearo Company
Ansell-Edmont
Bacou-Dalloz/Sperian
Best Manufacturing
Biosystems
Bradley
Brady
Cortina
Dalloz Fall Protecion/Miller
DuPont Personal Protection
Eagle
Howard Leight
Industrial Scientific
Justrite
Lab Safety Supply
Miller
Mine Safety Appliances
Mintie Technologies
Moldex
North Safety Products
Perfect Fit Glove
Sellstrom
SPC (Sorbent Products Corp.)
Steel Grip
Survivair
Tiscor
Uvex
Walter Kidde
Wells Lamont
W.H. Salisbury
Security
Click Here To See Brands
Alarm Clock
Armstrong Ceiling Tiles
Federal Signal
Garrett
G & K Hardware
Ingersoll Rand
Security Technologies
Locknetics
Masterlock
Motorola
Panasonic
Security & Digital
Ranger Security Detectors
Speco Technologies
Stanley Hardware
The C.H. Hanson Company
Test Instruments & Precision Measuring
Click Here To See Brands
Advance
Test/SPX Services
AEMC Instruments
Ashcroft
Bacharach
Dresser
Dwyer
Extech
Fluke Electronics
Megger
Simpson Electric
Tools
Click Here To See Brands
Black & Decker
Greenlee Textron Tool
JPW Industries
Makita
Metabo Corporation
Milwaukee Electric
MTI Mitutoyo
Ridge Tool
Robert Bosch
WMH Tool Group