Safety Assessments & Compliance Monitoring

AuditPRO is a Software-as-a-Service (SaaS) safety and compliance inspection solution that combines professionally designed smart forms with actionable findings and corrective recommendations, all contained within an easy-to-use mobile platform. Years of compliance experience are instilled in this intuitive tool.

Please call 855-5eSafety (855-537-2338)
for more information.
---
A Safety and Compliance Inspection Solution
The AuditPRO solution provides a complete ecosystem for your organization to manage your compliance and related risks—from identification of the issue until closure and beyond.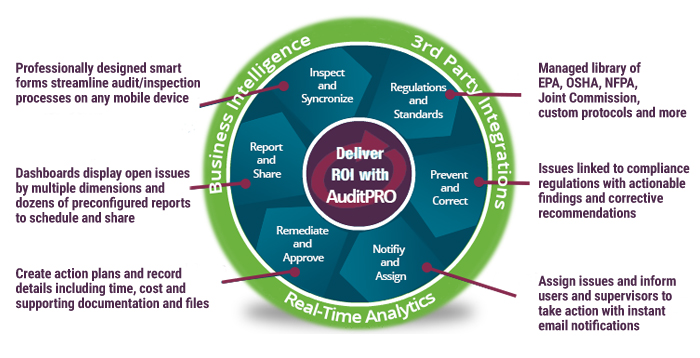 Compliance Management Features
Click on the tabs below to learn more about each feature.
Audits &
Inspections
Regulations &
Standards
Prevention &
Correction
Assignment &
Notification
Remediation &
Approval
Reporting &
Sharing
Real-Time
Analytics
Interactive
Guidance
Mobile Client Included – Supports IOS and Android, making for an easy-to-implement BYOD deployment without additional hardware costs
No More Paper Checklists – Intuitive and easy-to-use smart forms unleash your auditor's and inspector's productivity
No Form Development Required – AuditPRO Guided Forms are created and maintained by our EHS professionals reflecting years of experience
No EHS Experience Required – AuditPro Guided Forms are designed to provide clients with professional EHS determinations and automatically link them to regulatory citations, standards of industry best practices or customer policies
Selective Entry – Organized by topic to allow experienced staff to target the specific area they want to focus on
Built-In Help Topics – Self-guided, interactive help content provides contextual, informative multi-media reference data just a click away
Flexible Sharing – Audits/Inspections sync to the AuditPRO Portal and send well-formatted and concise PDF reports via email
Remote Dispatch – Allows you to direct and prioritize your field activities remotely
Workflow Approval – Enables you to collaborate on a single submission with multiple users; this can be used to pass a submission to another user for approval before it is submitted to the AuditPro Portal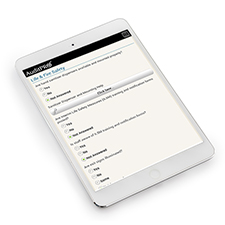 Up-to-Date Regulations – Regulatory content is constantly managed and updated by our team of EHS professionals so you don't have to
Built-In Corrective and Preventative Recommendations – Each regulation and standard comes with corrective and preventative recommendations to quickly apply the right resolution without the need to do additional research
Custom Protocols – Best practices or standards allow you to use AuditPro to meet all your compliance management needs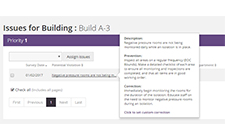 Real-Time Issue Reporting – Issues identified in the field are instantly populated to the AuditPRO Portal for immediate resolution
Concise Issue Management – Manage all of your compliance issues in a single dashboard view sortable by category, location, priority and assignee
Your Risk Profile At-A-Glance – See and report your up-to-the minute exposure in terms of potential fines for unresolved issues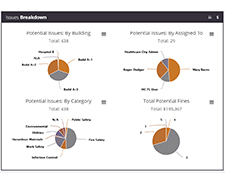 Email Notifications – Notify users via email at key points in the process with details including photos, comments, and corrective and preventative recommendations without having to log into the AuditPRO Portal
Bulk Assignment – Quickly assign multiple issues to a user or several users with just a few clicks
Audit Dispatch – Prepopulate forms and assign users to perform audits either at a scheduled time or at their discretion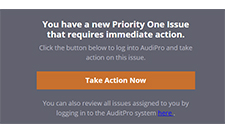 Easy-to-Use Action Plans – Whether you're managing a handful of issues or thousands, AuditPRO's web-based Action Plan feature provides all the tools you need to keep track of the details to effectively report and manage issues to closure
Email Quick-Close – The available Quick-Close feature allows users to view the full details of issues and close them directly within email messages for true one-click compliance
Flexible Workflow – Easy to set up account preferences allow closed issues to be approved automatically or staged for supervisor approval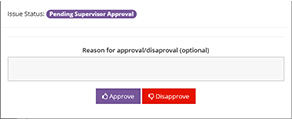 Robust Dashboard and Reporting – Puts critical information at your fingertips
Real-Time Results – So you can see your information immediately
Organized by Priority – So you can focus on the most important events first and prioritize your resources effectively
Ad Hoc Search – For issues and details by dozens of different criteria
Export Your Searches to MS Excel – So you can process the data any way you see fit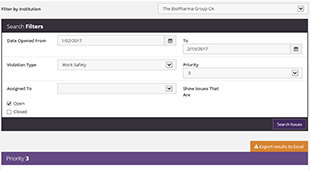 Robust Dashboard and Reporting – Built-in fully functional Business Intelligence (BI) and Analytics
Real-Time Results – So you can see your information immediately
Dozens of Prebuilt Reports – Help get you started
Ad Hoc Reporting – So you can see your data your way
Collaboration and Sharing via E-Mail – So you can share BI with anyone anytime
Report Scheduling and Automation – So you can set it and forget it
Mobile Ready – So you can report from anywhere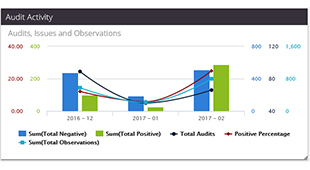 Expertise at Your Fingertips – Makes your staff productive immediately and reduces or eliminates EHS training costs
Built-In Guidance – Puts professional EHS training material directly in the form
Context-Based – Helps give your staff access to the information they need when they need it
Built By Professionals – Thousands of professionally developed Help topics available online and offline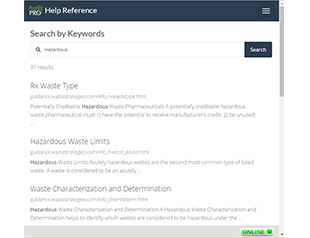 Order Now >
General Industry
Audit, General Industry,1 Site,1 Yr
$4,850
Education
Colleges
Less than 5K Students
$6,800
5K to 20K Students
$9,625
Greater than 20K Students
$13,750
Community Colleges
Less than 10K Students
$6,800
10K to 50K Students
$9,625
Greater than 50K Students
$13,750
K-12 Schools
Single District
$3,250
Single School
$250
Healthcare
Hospitals
Up to 100 Beds
$1,680
Up to 250 Beds
$4,200
Up to 350 Beds
$5,880
Up to 500 Beds
$8,400
Up to 750 Beds
$12,600
Up to 1000 Beds
$16,800
Up to 1250 Beds
$21,000
Up to 1500 Beds
$25,200
Offsites
Medical Office Building
$325
Single Practice
$100
Nursing Homes
Up to 100 Beds
$1,080
Up to 150 Beds
$1,620
Up to 200 Beds
$2,160
Up to 250 Beds
$2,700
Life Sciences
Single Site
$6,850
3rd-Party Integrations*
Common Authentication – Leverage your existing active directory, LDAP or OAuth users
Work Orders and Scheduling – Schedule and manage your teams compliance workload in your existing work order system
Asset Management – Track, report and manage the compliance of your existing assets
* 3rd-party integration with AuditPRO is provided on a case-by-case basis for our clients and can be customized to your specific needs. Fees may apply.