Ask & Answer on Grainger.com®

Frequently Asked Questions
Q: What is Ask & Answer and how will I use it?
A: Ask & Answer is a way to find and share information about products on Grainger.com®. You'll get answers from people with real-world experience using a product. For example—you might need more information to make sure a product works for a very specific application. Post your question on the product page and another customer, a Grainger customer service representative or a Grainger supplier will answer your question! If you see a question posted and you have the knowledge to respond, don't hesitate to share your experience. Over time, the Ask & Answer forum will grow into a valuable tool for researching the products you need to help you get the job done.
---
Q: Where can I find the Ask & Answer function?
A: The Ask & Answer feature is available on every product and category page.
Just look for this box: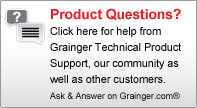 ---
Q: What are the benefits of asking or answering a post?
A: Our online product descriptions provide a great deal of information about the intended use of a product; but they can't cover every possible scenario. With millions of Grainger customers and community members, chances are good that someone can provide precisely the answer you need. And when you share your experience, you become more connected to the Grainger community.
---
Q: What is the difference between Ask & Answer and Product Reviews?
A: Product Reviews provide you the opportunity to rate products and provide comments and insights about a product's value and quality. Ask & Answer is a way to dig deeper and find additional, specific product information.
---
Q: Will I be notified when someone answers my question?
A: Yes! You will receive an email when someone answers your question. You'll also be notified when your question or comment is posted on Grainger.com.
---
Q: How long does it take for someone to answer a question?
A: It may take up to 24 hours for your question to post. Once posted other customers, suppliers or Grainger employees can answer at any time. If the question is not answered within several days, a Grainger representative will respond to the question.
---
Q: What if I need my question answered sooner?
A: You always have the option to contact a Grainger branch for personal assistance, by calling 800-323-0620.
---
Q: Why does my question take time to post?
A: We want to make sure that all information on Ask & Answer is relevant for our customers. That's why all content will be reviewed for inappropriate or non-relevant information, such as obscenity, references to violence or violation of applicable laws.
---
Q: How do I know who answered my question?
A: All answers will include a bit of information about the person who posted the answer. This way you'll know if the answer came from another customer, a Grainger employee or a Grainger supplier. Contributors can choose to share information in their profiles about how long they've been a Grainger customer and the type of work they do.
---
Q: Can a question have more then one answer?
A: Yes, more than one person can respond to a question. In addition, customers can rate the usefulness of a response, making it easier for you to decide which answers to read.
---
Q: What if your question was already asked? Is there a way for you to search for previously posted questions?
A: Yes, you can search both questions and answers that have already been posted.
---
Q: Will all questions be answered?
A: Questions that pass the review process for appropriateness will be answered, whether it's by a customer, a Grainger representative or a Grainger supplier.
Need more information? You can send your questions to product_reviews@grainger.com.