Inverter Generators
3 Results Found that Include 13 Products
How can we improve the
Search Experience
?
FIND THE RIGHT NEMA CONFIGURATIONS
The National Electrical Manufacturers Association (NEMA) created a set of standard configurations for outlets in order to minimize the possibility of unsafe mating of unmatched voltages and amperages.
Use the images below to help identify the outlet types provided with each generator.
STRAIGHT-BLADE

5-15R
US Standard Outlet

5-20R

14-50R

TT-30R
TWIST-LOCK

L5-30R

L14-20R

L14-30R

CS6369
GFCI, or Ground Fault Circuit Interrupter, receptacles include Test and Reset buttons and are often required in wet locations. GFCI receptacles protect people against electric shock from an electrical system.
GFCI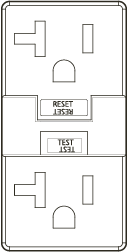 HONDA

Multiple product options available

Honda's powerful, commercial-grade OHV engine runs on regular gasoline—no need to mix with oil. The Oil Alert® feature automatically shuts down engine if oil pressure reaches an unsafe level. Eco-Throttle® system also helps to increase fuel efficiency by allowing engine to run only as fast as needed for the load. The totally enclosed body design helps to reduce noise. For outdoor use only.

Multiple product options available
Price $1,128.00–$5,641.00


GENERAC

Multiple product options available

For outdoor use only, Generac's portable iX series gas inverter generators feature LED lights, low-oil shutdown, and electronic overload protection. FlexPower™ flexible fuel management system has an Eco mode to save fuel and reduce noise, and a high mode for large loads or 12V battery charging.

Multiple product options available


BRIGGS & STRATTON

Multiple product options available

Briggs & Stratton inverter generators are designed to be smaller, lighter and quieter than conventional generators. The continuously adjusted engine speed safely powers laptop computers, TVs, and game systems. They are designed to eliminate fluctuations in power that can harm computers and other sensitive equipment, allowing electronics to stay functional if power goes out.

Multiple product options available
How can we improve the
Search Experience
?
Note:
Product availability is real-time basis and adjusted continuously. The product will be reserved for you when you complete your order.
More