Mighty Line Floor Tape and Marking Products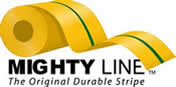 Mighty Line floor tapes help improve the arrangement, organization and neatness of your facility. With a wide selection of floor marking products, you can achieve better organization control and improve safety. Choose Mighty Line products to help route traffic flow, color-code areas and delineate different warehouse zones. You can help save time by marking proper floor locations and help eliminate inventory and equipment searches. Mighty Line floor tapes are essential to your facility needs.
Note: Product availability is real-time basis and adjusted continuously. The product will be reserved for you when you complete your order.