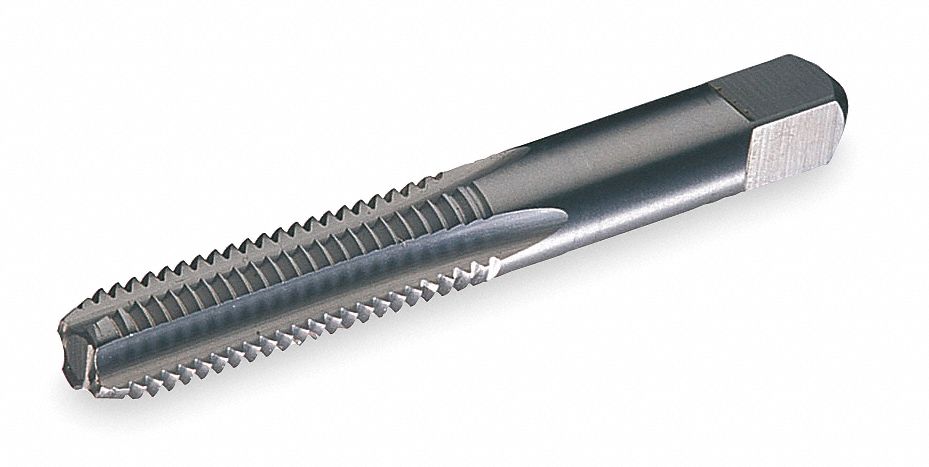 close
close x
Using 360° Viewing:
Rotate: Use top-to-bottom, side-to-side by use of mouse arrow.
Zoom In: Double click on image.
Zoom Out/Reset: Put photo at full zoom & then double click.
High Speed Steel Hand Tap, Uncoated Finish
Technical Specs
Item:

Hand Tap

Material:

High Speed Steel

Finish:

Uncoated
close Did you know that ...
You can find the right products faster by using the drop down filters above. Go there — now.
Product #
Thread Direction
Tap Style
Size
Pitch
Availability
Price
Qty
3FMJ6
Left Hand
Bottoming
#10
32

3FMJ9
Left Hand
Bottoming
1/4"
20

3FMK5
Left Hand
Bottoming
5/16"
18

3FMK9
Left Hand
Bottoming
5/16"
24

3FML4
Left Hand
Bottoming
3/8"
16

3FML8
Left Hand
Bottoming
3/8"
24

3FMN3
Left Hand
Bottoming
7/16"
14

3FMN7
Left Hand
Bottoming
7/16"
20

3FMP2
Left Hand
Bottoming
1/2"
13

3FMP6
Left Hand
Bottoming
1/2"
20

3FMR1
Left Hand
Bottoming
9/16"
12

3FMR5
Left Hand
Bottoming
9/16"
18

3FMR9
Left Hand
Bottoming
5/8"
11

3FMT4
Left Hand
Bottoming
5/8"
18

3FMT8
Left Hand
Bottoming
3/4"
10

3FMU3
Left Hand
Bottoming
3/4"
16

3FMJ5
Left Hand
Plug
#10
32

3FMJ8
Left Hand
Plug
1/4"
20

3FMK2
Left Hand
Plug
1/4"
28

3FMK4
Left Hand
Plug
5/16"
18

3FMK8
Left Hand
Plug
5/16"
24

3FML3
Left Hand
Plug
3/8"
16

3FML7
Left Hand
Plug
3/8"
24

3FMN2
Left Hand
Plug
7/16"
14

3FMN6
Left Hand
Plug
7/16"
20

3FMP1
Left Hand
Plug
1/2"
13

3FMP5
Left Hand
Plug
1/2"
20

3FMP9
Left Hand
Plug
9/16"
12

3FMR4
Left Hand
Plug
9/16"
18

3FMR8
Left Hand
Plug
5/8"
11

3FMT3
Left Hand
Plug
5/8"
18

3FMT7
Left Hand
Plug
3/4"
10

3FMU2
Left Hand
Plug
3/4"
16

3FMJ7
Left Hand
Taper
1/4"
20

3FMK3
Left Hand
Taper
5/16"
18

3FMK7
Left Hand
Taper
5/16"
24

3FML2
Left Hand
Taper
3/8"
16

3FML6
Left Hand
Taper
3/8"
24

3FMN1
Left Hand
Taper
7/16"
14

3FMN5
Left Hand
Taper
7/16"
20

3FMN9
Left Hand
Taper
1/2"
13

3FMP4
Left Hand
Taper
1/2"
20

3FMP8
Left Hand
Taper
9/16"
12

3FMR3
Left Hand
Taper
9/16"
18

3FMR7
Left Hand
Taper
5/8"
11

3FMT2
Left Hand
Taper
5/8"
18

3FMT6
Left Hand
Taper
3/4"
10

3FMU1
Left Hand
Taper
3/4"
16

4GP92
Right Hand
Bottoming
#10
24

4AHN2
Right Hand
Bottoming
#10
24

4GP96
Right Hand
Bottoming
#10
32

4AHN6
Right Hand
Bottoming
#10
32

4GR01
Right Hand
Bottoming
#12
24

4HF51
Right Hand
Bottoming
#2
56

4AHL5
Right Hand
Bottoming
#4
40

4GP73
Right Hand
Bottoming
#4
40

4AHL9
Right Hand
Bottoming
#5
40

4GP78
Right Hand
Bottoming
#5
40

4GP82
Right Hand
Bottoming
#6
32

4AHM3
Right Hand
Bottoming
#6
32

Adding More Products