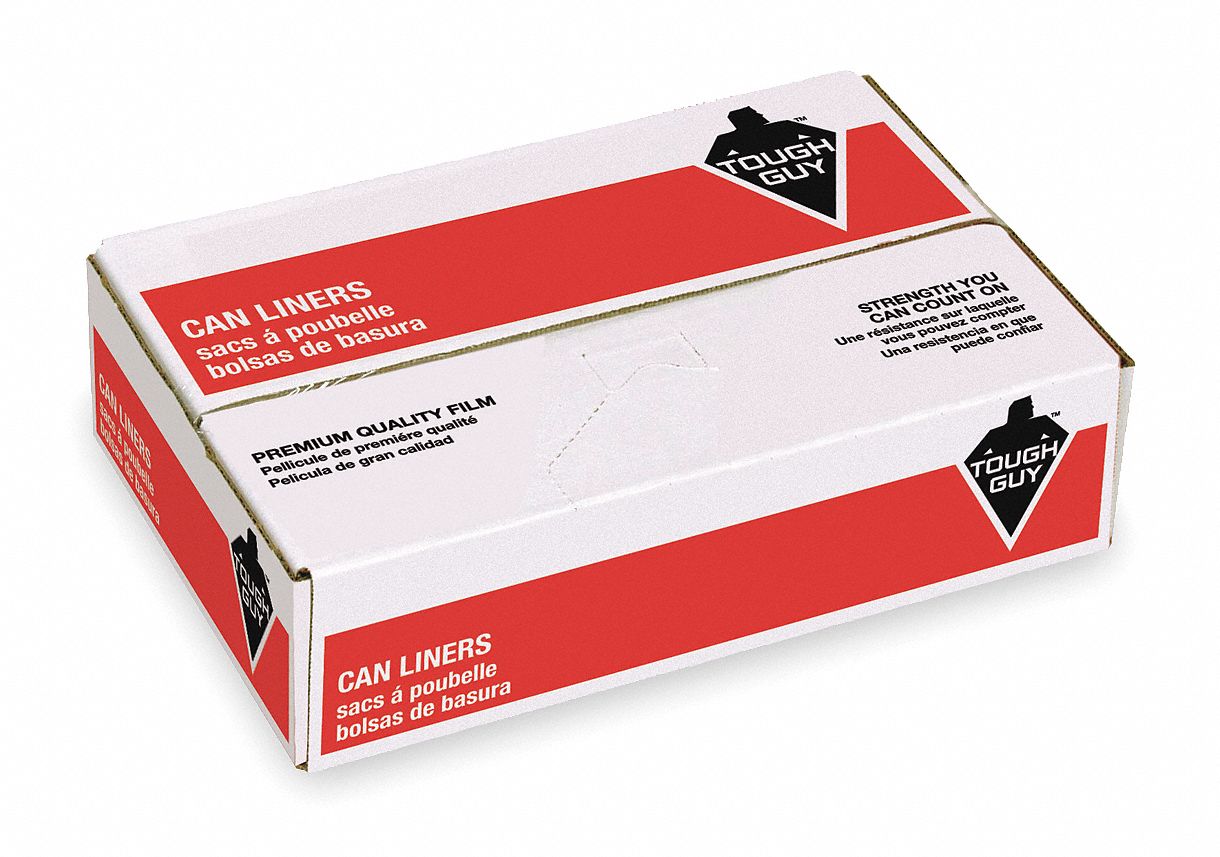 close
close x
Using 360° Viewing:
Rotate: Use top-to-bottom, side-to-side by use of mouse arrow.
Zoom In: Double click on image.
Zoom Out/Reset: Put photo at full zoom & then double click.
High Density Polyethylene Trash Can Liner
Technical Specs
Item:

Trash Can Liner

Material:

High Density Polyethylene
close Did you know that ...
You can find the right products faster by using the drop down filters above. Go there — now.
Product #
Capacity
Color
Max. Load
Thickness
Length
Width
Availability
Price
Qty
4KN29
12 to 16 gal.
Clear
15 lb.
6 micron
33"
24"

5XL46
12 to 16 gal.
Clear
20 lb.
8 micron
33"
24"

5XL47
20 to 30 gal.
Clear
20 lb.
8 micron
37"
30"

3U870
20 to 30 gal.
Clear
30 lb.
10 micron
37"
30"

4KN31
20 to 30 gal.
Clear
45 lb.
12 micron
37"
30"

3U871
20 to 30 gal.
Clear
45 lb.
12 micron
37"
30"

3CCT7
20 to 30 gal.
Clear
75 lb.
16 micron
37"
30"

4KN32
33 gal.
Clear
45 lb.
12 micron
40"
33"

3U872
33 gal.
Clear
45 lb.
12 micron
40"
33"

4KN33
33 gal.
Clear
75 lb.
16 micron
40"
33"

3U873
33 gal.
Clear
75 lb.
16 micron
40"
33"

2U384
38 gal.
Black
80 lb.
17 micron
49"
30"

5XL44
4 to 7 gal.
Clear
15 lb.
6 micron
18"
17"

5XL50
40 to 45 gal.
Black
85 lb.
22 micron
48"
40"

4KN38
40 to 45 gal.
Clear
30 lb.
10 micron
48"
40"

4KN39
40 to 45 gal.
Clear
45 lb.
12 micron
48"
40"

3U875
40 to 45 gal.
Clear
45 lb.
12 micron
48"
40"

4KN40
40 to 45 gal.
Clear
75 lb.
16 micron
48"
40"

3U876
40 to 45 gal.
Clear
75 lb.
16 micron
48"
40"

5BB54
40 to 45 gal.
Clear
85 lb.
22 micron
48"
40"

5XL48
44 gal.
Clear
55 lb.
14 micron
46"
37"

3U880
44 to 60 gal.
Clear
75 lb.
16 micron
60"
38"

4KN34
55 gal.
Clear
45 lb.
12 micron
60"
36"

3U878
55 gal.
Clear
45 lb.
12 micron
60"
36"

4YPC4
55 gal.
Clear
75 lb.
16 micron
54"
41"

4KN35
55 gal.
Clear
75 lb.
16 micron
60"
36"

2U383
55 gal.
Clear
75 lb.
16 micron
60"
36"

5XL51
56 gal.
Black
85 lb.
22 micron
48"
43"

4KN42
56 gal.
Clear
75 lb.
16 micron
48"
43"

3U877
56 gal.
Clear
75 lb.
16 micron
48"
43"

5XL49
60 gal.
Black
85 lb.
22 micron
60"
38"

4KN36
60 gal.
Clear
55 lb.
14 micron
60"
38"

3U879
60 gal.
Clear
55 lb.
14 micron
60"
38"

4KN37
60 gal.
Clear
75 lb.
16 micron
60"
38"

4CU29
60 gal.
Clear
85 lb.
22 micron
60"
38"

5XL45
7 gal.
Clear
15 lb.
6 micron
22"
20"

4KN28
7 to 10 gal.
Clear
15 lb.
6 micron
24"
24"

1CF86
7 to 10 gal.
Clear
20 lb.
8 micron
24"
24"

Adding More Products