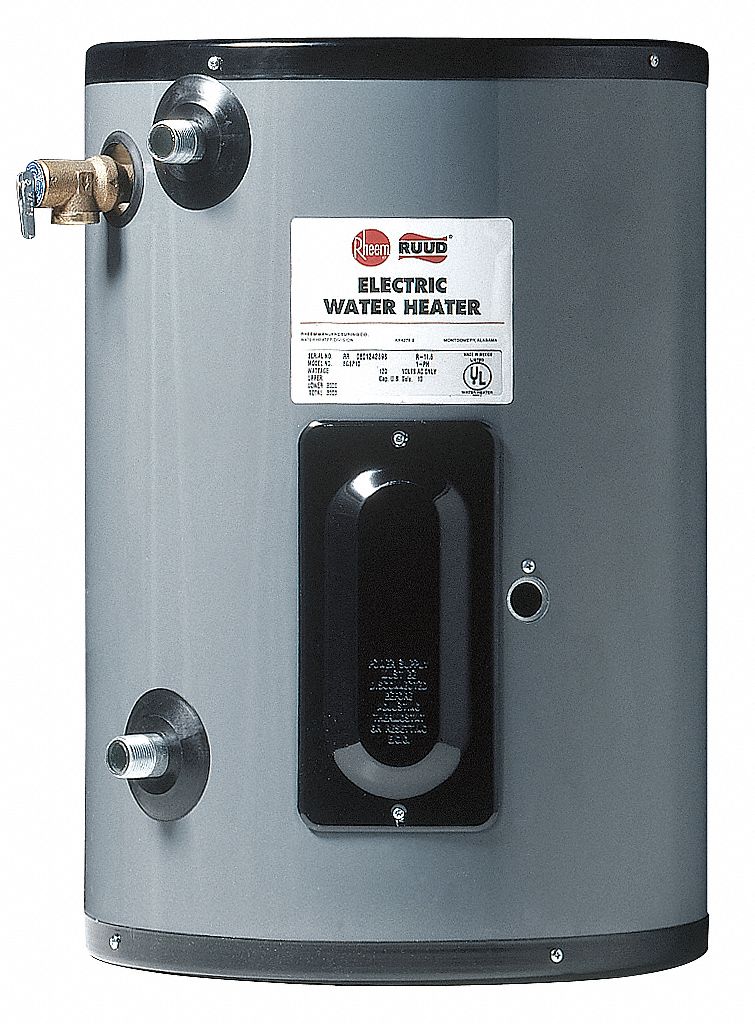 close
close x
Using 360° Viewing:
Rotate: Use top-to-bottom, side-to-side by use of mouse arrow.
Zoom In: Double click on image.
Zoom Out/Reset: Put photo at full zoom & then double click.
Electric Commercial Water Heater
Technical Specs
Residential / Commercial:

Commercial

For Drinking Water Applications:

Low Lead Compliant

For Drinking Water Applications in CA, VT, MD, LA:

Certified Low Lead Compliant
close Did you know that ...
You can find the right products faster by using the drop down filters above. Go there — now.
Product #
Item
Tank Capacity
Voltage
Phase
Total Watts
Overall Height
Availability
Price
Qty
21XP24
Electric Water Heater
10 gal.
120VAC
1
1500
22-7/8"

6E769
Electric Water Heater
10 gal.
240VAC
3
12,000
23"

6E770
Electric Water Heater
10 gal.
240VAC
3
18,000
23"

6UT04
Electric Water Heater
10 gal.
277VAC
1
6000
22-7/8"

5AU65
Electric Water Heater
105 gal.
240VAC
3
18,000
66-1/2"

Item ships within 9 business days from supplier

21XP35
Electric Water Heater
120 gal.
208VAC
1
10,000
62-1/2"

6E745
Electric Water Heater
120 gal.
240VAC
1 or 3
18,000
67-5/8"

6E746
Electric Water Heater
120 gal.
240VAC
1 or 3
36,000
67-5/8"

21XP21
Electric Water Heater
120 gal.
480VAC
1 or 3
18,000
67-5/8"

21XP22
Electric Water Heater
120 gal.
480VAC
1 or 3
24,000
67-5/8"

21XP23
Electric Water Heater
120 gal.
480VAC
1 or 3
27,000
67-5/8"

6E747
Electric Water Heater
120 gal.
480VAC
1 or 3
36,000
67-5/8"

21XP25
Electric Water Heater
15 gal.
120VAC
1
1500
24-1/4"

21XP26
Electric Water Heater
15 gal.
277VAC
1
2000
24-1/4"

21XP27
Electric Water Heater
19.9 gal.
120VAC
1
1500
25-1/8"

6UT18
Electric Water Heater
30 gal.
240VAC
3
6000
29-1/2"

21XP36
Electric Water Heater
38 gal.
208VAC
1
6000
31-1/2"

21XP37
Electric Water Heater
38 gal.
208VAC
1
8000
31-1/2"

21XP28
Electric Water Heater
40 gal.
208VAC
1
5000
46-1/4"

21XP29
Electric Water Heater
40 gal.
208VAC
1
6000
46-1/4"

21XP30
Electric Water Heater
40 gal.
208VAC
1
8000
46-1/4"

6UT12
Electric Water Heater
40 gal.
240VAC
3
6000
46-1/4"

2VRE1
Electric Water Heater
50 gal.
240VAC
1 or 3
18,000
43-5/8"

6UT13
Electric Water Heater
50 gal.
240VAC
3
6000
57"

2VRE5
Electric Water Heater
50 gal.
480VAC
1 or 3
18,000
43-5/8"

6UT14
Electric Water Heater
50 gal.
480VAC
3
6000
57"

21XP31
Electric Water Heater
65 gal.
208VAC
1
10,000
58-3/4"

21XP33
Electric Water Heater
65 gal.
208VAC
1
12,000
58-3/4"

21XP34
Electric Water Heater
65 gal.
208VAC
1
5000
58-3/4"

21XP32
Electric Water Heater
65 gal.
480VAC
3
10,000
58-3/4"

6UT16
Electric Water Heater
80 gal.
240VAC
3
6000
59"

6UT17
Electric Water Heater
80 gal.
480VAC
3
6000
59"

21XP38
Electric Water Heater
85 gal.
208VAC
1 or 3
18,000
57-11/16"

35Z886
Electric Water Heater
85 gal.
208VAC
3
54,000
57-11/16"

Item ships within 9 business days from supplier

2VRE2
Electric Water Heater
85 gal.
240VAC
1 or 3
18,000
57-11/16"

6E744
Electric Water Heater
85 gal.
240VAC
1 or 3
36,000
57-11/16"

5AU64
Electric Water Heater
85 gal.
240VAC
3
18,000
66-1/4"

Item ships within 9 business days from supplier

21XP18
Electric Water Heater
85 gal.
480VAC
1 or 3
12,000
57-11/16"

2VRE6
Electric Water Heater
85 gal.
480VAC
1 or 3
18,000
57-11/16"

21XP19
Electric Water Heater
85 gal.
480VAC
1 or 3
27,000
57-11/16"

21XP20
Electric Water Heater
85 gal.
480VAC
1 or 3
36,000
57-11/16"

6UT01
Point-of-Use Electric Water Heater
10 gal.
120VAC
1
3000
22-7/8"

6UT02
Point-of-Use Electric Water Heater
10 gal.
208VAC
1
6000
22-7/8"

6UT05
Point-of-Use Electric Water Heater
19.9 gal.
208VAC
1
6000
25-1/8"

6UT06
Point-of-Use Electric Water Heater
19.9 gal.
277VAC
1
6000
25-1/8"

6UT08
Point-of-Use Electric Water Heater
6 gal.
120VAC
1
3000
15-1/8"

Adding More Products