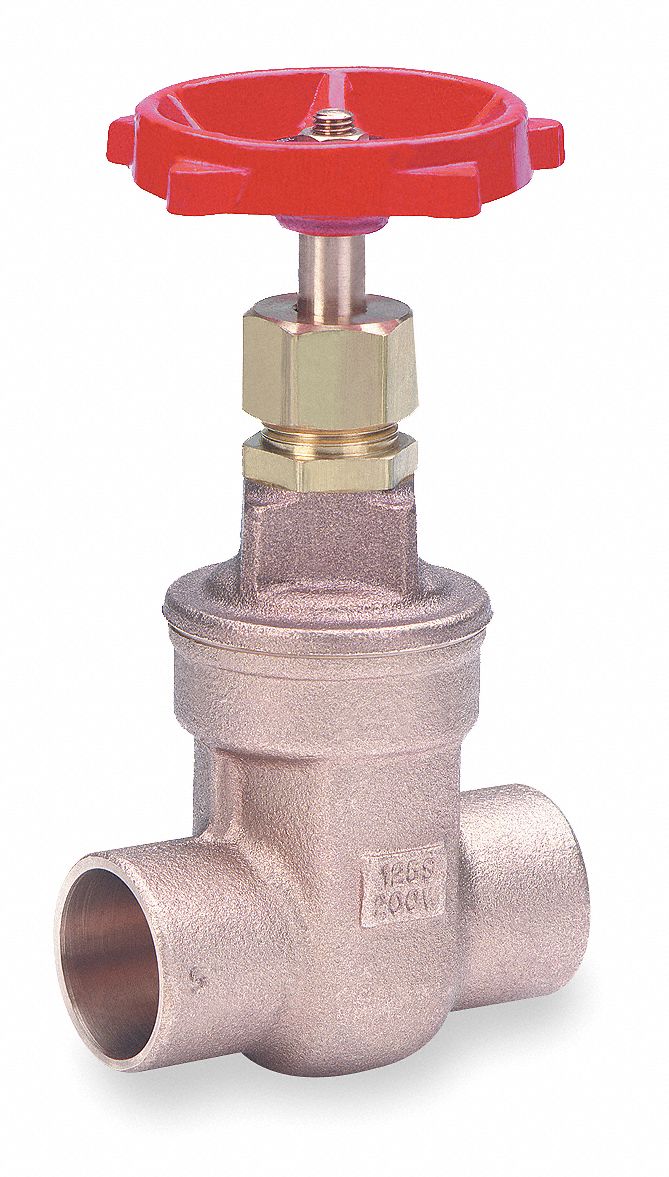 close
close x
Using 360° Viewing:
Rotate: Use top-to-bottom, side-to-side by use of mouse arrow.
Zoom In: Double click on image.
Zoom Out/Reset: Put photo at full zoom & then double click.
Bronze Gate Valve, Solder
Technical Specs
Item:

Gate Valve

Connection Type:

Solder

Body Material:

Bronze
Top of Handle to Inlet Center
For Drinking Water Applications
For Drinking Water Applications in CA, VT, MD, LA
close Did you know that ...
You can find the right products faster by using the drop down filters above. Go there — now.
Product #
Class
Pipe Size
Top of Handle to Inlet Center
Inlet to Outlet Length
Max. Water Pressure
Max. Steam Pressure
Availability
Price
Qty
1WEF1
Class 125
3/8"
3-9/16"
1-5/8"
200 psi
125 psi

5MPJ0
Class 125
3/8"
4-5/16"
1-5/8"
200 psi
125 psi

1WEF2
Class 125
1/2"
3-9/16"
1-7/8"
200 psi
125 psi

5MPJ1
Class 125
1/2"
4-5/16"
1-7/8"
200 psi
125 psi

1WEF3
Class 125
3/4"
4-3/4"
200 psi
125 psi

5MPJ2
Class 125
3/4"
6-1/4"
2-1/2"
200 psi
125 psi

1WEF4
Class 125
1"
5"
200 psi
125 psi

5MPJ3
Class 125
1"
7"
3"
200 psi
125 psi

1WEF5
Class 125
1-1/4"
5-1/2"
200 psi
125 psi

5MPJ4
Class 125
1-1/4"
8-5/8"
3-1/4"
200 psi
125 psi

1WEF6
Class 125
1-1/2"
6-1/2"
200 psi
125 psi

5MPJ5
Class 125
1-1/2"
9-1/2"
3-5/8"
200 psi
125 psi

5MPJ6
Class 125
2"
11-1/2"
4-5/16"
200 psi
125 psi

Item ships within 16 business days from supplier

1WEF7
Class 125
2"
7-7/16"
4-5/16"
200 psi
125 psi

4GCE8
Class 125
2-1/2"
14-5/16"
4-13/16"
200 psi
125 psi

Item ships within 16 business days from supplier

1WEF8
Class 125
2-1/2"
9-1/8"
200 psi
125 psi

1WEF9
Class 125
3"
10-3/8"
200 psi
125 psi

Item ships within 16 business days from supplier

4GCE9
Class 125
3"
16-3/8"
5-7/16"
200 psi
125 psi

Item ships within 16 business days from supplier

4GCF1
Class 125
4"
15-1/2"
7-1/4"
200 psi
125 psi

Item ships within 16 business days from supplier

5EMW4
Class 300
1/2"
4-5/16"
1-7/8"
300 psi

5EMW5
Class 300
3/4"
6-1/4"
2-1/2"
300 psi

5EMW6
Class 300
1"
7"
3"
300 psi

5EMW7
Class 300
1-1/4"
8-5/8"
3-1/4"
300 psi

5EMW8
Class 300
1-1/2"
9-1/2"
3-5/8"
300 psi

5EMW9
Class 300
2"
11-1/2"
3-3/4"
300 psi

5EMW3
3/8"
300 psi

Item ships within 21 business days from supplier

5EMU9
1/2"
3-9/16"
1-7/8"
300 psi

Item ships within 21 business days from supplier

5EMV0
3/4"
4-3/4"
2-1/2"
300 psi

5EMV1
1"
5"
3"
300 psi

5EMV2
1-1/4"
5-1/2"
3-1/4"
300 psi

Item ships within 21 business days from supplier

5EMV3
1-1/2"
6-1/2"
3-5/8"
300 psi

5EMV4
2"
7-7/16"
4-5/16"
300 psi

Adding More Products