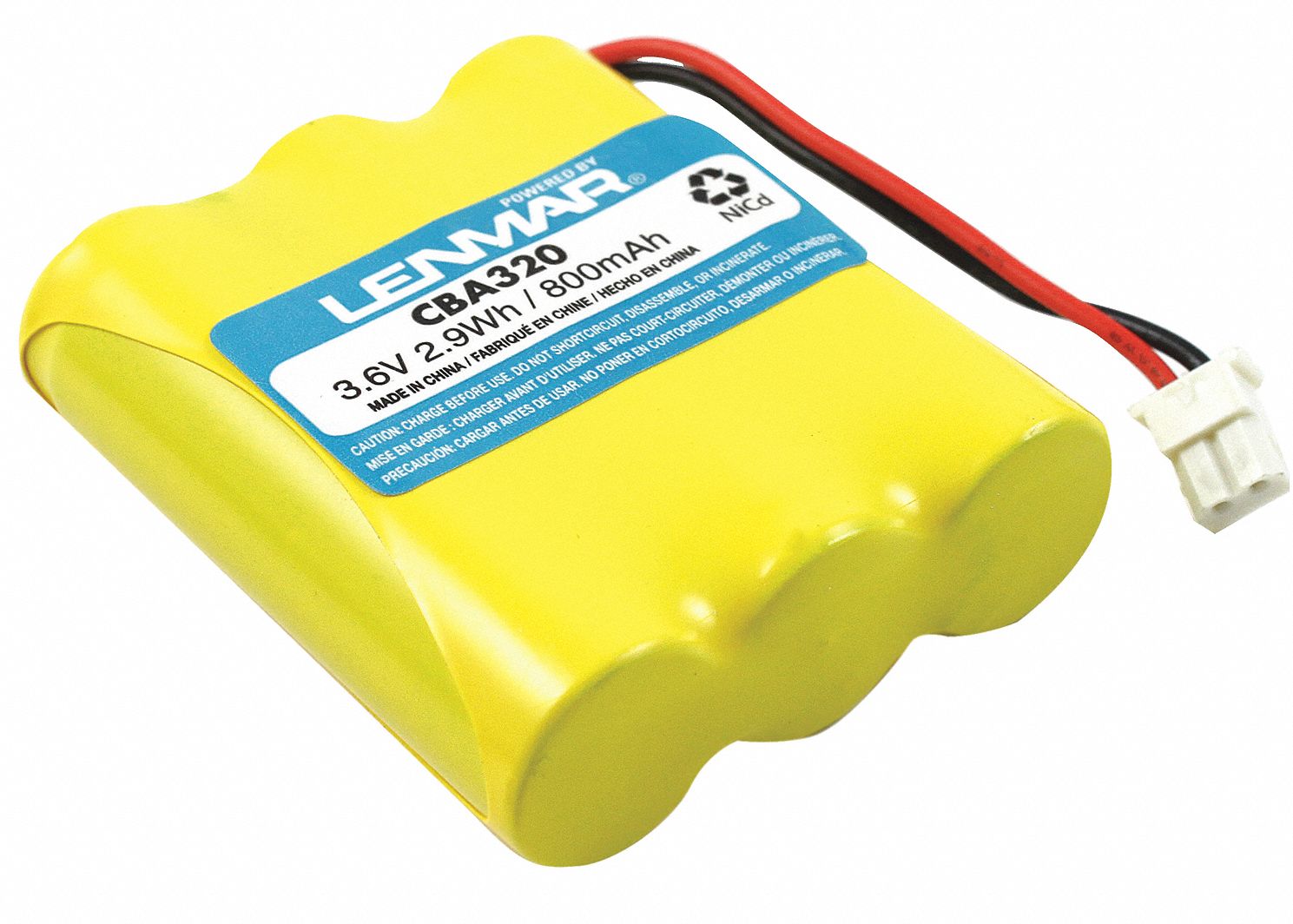 close
close x
Using 360° Viewing:
Rotate: Use top-to-bottom, side-to-side by use of mouse arrow.
Zoom In: Double click on image.
Zoom Out/Reset: Put photo at full zoom & then double click.
800mAh Cordless Phone Battery
Technical Specs
Fits Brand:

Multiple

Battery Capacity:

800mAh
close Did you know that ...
You can find the right products faster by using the drop down filters above. Go there — now.
Product #
Battery Type
Fits Model
Voltage
Replaces
Availability
Price
Qty
12Z686
Nickel Cadmium
Aastra Telecom DS-900, JB-900, ME-900, PMG-3455, IBM 3415, 3420, 3445, 3455, 3460, 3474, 5275, Southwestern Bell FF-1187, FF-1188, FF-1710B, FF-2128, FF-5000, FF-706, FF-905, FF-905G, FF-905SH, FF-906, FF-907, FF-908, FF-908SH, FF-915, FF-915S, FF-915T
3.6
Casio PhoneMate BAT-1000-A, GE - General Electric / Sanyo GES-PCF06, TL96551, TL96562, GP Batteries GP30AAH3BMX, GP30AAK3BMX, GP60AAS3BMX, IBM AA600MTH, BAT1000A, Panasonic PSPT3HRAAU41 (65), Southwestern Bell 3SNAA60SX2, 60AAS3BMX, BP-36MLX600, 3N600AAL

Item ships within 3 business days from supplier

12D097
Nickel Cadmium
AT&T - Lucent Technologies 3300, 3301, 91076, Clarity C420, Motorola E51, MA-300, MA-350, MA-351, MA-357, MA-361, MA-363, MA-550, MA-551, MA-580, MA-581, MD-400, MD-700, MD-7000, MD-7151, MD-750, MD-761, SD-4500, Vtech ia5854
3.6
AT&T - Lucent Technologies 80-5071-00-00, Casio 3/2 3AACA, 3N-270AA, Dantona 3AA-A BATT-3300, Empire CPB-400D, Energizer ER-P240, GE - General Electric D-AA600BX3, 17654, 21671, 22402, 27851, 52459, 86144, 86506, TL26144, TL26506, GP 60AAS3BMJ, Jasco TL26506, Motorola AA600BX3, Philips SJB4152, RCA TC-930, Sanik 3SN-AA60-S-J1, 3SN-AA80-S-J1, Sanyo PCF03

12Z672
Nickel Cadmium
AT&T / Lucent Technologies 84021, AT&T 84021, RadioShack 43-8025, Sony SPP-9104, SPP-A2470, SPP-A2740, SPP-A9171, SPP-S9000, SPP-S9001M, SPP-S9101, Sprint 89336
3.6
Sony BP-T31, Sprint 89336

Item ships within 3 business days from supplier

12Z683
Nickel Cadmium
Cidco CL-940, CL-980, CL-990, CL-991, CL-992, D93X, BellSouth D-271, SBC 368B, Verizon E9010
3.6
Cidco 102794-01, 104212-01, 60AAS3BV1Z, 60AAS3BZ, 85AAS3BV1Z, D-AA850X3, Sanyo 3KR-600AAL, SBC CYB-102 , Verizon D-AA850BX3

Item ships within 3 business days from supplier

12Z689
Nickel-Metal Hydride
AT&T / Lucent Technologies 91301, Presidian 43-271, Sony SPP-N1000, SPP-N1000WT, SPP-N1001, SPP-N1003, SPP-N1004, SPP-N1021, SPP-N1026
2.4
Sony BP-T50, BP-T51, Sanyo GES-PCF07, VTech BT175242

Item ships within 3 business days from supplier

12Z708
Nickel-Metal Hydride
Clarity C4220, C4230, C4230HS, RadioShack 43-270
3.7
RadioShack CS90854

Item ships within 3 business days from supplier

12Z691
Nickel-Metal Hydride
Uniden DCX100, DECT-1060, DECT-1060-2, DECT-1080, DECT-1080-2, DECT-1080-3, DECT-160, DECT-180, UIP160P (VOIP)
2.4
Uniden BBTG0609001, BT-1002

Item ships within 3 business days from supplier

Adding More Products