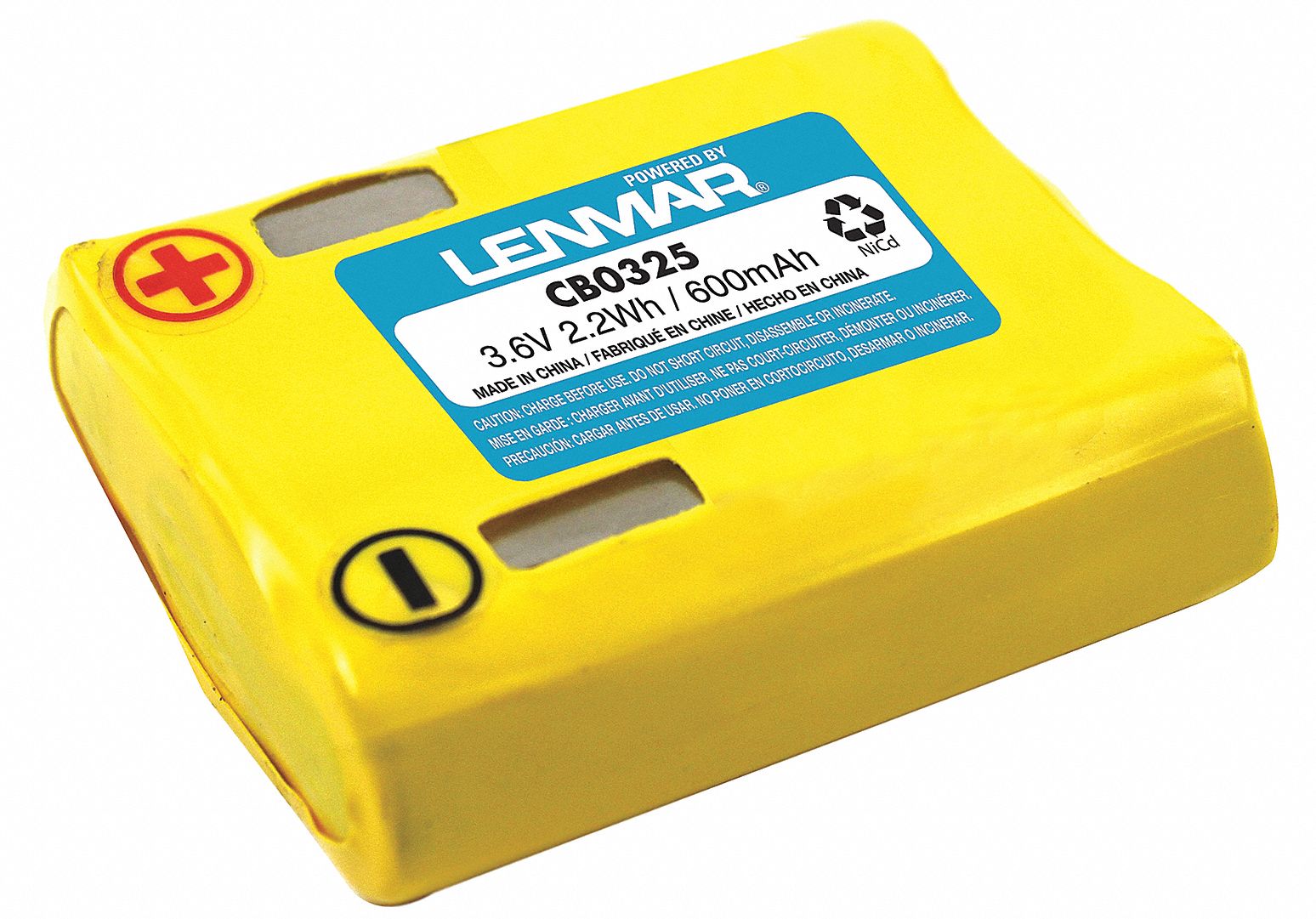 close
close x
Using 360° Viewing:
Rotate: Use top-to-bottom, side-to-side by use of mouse arrow.
Zoom In: Double click on image.
Zoom Out/Reset: Put photo at full zoom & then double click.
600mAh Cordless Phone Battery
Technical Specs
Fits Brand:

Multiple

Battery Capacity:

600mAh
close Did you know that ...
You can find the right products faster by using the drop down filters above. Go there — now.
Product #
Battery Type
Fits Model
Voltage
Replaces
Availability
Price
Qty
12Z671
Nickel Cadmium
AT&T - Lucent Technologies 9400, 24280, 3094, BellSouth 39360, Northwestern Bell 39630, RadioShack ET-1115, ET-1116, 43-1115, 43-1116
3.6
Dantona 3AA-WCO, Empire CPB-461, GE - Sanyo PCF09, RadioShack 23-963, Rayovac CO115P4, Recoton T1001, Southwestern Bell SST-910

Item ships within 3 business days from supplier

12Z673
Nickel Cadmium
AT&T / Lucent Technologies 24894, AT&T 24894, Bell South TL6171, Gemini TA263, Panasonic KX-A43, KX-T900, KX-T9500, KX-T9500C, KX-T9505, KX-T9509, KX-T9520, KX-TC905, KX-TC930
3.6
Belkin F8V185, Panasonic P-P543, P-P543PA, P-P543PA1-B, Type 43

Item ships within 3 business days from supplier

12Z680
Nickel Cadmium
AT&T / Lucent Technologies 9200, 1076, 24116, 9538, Cinc Microwave, Escort 9100, Escort 9400, 9500, 9600, 9701, General Electric 2-911SST, BT-32, RadioShack 43-1084, Southwestern Bell 31162
4.8
General Electric BT-32, Southwestern Bell 9538, Uniden BT-098

Item ships within 3 business days from supplier

12D091
Nickel Cadmium
Conair CTP 8225, Southwestern Bell 4205083, 4205080, FF-2125, FF-677A, GH3010, GH3000, Vtech CS2112 Series, CS5111Series, CS5121S Series, Walker Clarity W400, W425
3.6
VTech BT17233, BT17333, BT27233, BT27333, Southwestern Bell BAT1188, D2/3AA-400X3, Sony BP-T37, GP Batteries GP40AAK3BMX, GP60AAH3BMX, Aastra Telecom JB950

12Z696
Nickel Cadmium
General Electric 2-5912GE1, 2-5922, 2-5922EE1, 2-5922EE2, 25922GE1, 2-5922GE1-A, 2-5922GE2, 2-5922GE3, 2-5942EE1, 2-5942EE2, 2-5942EE3, 2-5942EE3, 2-5942EE4, 2-5942GE1, 2-5942GE2, 2-5942GE3, 2-5952EE3-A, 2-5982EE2, 2-5982EE3-A
3.6
Genral Electric 5-2729, Sanik 1X3-2/3AF/D, 3SN 2/3A60-S-J1, SN2/3A60SJ1, BATT-5922, CPB-446D

Item ships within 3 business days from supplier

12Z699
Nickel Cadmium
Southwestern Bell 508900, FF-1100, FF-1650, FF-175, FF-650MARK2
3.6
Southwestern Bell 508900

Item ships within 3 business days from supplier

12Z674
Nickel-Metal Hydride
IBM IBM-3855, IBM-3900, RadioShack 43-1106, ET-1106, V-Tech VT 1421, VT 1511, VT 92-1421
3.6
V-Tech 80-4289-00-00, 80-4289-0300, 80-4289-03-00, 80-4308-00-00, 80-4309-00-00, Verizon CYB-103

Item ships within 3 business days from supplier

12Z675
Nickel-Metal Hydride
Toshiba TRB-8258, TRB-1000, FT-8258, FT-8505, FT-8908, Sprint 89322, Recoton T119, Avaya 3910
3.6
Uniden BT-466, BT-990, BT2499, BT2499A

Item ships within 3 business days from supplier

Adding More Products