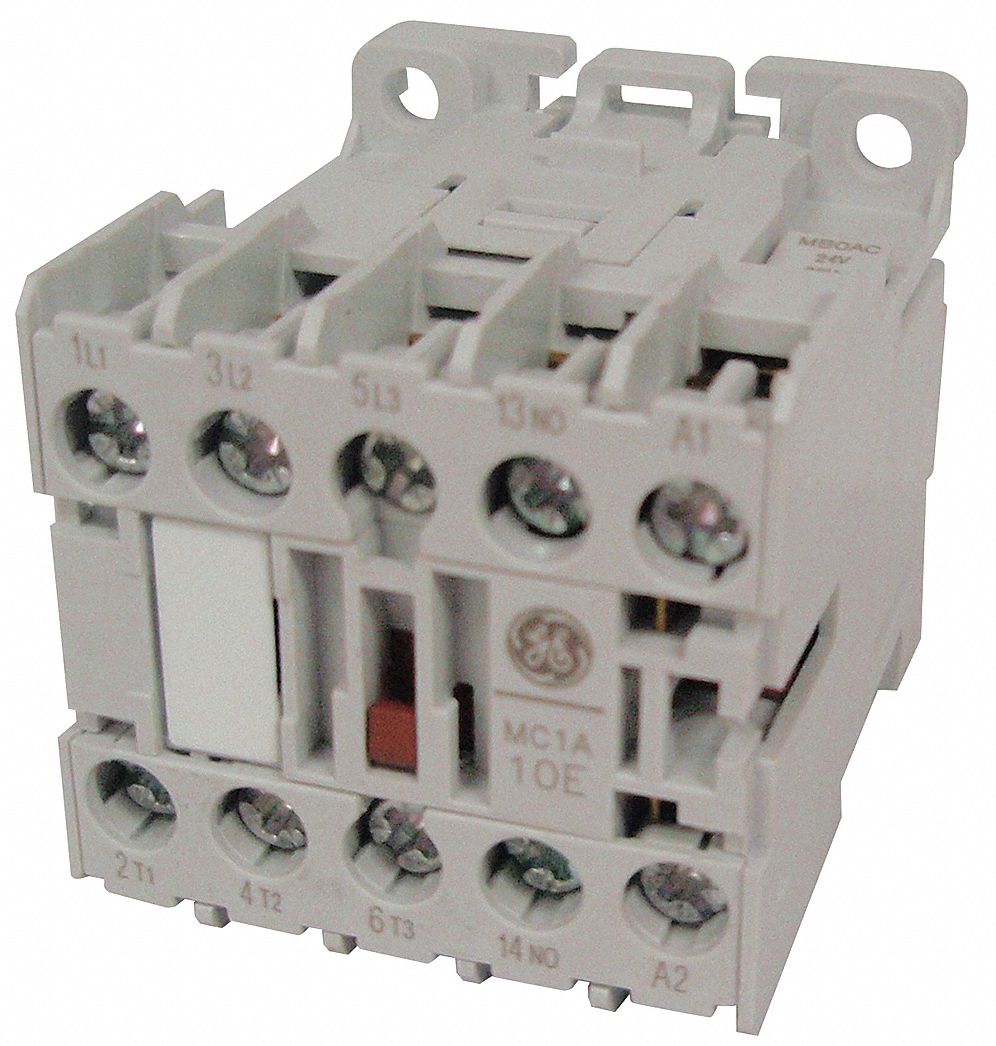 close
close x
Using 360° Viewing:
Rotate: Use top-to-bottom, side-to-side by use of mouse arrow.
Zoom In: Double click on image.
Zoom Out/Reset: Put photo at full zoom & then double click.
IEC Mini Contactor
Technical Specs
Contactor Type:

IEC

Number of Poles:

3

Enclosure Type:

Open
close Did you know that ...
You can find the right products faster by using the drop down filters above. Go there — now.
Product #
Item
Full Load Amps-Inductive
Full Load Amps-Resistive
Coil Volts
Action
Auxiliary Contact Form
Availability
Price
Qty
6KYP4
Contactor
12
20
120VAC
Nonreversing
1NO

6KYP5
Contactor
12
20
208VAC
Nonreversing
1NC

6KYP6
Contactor
12
20
208VAC
Nonreversing
1NO

6KYP0
Contactor
12
20
24VAC
Nonreversing
1NO

6KYP7
Contactor
12
20
240 to 277VAC
Nonreversing
1NC

6KYP8
Contactor
12
20
240 to 277VAC
Nonreversing
1NO

6KYP9
Contactor
12
20
480VAC
Nonreversing
1NC

6KYR0
Contactor
12
20
480VAC
Nonreversing
1NO

6KYK9
Contactor
6
16
120VAC
Nonreversing
1NC

6KYL0
Contactor
6
16
120VAC
Nonreversing
1NO

6KYR6
Contactor
6
16
120VAC
Reversing
1NC

6KYR5
Contactor
6
16
120VAC
Reversing
1NO

6KYL1
Contactor
6
16
208VAC
Nonreversing
1NC

6KYL2
Contactor
6
16
208VAC
Nonreversing
1NO

6KYR8
Contactor
6
16
208VAC
Reversing
1NC

6KYR7
Contactor
6
16
208VAC
Reversing
1NO

6KYK7
Contactor
6
16
24VAC
Nonreversing
1NC

6KYK5
Contactor
6
16
24VAC
Nonreversing
1NC

Item ships within 31 business days from supplier

6KYK8
Contactor
6
16
24VAC
Nonreversing
1NO

6KYK6
Contactor
6
16
24VAC
Nonreversing
1NO

6KYR2
Contactor
6
16
24VAC
Reversing
1NC

6KYR4
Contactor
6
16
24VAC
Reversing
1NC

6KYR1
Contactor
6
16
24VAC
Reversing
1NO

6KYR3
Contactor
6
16
24VAC
Reversing
1NO

6KYL3
Contactor
6
16
240 to 277VAC
Nonreversing
1NC

6KYL4
Contactor
6
16
240 to 277VAC
Nonreversing
1NO

6KYT0
Contactor
6
16
240 to 277VAC
Reversing
1NC

6KYR9
Contactor
6
16
240 to 277VAC
Reversing
1NO

6KYL5
Contactor
6
16
480VAC
Nonreversing
1NC

6KYL6
Contactor
6
16
480VAC
Nonreversing
1NO

6KYT2
Contactor
6
16
480VAC
Reversing
1NC

6KYT1
Contactor
6
16
480VAC
Reversing
1NO

6KYN1
Contactor
9
16
120VAC
Nonreversing
1NC

6KYN2
Contactor
9
16
120VAC
Nonreversing
1NO

6KYT8
Contactor
9
16
120VAC
Reversing
1NC

6KYT7
Contactor
9
16
120VAC
Reversing
1NO

6KYN3
Contactor
9
16
208VAC
Nonreversing
1NC

6KYN4
Contactor
9
16
208VAC
Nonreversing
1NO

6KYU0
Contactor
9
16
208VAC
Reversing
1NC

6KYT9
Contactor
9
16
208VAC
Reversing
1NO

6KYL7
Contactor
9
16
24VAC
Nonreversing
1NC

6KYL9
Contactor
9
16
24VAC
Nonreversing
1NC

6KYL8
Contactor
9
16
24VAC
Nonreversing
1NO

6KYN0
Contactor
9
16
24VAC
Nonreversing
1NO

6KYT6
Contactor
9
16
24VAC
Reversing
1NC

6KYT4
Contactor
9
16
24VAC
Reversing
1NC

6KYT5
Contactor
9
16
24VAC
Reversing
1NO

6KYT3
Contactor
9
16
24VAC
Reversing
1NO

6KYN5
Contactor
9
16
240 to 277VAC
Nonreversing
1NC

6KYN6
Contactor
9
16
240 to 277VAC
Nonreversing
1NO

6KYU2
Contactor
9
16
240 to 277VAC
Reversing
1NC

6KYU1
Contactor
9
16
240 to 277VAC
Reversing
1NO

6KYN7
Contactor
9
16
480VAC
Nonreversing
1NC

6KYN8
Contactor
9
16
480VAC
Nonreversing
1NO

6KYU4
Contactor
9
16
480VAC
Reversing
1NC

6KYU3
Contactor
9
16
480VAC
Reversing
1NO

40Z690
Miniature Contactor
6
15
120VAC
Nonreversing
1NO

40Z692
Miniature Contactor
6
15
120VAC
Reversing
2NC

40Z691
Miniature Contactor
9
20
120VAC
Nonreversing
1NO

40Z693
Miniature Contactor
9
20
120VAC
Reversing
2NC

Adding More Products