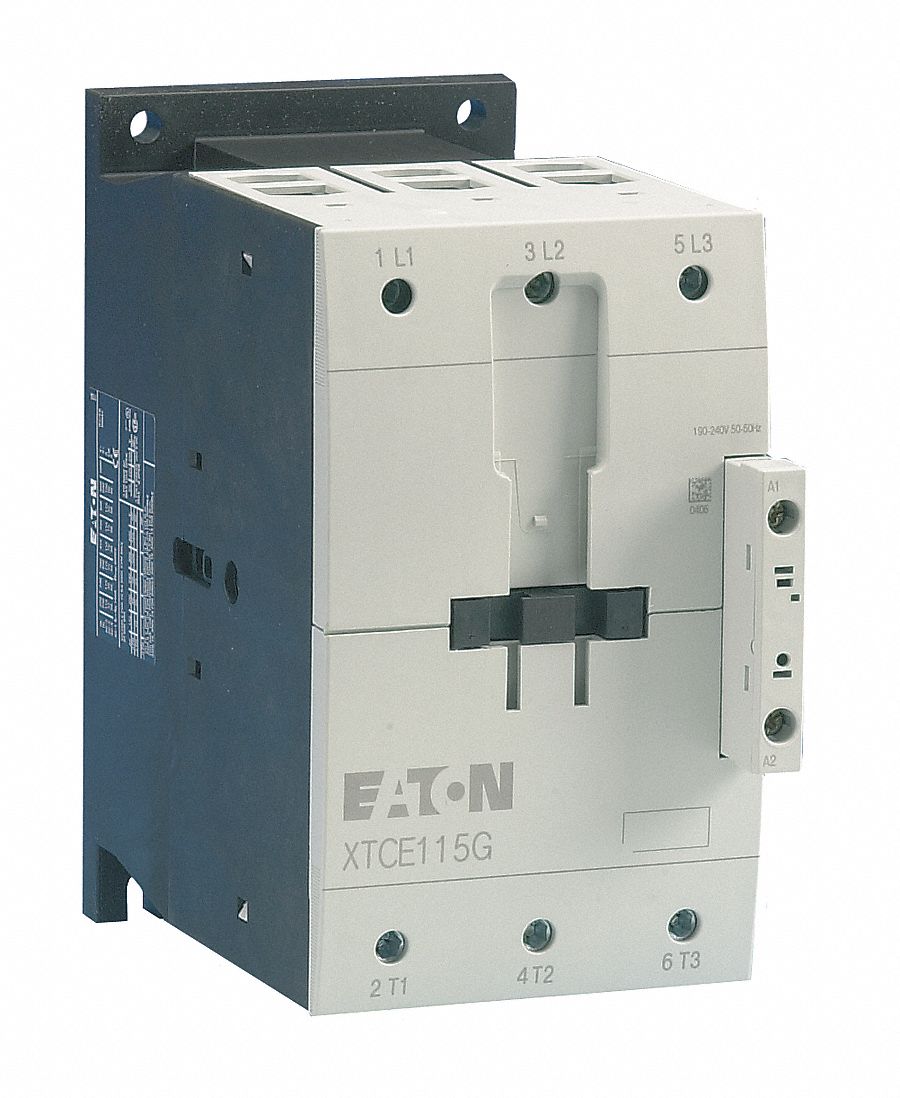 close
close x
Using 360° Viewing:
Rotate: Use top-to-bottom, side-to-side by use of mouse arrow.
Zoom In: Double click on image.
Zoom Out/Reset: Put photo at full zoom & then double click.
Nonreversing IEC Contactor
Technical Specs
Item:

Contactor

Contactor Type:

IEC

Action:

Nonreversing

Enclosure Type:

Open
close Did you know that ...
You can find the right products faster by using the drop down filters above. Go there — now.
Product #
Full Load Amps-Inductive
Full Load Amps-Resistive
Number of Poles
Coil Volts
Auxiliary Contact Form
Availability
Price
Qty
4TZE9
115
160
3
120VAC

4TZF2
115
160
3
24 to 27VDC

Item ships within 2 business days from supplier

4TZF3
115
160
3
24VAC

4TZF1
115
160
3
240VAC

4WUL2
115
200
4
120VAC

4WUL5
115
200
4
24 to 27VDC

Item ships within 22 business days from supplier

4WUL3
115
200
4
240VAC

Item ships within 22 business days from supplier

4WUL4
115
200
4
480VAC

Item ships within 4 business days from supplier

4TYT5
12
22
3
110/120VAC
1NC

4TYU2
12
22
3
110/120VAC
1NO

4TYT8
12
22
3
208VAC
1NC

4TYU5
12
22
3
208VAC
1NO

4TYU1
12
22
3
24VAC
1NC

4TYU7
12
22
3
24VAC
1NO

4TYT9
12
22
3
24VDC
1NC

4TYU6
12
22
3
24VDC
1NO

4TYT6
12
22
3
240VAC
1NC

4TYU3
12
22
3
240VAC
1NO

4TYT7
12
22
3
480VAC
1NC

Item ships within 23 business days from supplier

4TYU4
12
22
3
480VAC
1NO

4WUG2
12
22
4
110/120VAC

4WUG5
12
22
4
208VAC

4WUG7
12
22
4
24VAC

4WUG6
12
22
4
24VDC

4WUG3
12
22
4
240VAC

4WUG4
12
22
4
480VAC

4TYU8
15
22
3
110/120VAC
1NC

4TYV5
15
22
3
110/120VAC
1NO

4TYV2
15
22
3
208VAC
1NC

Item ships within 23 business days from supplier

4TYV8
15
22
3
208VAC
1NO

4TYV4
15
22
3
24VAC
1NC

4TYW1
15
22
3
24VAC
1NO

4TYV3
15
22
3
24VDC
1NC

4TYV9
15
22
3
24VDC
1NO

4TYU9
15
22
3
240VAC
1NC

Item ships within 23 business days from supplier

4TYV6
15
22
3
240VAC
1NO

4TYV1
15
22
3
480VAC
1NC

4TYV7
15
22
3
480VAC
1NO

4TZF4
150
190
3
120VAC

4TZF6
150
190
3
24 to 27VDC

4TZF7
150
190
3
24VAC

Item ships within 27 business days from supplier

4TZF5
150
190
3
240VAC

4TZF8
170
275
3
120VAC

4TZG1
170
275
3
24 to 27VDC

Item ships within 27 business days from supplier

4TZG2
170
275
3
24VAC

Item ships within 27 business days from supplier

4TZF9
170
275
3
240VAC

Item ships within 27 business days from supplier

4TYW2
18
40
3
110/120VAC
1NC

4TYW8
18
40
3
110/120VAC
1NO

4TYW5
18
40
3
208VAC
1NC

4TYX2
18
40
3
208VAC
1NO

4TYW6
18
40
3
24 to 27VDC
1NC

4TYX3
18
40
3
24 to 27VDC
1NO

4TYW7
18
40
3
24VAC
1NC

4TYX4
18
40
3
24VAC
1NO

4TYW3
18
40
3
240VAC
1NC

4TYW9
18
40
3
240VAC
1NO

4TYW4
18
40
3
480VAC
1NC

4TYX1
18
40
3
480VAC
1NO

4WUG8
18
45
4
110/120VAC
1NO

4WUH2
18
45
4
208VAC
1NO

Adding More Products