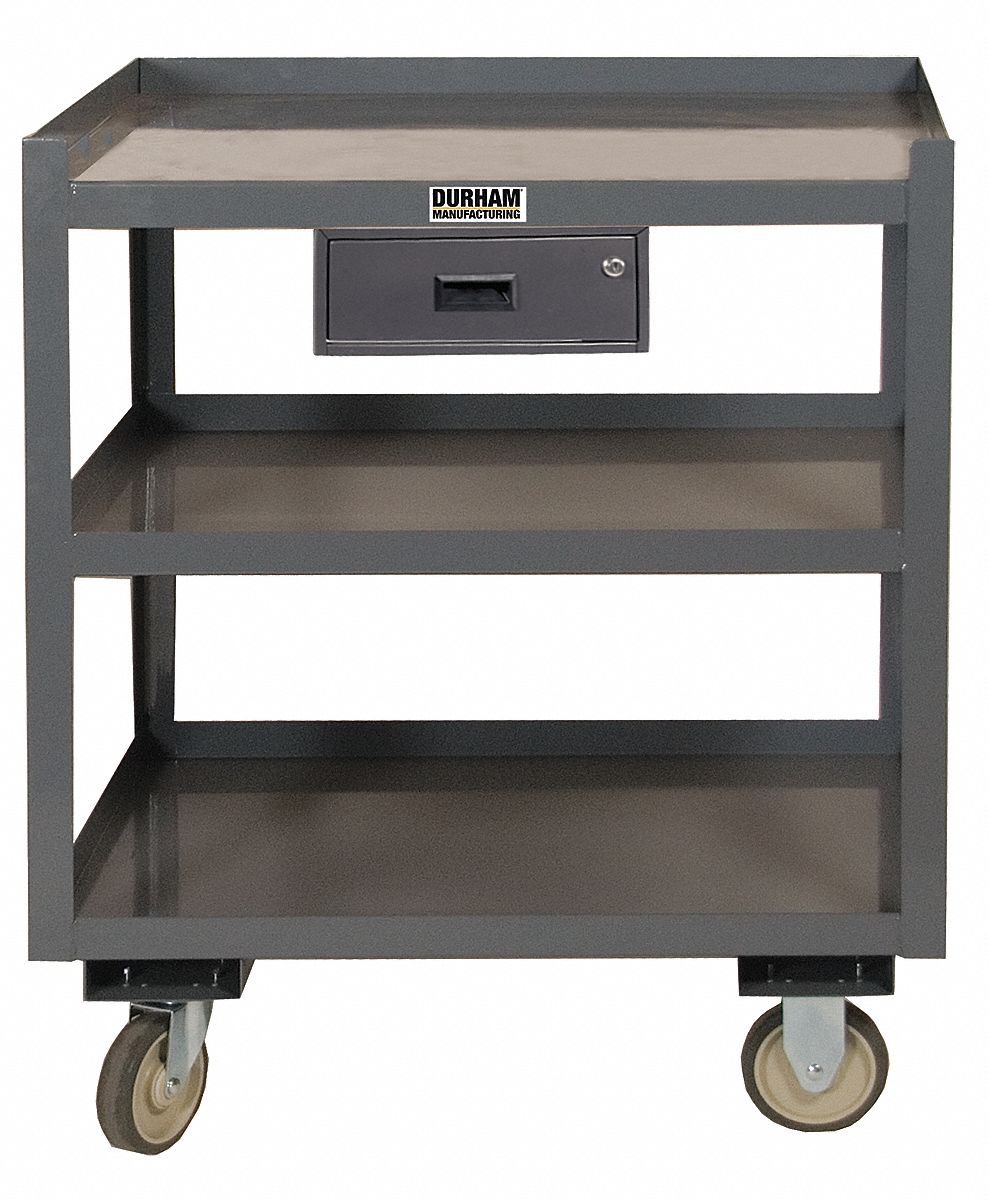 close
close x
Using 360° Viewing:
Rotate: Use top-to-bottom, side-to-side by use of mouse arrow.
Zoom In: Double click on image.
Zoom Out/Reset: Put photo at full zoom & then double click.
Welded Utility Cart
Technical Specs
Item:

Welded Utility Cart

Material:

Steel

Caster Type:

(2) Rigid, (2) Swivel
close Did you know that ...
You can find the right products faster by using the drop down filters above. Go there — now.
Product #
Shelf Type
Load Capacity
Number of Shelves
Shelf Length
Shelf Width
Overall Height
Availability
Price
Qty
5LVG9
3-Sides Lipped Edge, 1-Side Flat
1200 lb.
3
30"
24"
36"

Item ships within 11 business days from supplier

5LVG8
3-Sides Lipped Edge, 1-Side Flat
1200 lb.
3
30"
24"
36"

Item ships within 11 business days from supplier

1TGT4
Flat Shelves
4000 lb.
2
36"
24"
37-1/2"

Item ships within 11 business days from supplier

1TGT5
Flat Shelves
4000 lb.
2
48"
24"
37-1/2"

Item ships within 11 business days from supplier

1TGT6
Flat Shelves
4000 lb.
2
48"
30"
37-1/2"

Item ships within 11 business days from supplier

1TGT7
Flat Shelves
4000 lb.
2
48"
36"
37-1/2"

Item ships within 11 business days from supplier

1TGT8
Flat Shelves
4000 lb.
2
72"
36"
37-1/2"

Item ships within 11 business days from supplier

2NXV5
Lipped Edge
1200 lb.
3
30"
18"
37"

Item ships within 11 business days from supplier

2NXV6
Lipped Edge
1200 lb.
3
36"
24"
37"

Item ships within 11 business days from supplier

2NXV7
Lipped Edge
1200 lb.
3
48"
24"
37"

Item ships within 11 business days from supplier

16D885
Lipped Edge
5000 lb.
2
36"
24"
39-1/2"

Item ships within 6 business days from supplier

16D886
Lipped Edge
5000 lb.
2
48"
24"
39-1/2"

Item ships within 6 business days from supplier

16D887
Lipped Edge
5000 lb.
2
48"
30"
39-1/2"

Item ships within 6 business days from supplier

16D888
Lipped Edge
5000 lb.
2
60"
30"
39-1/2"

Item ships within 6 business days from supplier

16D889
Lipped Edge
5000 lb.
2
72"
36"
39-1/2"

Item ships within 6 business days from supplier

Adding More Products