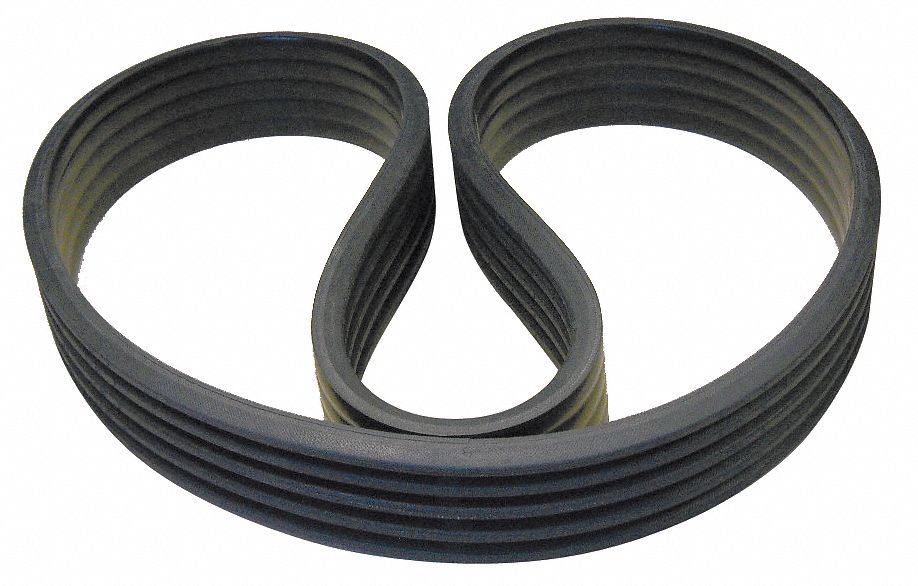 close
close x
Using 360° Viewing:
Rotate: Use top-to-bottom, side-to-side by use of mouse arrow.
Zoom In: Double click on image.
Zoom Out/Reset: Put photo at full zoom & then double click.
Banded V-Belt, B 5 Rib
Technical Specs
Item

Banded V-Belt

Material

Rubber Impregnated Fabric Cover w/High Strength Tensile Cords

Belt Type

B

Number of Ribs

5

Top Width

3-1/3"

Thickness

1/2"
Item #
Industry Number
Outside Length
Availability
Price
Qty
13W291
5/B100
103-3/4"

Item ships within 3 business days from supplier

13W292
5/B103
106-3/4"

Item ships within 3 business days from supplier

13W293
5/B105
108-3/4"

Item ships within 3 business days from supplier

13W294
5/B108
111-3/4"

Item ships within 3 business days from supplier

13W295
5/B112
115-3/4"

Item ships within 3 business days from supplier

13W296
5/B116
119-3/4"

Item ships within 3 business days from supplier

13W297
5/B120
123-3/4"

Item ships within 3 business days from supplier

13W298
5/B124
127-3/4"

Item ships within 3 business days from supplier

13W299
5/B126
129-3/4"

Item ships within 3 business days from supplier

13W301
5/B128
131-3/4"

13W302
5/B133
136-3/4"

Item ships within 3 business days from supplier

13W303
5/B136
139-3/4"

Item ships within 3 business days from supplier

13W304
5/B144
147-3/4"

Item ships within 3 business days from supplier

13W305
5/B148
151-3/4"

13W306
5/B150
153-3/4"

Item ships within 3 business days from supplier

13W307
5/B157
160-3/4"

Item ships within 3 business days from supplier

13W308
5/B158
161-3/4"

13W309
5/B162
165-3/4"

Item ships within 3 business days from supplier

13W310
5/B173
176-3/4"

Item ships within 3 business days from supplier

13W311
5/B180
183-3/4"

Item ships within 3 business days from supplier

13W312
5/B195
198-3/4"

Item ships within 3 business days from supplier

13W313
5/B210
213-3/4"

Item ships within 3 business days from supplier

13W314
5/B225
226-3/4"

Item ships within 3 business days from supplier

13W315
5/B240
241-3/4"

Item ships within 3 business days from supplier

13V580
5/B46
49-3/4"

Item ships within 3 business days from supplier

13V581
5/B48
51-3/4"

Item ships within 3 business days from supplier

13V582
5/B50
53-3/4"

Item ships within 3 business days from supplier

13V583
5/B51
54-3/4"

Item ships within 3 business days from supplier

13V584
5/B52
55-3/4"

Item ships within 3 business days from supplier

13V585
5/B53
56-3/4"

Item ships within 3 business days from supplier

13V586
5/B54
57-3/4"

Item ships within 30 business days from supplier

13V587
5/B55
58-3/4"

Item ships within 3 business days from supplier

13V588
5/B56
59-3/4"

Item ships within 3 business days from supplier

13V589
5/B57
60-3/4"

Item ships within 3 business days from supplier

13V590
5/B58
61-3/4"

Item ships within 30 business days from supplier

13V591
5/B59
62-3/4"

Item ships within 3 business days from supplier

13V592
5/B60
63-3/4"

Item ships within 60 business days from supplier

13V593
5/B61
64-3/4"

Item ships within 3 business days from supplier

13V594
5/B62
65-3/4"

Item ships within 3 business days from supplier

13V595
5/B63
66-3/4"

Item ships within 3 business days from supplier

13V596
5/B64
67-3/4"

Item ships within 3 business days from supplier

13V597
5/B65
68-3/4"

Item ships within 30 business days from supplier

13V598
5/B66
69-3/4"

Item ships within 3 business days from supplier

13V599
5/B67
70-3/4"

Item ships within 3 business days from supplier

13W269
5/B68
71-3/4"

Item ships within 3 business days from supplier

13W270
5/B70
73-3/4"

Item ships within 3 business days from supplier

13W271
5/B71
74-3/4"

Item ships within 3 business days from supplier

13W272
5/B72
75-3/4"

Item ships within 3 business days from supplier

13W273
5/B73
76-3/4"

Item ships within 60 business days from supplier

13W274
5/B74
77-3/4"

Item ships within 3 business days from supplier

13W275
5/B75
78-3/4"

Item ships within 3 business days from supplier

13W276
5/B77
80-3/4"

Item ships within 3 business days from supplier

13W277
5/B78
81-3/4"

Item ships within 60 business days from supplier

13W278
5/B79
82-3/4"

Item ships within 3 business days from supplier

13W279
5/B80
83-3/4"

Item ships within 3 business days from supplier

13W280
5/B81
84-3/4"

Item ships within 3 business days from supplier

13W281
5/B82
85-3/4"

Item ships within 3 business days from supplier

13W282
5/B83
86-3/4"

Item ships within 3 business days from supplier

13W283
5/B85
88-3/4"

Item ships within 3 business days from supplier

13W284
5/B87
90-3/4"

Item ships within 3 business days from supplier

Adding More Products