Related Articles
---
---
---
---
Related Categories
---
---
Types of Padlocks
Quick Tips #333
Padlock Basics
Padlocks are detachable locks that normally incorporate a U-shaped bar that's hinged at one end and designed to pass through an opening of a hasp or a link in a chain to help protect against unauthorized use, theft, vandalism or harm. They are comprised of three basic components: the shackle, body and locking mechanism.
Shackle: Most often a loop of metal (U-shaped bar) that opens up to lock and unlock the padlock. Available in varying lengths and diameters to fit a variety of needs. There is a rather unique style of lock (see the single-post shackle padlock below) that uses a straight shackle.
Body: The solid part of the padlock that contains the locking mechanism.
Locking mechanism/cylinder: Locks usually have a keyway where the key is inserted. Or they may use a type of rotary mechanism or dial.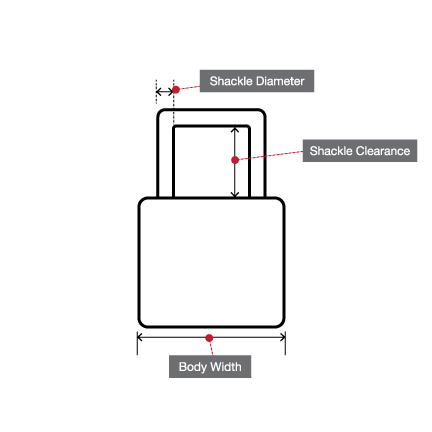 Types of Padlock Styles
High security: A lock that typically has one or more of the following options to increase its level of protection:
Hardened steel shackle for cut resistance
Shrouded shackle to protect against cutting and prying
Pick-resistant key cylinder
Reinforced locking mechanism to resist prying
Laminated: The body consists of multiple pieces of metal stacked on top of each other to form a tough, tamper-resistant lock.
Lockout padlocks: Locks designed specifically for use in lockout programs that often have a provision on the lock to write the user's name and come with only one key to limit access to the lock. The Occupational Safety and Health Administration's (OSHA) control of hazardous energy, lockout/tagout standard (29 Code of Federal Regulations (CFR) 1910.147) identifies five requirements that padlocks need to meet for compliance:
Must be durable – Manufactured with materials that withstand usage environment
Must be substantial – Cannot be removed unless considerable force is applied
Must be standardized – Clearly differentiated from other devices by color, shape or size
Must be identifiable – Indicates the authorized employee that applied the device
Must be exclusive for safety – Not to be used for purposes other than controlling energy
For additional information on OSHA's Lockout/Tagout standard, see Quick Tips #170, Lockout Tagout Systems and Standards.
Single-post shackle padlocks: Unlike the other styles discussed here, this lock uses a single post rather than a U-shaped shackle. These are used on vending machines, utility valve equipment, meters and wherever a less accessible shackle is desired.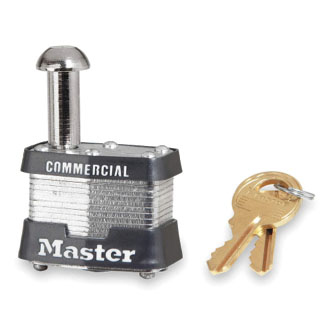 Single-Post Shackle Padlock
Weather resistant: Locks that have either a shroud to protect the lock from the elements or are constructed from weather-resistant materials such as stainless steel. Although regular locks will work outside for a period of time, they tend to rust or corrode over time to a point where they can no longer be opened with the key or combination sequence.
Keying Options
For most applications, the typical padlock that comes with two keys works well. However, there are many applications where different keying options are required. The most common keying options are:
Keyed alike: All the keys open all the locks in a set of padlocks. Every key and every padlock is exactly the same.
Keyed different: Each padlock has a unique key(s) that opens only that lock and will not open any of the other locks within the set.
Master keyed: Locks are keyed-different padlocks with the addition of a single master key that can open all the locks in a set. The keys that come with the locks can only open that one lock, but an additional master key will open all the locks in the set. The master key and the master-keyed padlocks must be ordered at the same time.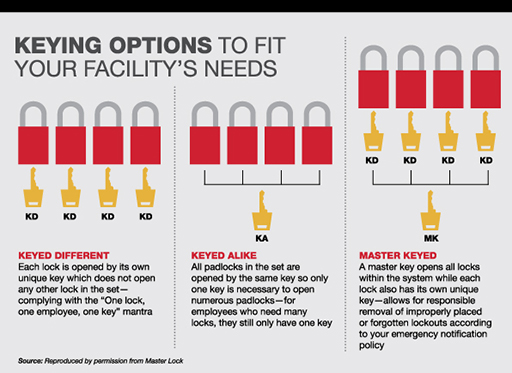 Rekeyable: The cylinder in rekeyable padlocks can be removed in order to (a) change the pinning or (b) replace the original cylinder with a new one, restoring security quickly and economically. This is ideal for situations where keys are lost or stolen.
Interchangeable core padlocks: These padlocks provide an instant security solution because they do not require disassembly to remove the core (cylinder). The control key fits into the padlock just like the user key, but actuates the interchangeable core retaining mechanism to allow the removal and replacement of the core (cylinder).
Non-removable key: The key cannot be removed from the padlock when the lock is open. This helps prevent users from accidentally leaving the padlock in the open position.
Reserved key system: While not available to the general public, this option is a system where key blanks are cut and supplied directly through padlock distributors when requested by registered end users. These locks are typically used by the government and some larger companies.
Materials of Padlock Construction
Padlocks are made in a variety of metals and even plastic. Some of the common materials and applications for those materials include:
Plastic: Typically used in a light security situations where tampering isn't expected to occur.
Aluminum: Generally used in light security situations. The aluminum bodies are often anodized in different colors, allowing color coding of lock systems.
Brass: More durable than plastic but are not as tamper-resistant as heavier steel padlocks. However, they do hold up to the elements and are often used as an inexpensive, weather-resistant light security lock.
Solid steel/case hardened steel: Very durable, cut-resistant materials. These types of locks are typically used in higher security applications and are often chrome- or zinc-plated to help resist corrosion.
Stainless steel: Very durable locks and generally hold up to the elements better than solid steel.
Titanium: Extremely durable metal resists corrosion and is lightweight in comparison to solid and stainless steels. These are typically used in higher security applications.
Commonly Asked Questions
Q. Can I get replacement keys for my padlock?
A. If you have the key number that is stamped on the key itself, a locksmith may be able to get a replacement key for you. If you do not have the key number, it may be possible to have a locksmith make a replacement key. If the lock is from a supplier Grainger works with, we should be able to assist. Please call 1-888-361-8649 and request our Custom Product Center at extension 2879999.
Q. Are master-keyed and keyed-alike locks the same?
A. With master-keyed locks, the individual keys will only open one lock but there is a separate master key that can open all the locks in a group. With keyed-alike locks, every key in a group will open every lock.
Source
Master Lock® Safety Solutions™ Safety Lockout Products
(Rev. 9/2015)
---
Find even more information you can use to help make informed decisions about the regulatory issues you face in your workplace every day. View all Quick Tips Technical Resources at www.grainger.com/quicktips.
Think Safety. Think Grainger.®
Grainger has the products, services and resources to help keep employees safe and healthy while operating safer facilities. You'll also find a network of safety resources that help you stay in compliance and protect employees from hazardous situations. Count on Grainger for lockout tagout, fall protection equipment, confined space products, safety signs, personal protective equipment (PPE), emergency response and so much more!
Please Note:
The content in this newsletter is intended for general information purposes only. This publication is not a substitute for review of the applicable government regulations and standards, and should not be construed as legal advice or opinion. Readers with specific compliance questions should refer to the cited regulation or consult with an attorney.


©2015 W.W. Grainger, Inc.