Articles and Info
You Can Use: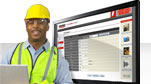 Slips, Trips, and Falls Program Template
Learn More >
---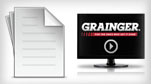 Slips, Trips, and Falls Meeting Template
Learn More >
---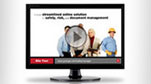 Fall Protection Slips Trips and Falls
Learn More >
---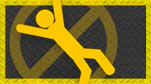 Slips, Trips and Falls Resources Page
Learn More >
---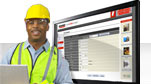 Grainger Online SafetyManager®
Learn More >
Slips, Trips and Falls: Prevention and Regulations
Quick Tips #351
Facts
Slips, trips, and falls constitute the majority of general industry accidents. They cause 15% of all accidental deaths, and are second only to motor vehicles as a cause of fatalities. The U.S. Bureau of Labor Statistics reported a total of 4,383 fatal work injuries for calendar year 2012. Of the fatality cases, 668 were associated with falls. In addition, of the 1,153,980 nonfatal occupational injuries and illnesses involving days away from work in 2012, there were 230,260 cases associated with slips and falls.
Fall injuries constitute a considerable financial burden: workers' compensation and medical costs associated with occupational fall incidents have been estimated at approximately $70 billion annually in the United States. The most frequent complaints related to slips and falls are shoulder, back, elbow, wrist and knee injuries.
Regulations
The two regulatory standards that apply to slips, trips, and fall are OSHA 29 CFR 1910.22, walking-working surfaces, and the ANSI A1264.2-2012, provision for the slip resistance on walking/working surfaces.
Causes of slips, trips and falls vary considerably and can include one or more of the following:
Walkway surface substances and spills; including oil, water, and/or other liquid surface contamination
Lack of training and/or knowledge about slips, trips and falls
Mats or rugs which become unanchored or loose
Weather-related conditions like rain, snow and/or ice
Use of inappropriate footwear
Walkway surfaces that are in disrepair
Sheen/smooth walkway surfaces that do not allow for adequate footwear-traction
Surprisingly, approximately 70 percent of slips, trips, and falls occur on level walking surfaces. Training employees to use hazard-awareness and prevention practices is essential to reducing those numbers. Once trained, common sense also plays an important role in slips, trips and fall prevention.
Prevention
OSHA indicates some very good floor safety recommendations for slips, trips and fall prevention, some of which include:
Keep floor surfaces clean and dry
Ensure wet-floor warning signs are posted in and around wet floor locations as well as providing and maintaining adequate drainage
Maintain clear aisles and passageways and prevent obstructions
Ensure walkway surfaces are in good repair
Provide floor plugs for power equipment to ensure power cords are not run across walkway paths
Report and clean up spills immediately
Provide non-slip coatings or surfaces in slippery locations
Minimize carpet and matting trip hazards
Use prudent housekeeping procedures and provide adequate lighting in poorly lit areas such as halls and stairwells
Maintain and eliminate uneven floor surfaces
Links
Sources
Bureau of Labor Statistics. Lost-Worktime Injuries and Illnesses: Characteristics and Resulting Time away from Work, 2012.
NIOSH: Fall Injuries Prevention in the Workplace
OSHA: Slips, Trips & Falls - Identification & Prevention
ANSI: http://www.ansi.org/

(Rev. 7/2014)
---
Find even more information you can use to help make informed decisions about the regulatory issues you face in your workplace every day. View all Quick Tips Technical Resources at www.grainger.com/quicktips.
Think Safety. Think Grainger.®
Grainger has the products, services and resources to help keep employees safe and healthy while operating safer facilities. You'll also find a network of safety resources that help you stay in compliance and protect employees from hazardous situations. Count on Grainger for lockout tagout, fall protection equipment, confined space products, safety signs, personal protective equipment (PPE), emergency response and so much more!
Please Note:
The content in this newsletter is intended for general information purposes only. This publication is not a substitute for review of the applicable government regulations and standards, and should not be construed as legal advice or opinion. Readers with specific compliance questions should refer to the cited regulation or consult with an attorney.


©2015 W.W. Grainger, Inc.