Worker Protection Standard, 40 CFR Parts 156 and 170
Quick Tips #225
Introduction
The Environmental Protection Agency (EPA) revised the worker protection standard (WPS) that governs the regulations protecting workers who deal with agricultural pesticides. This 1992 revision clarifies who is affected and discusses personal protection, training and restrictions when using agricultural pesticides on farms, in nurseries, greenhouses and forests. The worker protection standard is meant to eliminate or reduce exposure to pesticides, provide ways to relieve exposure, and inform those who work with pesticides of the hazards involved. The revised standard took effect January 1, 1995.
Who Does the Standard Affect?
The worker protection standard covers farm, forestry, and greenhouse and nursery workers from occupational exposure to agricultural pesticides, including anyone involved in picking, cutting, weeding and inspecting.
The regulation covers two types of employees:

Pesticide handlers—those who mix, load or apply agricultural pesticides; clean or repair pesticide application equipment; or assist with the application of pesticides in any way.

Agricultural workers—those who perform tasks related to the cultivation and harvesting of plants on farms or in greenhouses, nurseries, or forests. Workers include anyone employed for any type of compensation (including self-employed) doing tasks—such as carrying nursery stock, repotting plants, or watering—related to the production of agricultural plants on an agricultural establishment. Workers do not include such employees as office employees, truck drivers, mechanics, and any other workers not engaged in worker or handler activities.
Restrictions for Entry and Application
Once an area is treated with a pesticide, access to that area is limited. The access is based on time limits that vary according to the toxicity level of the pesticide. These time limits are called restricted-entry intervals (REIs). REIs are established for all pesticides used in the production of agricultural pesticides. Restricted-entry intervals must be specified on all agricultural plant pesticide product labels. Workers are excluded from entering a pesticide-treated area during the restricted-entry interval, with only narrow exceptions.

An exception for activities with no contact is that a worker may enter a treated area during a restricted-entry interval if the agricultural employer assures that both of the following are met:

(1) The worker will have no contact with anything that has been treated with the pesticide to which the restricted-entry interval applies, including, but not limited to, soil, water, air, or surfaces of plants; and

(2) No such entry is allowed until any inhalation exposure level listed in the labeling has been reached or any ventilation criteria established by 170.110(c)(3) or in the labeling have been met.

Exception for short-term activities: a worker may enter a treated area during a restricted-entry interval for short-term activities if the agricultural employer assures that the following requirements are met:
No hand labor activity is performed.
The time in treated areas under a restricted-entry interval for any worker does not exceed one hour in any 24-hour period.
(3) No such entry is allowed for the first 4 hours following the end of the application, and no such entry is allowed thereafter until any inhalation exposure level listed in the labeling has been reached or any ventilation criteria established by 170.110(c)(3) or in the labeling have been met.
When applying pesticides, there are three types of restrictions involved:
The pesticides shall not be applied in a manner where they would come in contact with any persons unless they are appropriately trained and equipped handlers.
Only appropriately trained and equipped handlers can be in an area where the pesticides are applied.
Any employer with a pesticides handler using a product with the skull- and-crossbones emblem (poison) must monitor the handler visually or by voice at least every two hours. Those using fumigants in a greenhouse must be in constant visual or voice contact with another appropriately trained handler.
Minimizing Exposure
The label on the pesticide container will tell what personal protective equipment (PPE) is necessary to protect against the pesticide's toxicity. The route of exposure will be specified so that the handler can don the proper PPE. This could consist of gloves, goggles, a respirator, chemical splash coveralls, and chemical resistant overboots. If the pesticide's acute toxicity is by inhalation, then respiratory protection is needed. Persons entering an area before the entry interval time is over must follow the label instructions for PPE for early entry.
The employer is responsible for providing the PPE and requiring the handlers and workers to wear it. The employer is also responsible for the cleaning and proper maintenance of the PPE and for making sure no worker or handler goes home with contaminated PPE or clothing.
In case of a spill or splash, entry into an REI area before the time limit, or entry into an area that has been treated within the last 30 days, ample amounts of water must be provided for washing off. In case of emergency such as poisoning or injury involving a pesticide, the name and location of the nearest medical facility must be posted in a central location. Transportation must be available to a medical facility, along with any information about the pesticide to which the employee was exposed.
Safety Training
All workers and handlers must be trained on pesticide safety. This includes: the use of pesticide safety posters, access to labeling information, and details on where the pesticides have been used. A poster showing basic pesticide safety should be displayed in a central location. Employees must also have access to the pesticide product labeling for 30 days after the pesticide has been applied.
The EPA has revised this standard to help eliminate some of the estimated tens of thousands of injuries and illnesses that occur annually due to exposure to pesticides and pesticide residue. This original standard took effect on October 20, 1992.
OSHA revised the training requirements on April 27, 1995. The revisions took effect January 1, 1996.
Employers must provide pesticide safety training to untrained workers prior to entry of treated areas. Workers must also be trained within five days of starting work. The retraining interval for workers and handlers is 5 years.
Pesticide Warnings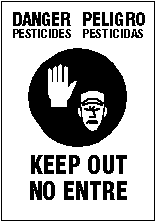 Figure 1 Sample Warning Sign
Warnings may be given verbally or by posted signs, or both. Check the pesticide label to see what type of warning is required. Unless the pesticide requires both verbal and written warnings, one or the other is acceptable as long as workers are informed of which method is being used. Notification in greenhouses must be posted in all treated areas with a few exceptions.
If posted warning signs are required, they must be posted at all points of entry. The signs must be posted within 24 hours before the application, during the application, and throughout the restricted entry level if applicable.
Signs must have the words "Danger-Peligro" and "Pesticides-Pesticidas" at the top, and "Keep Out-No Entre" at the bottom. (See figure 1.) Signs must be at least 14" x 16", with a minimum letter height of one inch.
The EPA has adopted a final rule of the worker protection standard regarding size and language on warning signs. The Spanish portion of the sign may be replaced with a substitute language. In greenhouses and nurseries, smaller signs (4.5" x 5") are now acceptable. This is one of a series of changes being made in response to employers affected by the rule.
Commonly Asked Questions
Q.
What type of protective clothing is needed when applying pesticides?
A.
Chemical protective coveralls are the minimum requirement. Other protective clothing and equipment, such as shoe covers, gloves and respirators, are also recommended.
Q.
What type of gloves will protect against pesticides on the skin?
A.
Many non-porous unlined chemical-resistant rubber type gloves will work against pesticide absorption. A good choice may be nitrile rubber gloves, which are both chemical- and abrasion-resistant. The use of glove liners within the chemical-resistant gloves is acceptable when following the EPA guidelines and time table for use. Note: The Safety Data Sheet should be consulted when determining proper chemical compatibility.
Q.
Will disposable dust particle respirators work for pesticides?
A.
No—that type of respirator should only be used for dust and particulate holdout. Pesticides usually contain organic compounds; therefore, a cartridge-type respirator with an organic vapor cartridge/pesticides prefilter or supplied air is needed. The MSDS will help in determining what the user needs.
Sources
Federal Register, Vol. 57, No. 163, August 21, 1992.
(Rev. 4/2013)
---
Find even more information you can use to help make informed decisions about the regulatory issues you face in your workplace every day. View all Quick Tips Technical Resources at www.grainger.com/quicktips.
Think Safety. Think Grainger.®
Grainger has the products, services and resources to help keep employees safe and healthy while operating safer facilities. You'll also find a network of safety resources that help you stay in compliance and protect employees from hazardous situations. Count on Grainger for lockout tagout, fall protection equipment, confined space products, safety signs, personal protective equipment (PPE), emergency response and so much more!
Please Note:
The content in this newsletter is intended for general information purposes only. This publication is not a substitute for review of the applicable government regulations and standards, and should not be construed as legal advice or opinion. Readers with specific compliance questions should refer to the cited regulation or consult with an attorney.


©2015 W.W. Grainger, Inc.