Comparing Chemical Labeling Systems
Quick Tips #198
OSHA's 29 CFR 1910.1200 hazard communication standard (HazCom), also known as the Right-to-Know law, was first enacted on November 25, 1983.
The purpose of the standard is to protect workers from the chemicals they encounter in the workplace. The standard requires safety training and labeling to ensure communication of specific information for all the chemicals present in a workplace.
Labels that meet this requirement must contain specific information including appropriate hazard warnings, or alternatively, words, pictures, symbols, or combination thereof, which provide at least general information regarding the hazards of the chemicals, and which, in conjunction with the other information immediately available to employees under the hazard communication program, will provide employees with the specific information regarding the physical and health hazards of the hazardous chemical. 1910.1200(f)(1)
The standard states that the chemical manufacturer, importer, or distributor shall ensure that each container of hazardous chemicals leaving the workplace is labeled, tagged or marked with the following: 1910.1200(f)(1)(i)
Provide the identity of the hazardous chemicals: 1910.1200(f)(1)(ii)
Spell out appropriate hazard warnings: 1910.1200(f)(1)(iii)
Include the name and address of the chemical manufacturer, importer, or other responsible party: 1910.1200(f)(5)(ii)
Although the HazCom standard sets only general guidelines for labeling it does specify that all labels must be in English. Bilingual chemical labels (i.e. English and Spanish) are allowed and offered as an option where a language barrier is present.
There are several chemical labeling systems common to the workplace. These include:
RTK - Right-to-Know
NFPA - 704/NFR National Fire Rating
HMIG - Hazardous Material Identification Guide
HMIS - Hazardous Material Identification System
WHMIS - Workplace Hazardous Material Information System (a Canadian based chemical identification labeling system)
GHS – Globally Harmonized System (put into place in 2012)
The purpose of this document is to identify the characteristics that each of these chemical labeling systems have to offer.
The RTK labeling system consists of labels that list the chemical name, synonym or common name, hazard information, CAS (Chemical Abstract Service) number and precautionary measures and first aid procedures. (See below.)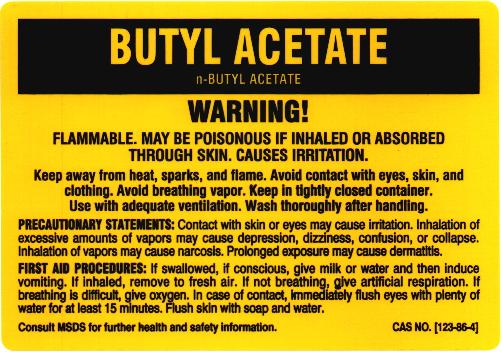 NFPA 704 / NFR (National Fire Rating)
The National Fire Protection Association labeling system employs a color-coded rating guide in a diamond shape.
Health is defined by the color blue, flammability is red and instability is represented in yellow. The numbers are assigned according to the level of hazard the chemical(s) present 0-4. Thus 0 being no hazard and 4 the greatest hazard. This labeling option offers books, charts and wallet cards to help explain the classification.
NFR Signs are commonly seen on the exterior of a building or storage vessel containing chemical storage. In the event of a fire or emergency these signs alert the fire department or emergency responders to the types of chemical hazards that are present. (For example see below.)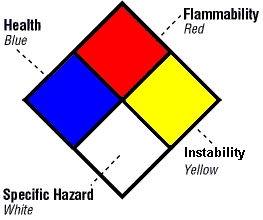 The HMIG labeling system also presents a color formatted label and is rectangular in shape. The numbers used in this system to identify the hazard level of the chemical are based on the acute and chronic hazards present in normal day-to-day use in the workplace. There are also charts, labels and wallet cards for this system. (For example see below.)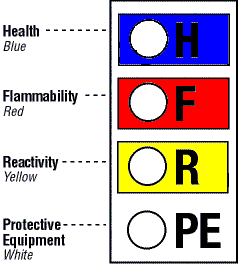 The numbers for the HMIG labeling systems can be obtained from MSDS sheets accompanying the chemical or reference books that list chemical hazards by number rating such as The Fire Protection Guide to Hazardous Materials as well as the National Fire Rating Guide.
These three systems (RTK, NFR and HMIG) are all offered through Grainger.
Another common labeling system similar to the HMIG system that Grainger offers is called HMIS III. It looks similar in nomenclature to the HMIG labeling system (using the color bar format and rectangular shape) and utilizes a rating system similar to the HMIG system. HMIS III refers to Hazardous Materials Identification System. The HMIS III rating system has recently been revised. The most significant change to the label has been to the physical hazard section of the label. Along with the assigned number, an icon is now present: compressed gas, explosive, oxidizers, etc. This is to allow for easier identification of the presence of a specific hazard to the employee. (See an example below.)

WHMIS is the Canadian version of the OSHA Right To Know labeling system. WHMIS labels are required on all controlled products. A controlled product is defined as a material or product, which is imported or sold in Canada that meets the guidelines of the hazardous material classification. With this system the employer is required to educate and train their workers that are exposed to hazardous materials in their workplace. (See example below.)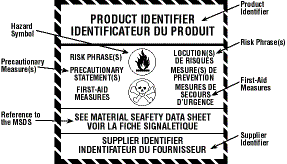 GHS – Globally Harmonized System
Born out of the United Nations 'Earth Summit' of 1992, GHS is an international approach to the classification of hazardous chemicals and the communication of hazards to workers via labels and safety data sheets. It is not a law; rather it is a system with components that countries can adopt into their own systems. GHS affects everyone in the chemical lifecycle, with special responsibilities for chemical manufacturers and employers that handle, use and store hazardous materials.
Unchanged Provisions
The parts of the HCS not related to the GHS–basic framework, scope and exemptions–have remained largely unchanged.
There have been some minor terminology modifications to align the revised HCS language with that used in the GHS. For example, the term "hazard determination" has been changed to "hazard classification" and "material safety data sheet" (MSDS) has changed to "safety data sheet" (SDS).
Major Changes
The three major areas of change are hazard classification, labels and safety data sheets.
The definitions of hazard have been changed to provide specific criteria for classification of health and physical hazards and for the classification of mixtures. These will help ensure that evaluations of hazardous effects are consistent across the board and labels and safety data sheets are therefore more accurate.
Chemical manufacturers and importers will be required to provide a harmonized label that has six standardized elements for classified hazards:
Product Identifier–Must match product identifier on safety data sheet.
Manufacturer Contact Information–Including name, phone number, and address.
Hazard Pictograms–There are nine pictograms used to convey the health, physical and environmental hazards. HCS requires eight of these pictograms, the exception being the environmental pictogram as environmental hazards are not within OSHA's jurisdiction. These pictograms will have a black symbol on a white background with a red diamond frame (see illustrations below):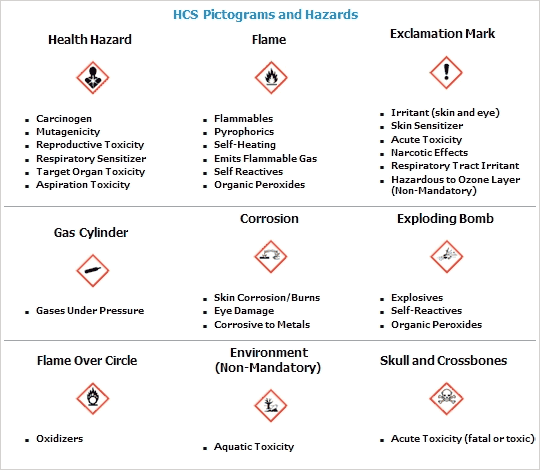 Signal Word–Either DANGER or WARNING depending upon hazard severity.
Hazard Statements–Standardized sentences that describe the level of the hazards.
Precautionary Statements–Steps employees can take to protect themselves.
OSHA has indicated that it will continue to give employers the flexibility to determine what types of workplace labels will be required. Employers have the ability to choose to label workplace containers either with the same label that the chemical manufacturer or importer used on shipped containers or with alternate labels that meet the requirements of the standard. For more information, please see Quick Tips #374.
All of the above chemical labeling systems (except WHMIS) are acceptable according to OSHA. However, once a system has been chosen, OSHA prefers to see consistency and that all chemicals are labeled according to the labeling program that has been chosen by the workplace. Also it is required that all employees must be trained to, and understand the chemical labeling system that is being implemented and used by the facility.
Commonly Asked Questions
Q.
Is one of the chemical labeling systems better than another?
A.

No. One labeling system is not better than the other. OSHA recognizes all of these, however keep in mind consistency is the key. Once, you choose a system all chemicals should be labeled the same.

Q.
I was told to buy an NFR Sign Kit to place outside of my building; How do I know what numbers should be assigned to the health, flammability, instability and special hazards areas on this sign?
A.
If you are in doubt about the hazard ratings for your NFR sign, it is best to check with your local authorities such as your local Fire Marshal to obtain the appropriate hazard ratings for your facility. They are able to make an assessment of the chemicals being used and/or stored and will be able to inform you how this sign should read for responders in the case of an emergency. For a general guide to chemical hazard labeling on common industrial chemicals Grainger offers the Hazardous Materials NFR Pocket Guide.
Q.
What do I put in the special hazards section of the NFR labels and signs?
A.

Special Hazard symbols represent materials that offer a specific hazard such as an acid, corrosive, oxidizer, radiation or materials that react violently or explosively with water which are identified as water reactive chemicals. The Fire Protection Guide to Hazardous Materials references these symbols and their meanings to this particular rating system.
Sources
OSHA's 29 CFR 1910.1200 Hazard Communication Standard
National Fire Protection Association
Quick Tips Technical Resources:
Quick Tips #150: Hazard Communication Standard, 29 CFR 1910.1200
Quick Tips #200: Hazard Communication Labeling
(Rev. 6/2014)
---
Find even more information you can use to help make informed decisions about the regulatory issues you face in your workplace every day. View all Quick Tips Technical Resources at www.grainger.com/quicktips.
Think Safety. Think Grainger.®
Grainger has the products, services and resources to help keep employees safe and healthy while operating safer facilities. You'll also find a network of safety resources that help you stay in compliance and protect employees from hazardous situations. Count on Grainger for lockout tagout, fall protection equipment, confined space products, safety signs, personal protective equipment (PPE), emergency response and so much more!
Please Note:
The content in this newsletter is intended for general information purposes only. This publication is not a substitute for review of the applicable government regulations and standards, and should not be construed as legal advice or opinion. Readers with specific compliance questions should refer to the cited regulation or consult with an attorney.


©2015 W.W. Grainger, Inc.